Kings make roster moves; Darryl Sutter evaluates preseason effort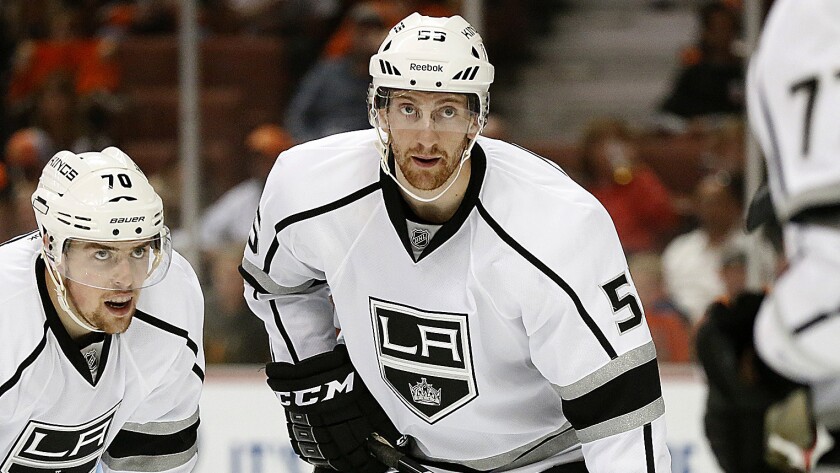 Preseason hockey, thankfully, has ended for the Kings in 2014.
Their regular season starts Wednesday against the Sharks, kicked off by the Stanley Cup-banner raising ceremony at Staples Center. The understanding is that the proceedings will be short and efficient, a fact welcomed by the players.
Meanwhile, Kings Coach Darryl Sutter was pleased with the way things have unfolded.
"I think we had a really good preseason in terms of what we wanted to do as a group," he said Monday after practice. "Especially with the injured guys. Our plan was to try and get guys into three or four games and then some of the younger guys playing more."
The biggest question was the readiness of No. 1 goalie Jonathan Quick. Quick had wrist surgery in June and played in big parts of three games last week.
You could say 145 minutes of action gave Quick and the coaches plenty of information, all positive signs of progress. Sutter thought Quick was good from the first game last week at San Jose.
"There were things I knew I wanted to work on when I was out there," Quick said. "A lot of them were trying to make the right reads, making quick decisions. Things that are tougher to work on than in practice. It's not 10 guys somewhat organized. Usually you're just seeing shots in practice.
"I knew I'd feel comfortable with the shots. … I got seven periods in over the course of the week. Had a lot of time to work on it. I felt pretty consistent throughout. Every game I did something a little bit better than something else. … Obviously you want to go into Game 1 feeling as great as you can. You've got to keep getting better every day."
Of course, the Kings had to do some roster housekeeping and put on the finishing touches to get down to a 23-man roster by Tuesday. Veteran defenseman Jeff Schultz and forward Adam Cracknell were put on waivers Monday morning, and, if they clear, they are designated for the Kings' American Hockey League affiliate in Manchester, N.H.
And so, there will be two newcomers on the King's roster, defenseman Brayden McNabb and forward Andy Andreoff.
"I think they both got better as the camp went on," Sutter said. "Based on that, they're deserving of a roster spot. Brayden, especially because of the position. It's not easy. He's willing to really work on his game and he's really coach able."
For McNabb, it was educational playing alongside Drew Doughty near the end of the preseason campaign.
"When you're playing with him every shift, you really see how good he is and what he does with the puck," McNabb said. "The little things. Watching the game, you don't really see and appreciate it.
"He's pretty loose on the ice. It kind of helps everyone else to be less uptight."
---
Get the latest on L.A.'s teams in the daily Sports Report newsletter.
You may occasionally receive promotional content from the Los Angeles Times.