Hype building around UFC's Paige VanZant: 'Attention means nothing if I don't win'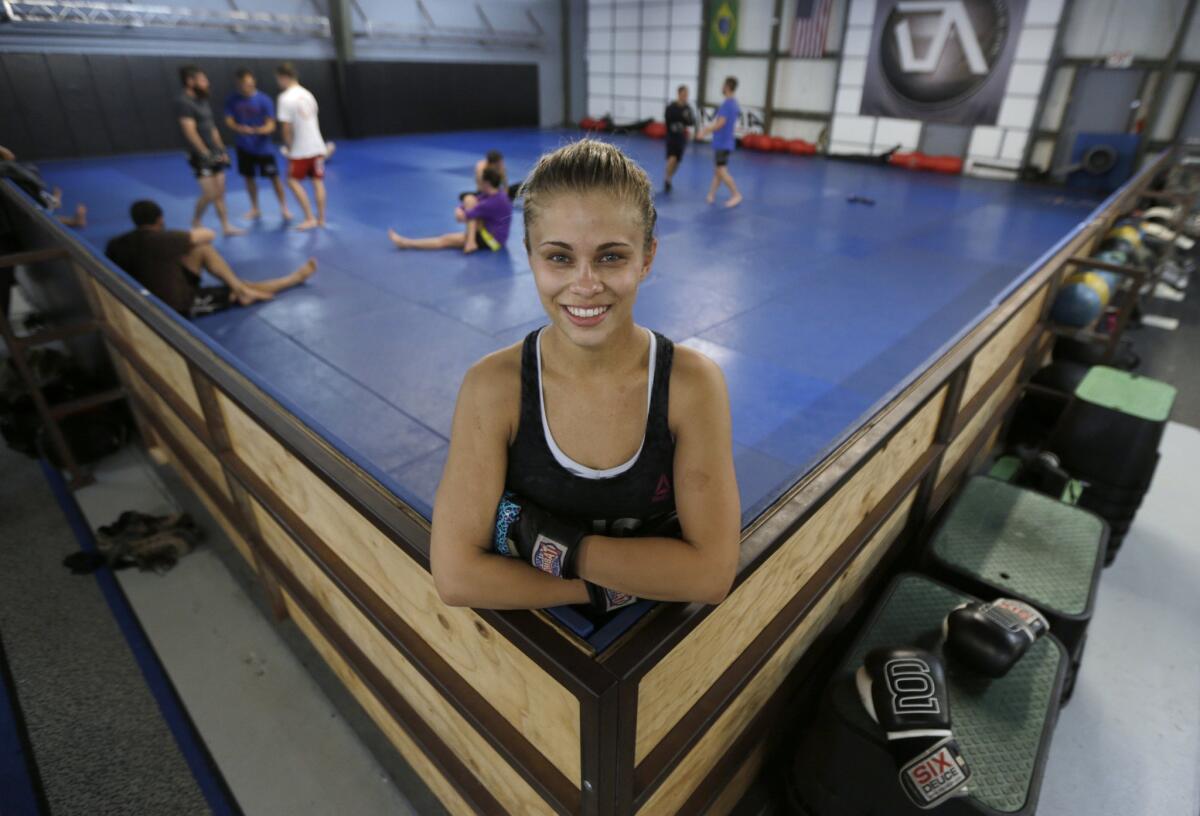 Saturday night will be just the third time in the Ultimate Fighting Championship octagon for women's straw-weight fighter Paige VanZant.
Judging by the obvious marketing push behind her, it will be far from her last.
While the discussion of women's mixed martial arts begins and usually ends with unbeaten bantamweight champion Ronda Rousey, the personable VanZant, 21, is working to climb her way up the rankings while also capitalizing on the appeal of her photogenic qualities.
"She has great personality. People and sponsors love her," UFC President Dana White said of VanZant.
VanZant (5-1 overall, 2-0 in the UFC) was given one of the exclusive Reebok deals typically reserved for elite fighters such as Rousey and former champions Anthony Pettis and Johny Hendricks.
The hype was obvious during a media lunch this week in Los Angeles when VanZant was seated next to men's flyweight champion Demetrious Johnson, rather than the two former heavyweight champions also on Saturday's card.
VanZant maintains she doesn't dwell on the marketing side of her work. "The UFC tells me to be somewhere and I do it. This is my personality. I love doing the media things, love getting dressed up. I'm also a girl . . . ."
She'll open Saturday's pay-per-view telecast of UFC 191 by fighting unranked Alex Chambers, 36.
White long maintained that women's MMA would never be welcomed into the UFC, but following the mainstream success of Rousey, there's an opportunity now for others to ride her coattails.
"Obviously I want to follow Ronda, she's done amazing things and it just shows me how far I can take this," VanZant said. "I would love to follow in her footsteps. I want to continue winning fights and create a name for myself and maybe I'll get the opportunities that she is getting."
As Rousey tends to do, VanZant expressed a bold opinion when asked about drug testing in the UFC.
"Some of the girls in my weight class have very masculine physiques, and I don't know if you can get those naturally," she said.
The question attached to VanZant is whether the freestyle fighter can achieve anything close to Rousey's success in the octagon.
"The attention means nothing if I don't win fights," VanZant said.
The UFC brand was built on the philosophy of not protecting fighters, and White says of VanZant, "When you come here, you fight the best."
At this point, UFC straw-weight champion Joanna Jedrzejczyk would stand as a prohibitive favorite over VanZant.
"I look at her as a potential opponent, but also do love that we have someone like her as champion, especially for the division," VanZant said. "She's an amazing fighter and [I] look forward to seeing her fight Claudia [Gadelha, probably her next opponent]. That will really solidify her as champion."
But as the only female in Sacramento's Team Alpha Male camp, which includes bantamweight champion T.J. Dillashaw and featherweight contenders Chad Mendes and Urijah Faber, VanZant is clearly taking her pursuit seriously.
"They're all super helpful and they put in the effort and put in the time and they let me know when I'm doing something wrong, and when I need to put more effort into certain areas," VanZant said. "I have 10 coaches who are at a much higher level than me and who I look up to."
Balancing that development as the marketing attention continues is her assignment.
"I just turned 21. I still have two years to break the record as the youngest champion in the UFC's history," she said. "I'm going to take my time on this journey. I have a career, and not a lot of 21-year-olds can say that, so I want to enjoy the ride.
"I love every second of being in the UFC, love every opportunity I've been given and when it's my turn for the title shot, I'll be ready for it."
Get our high school sports newsletter
Prep Rally is devoted to the SoCal high school sports experience, bringing you scores, stories and a behind-the-scenes look at what makes prep sports so popular.
You may occasionally receive promotional content from the Los Angeles Times.