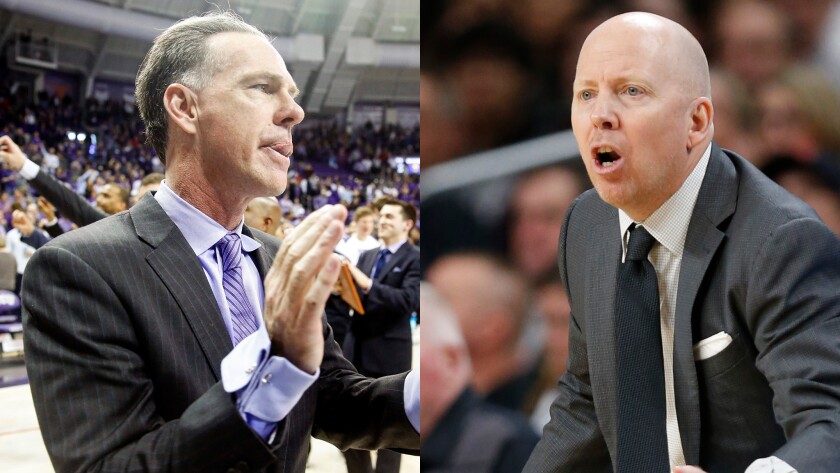 Howdy everyone, my name is Houston Mitchell, proprietor of this here newsletter. Let's get right to the news.
UCLA basketball
The quest to find a permanent men's basketball coach is apparently near an end, and the Bruins have targeted two candidates: Texas Christian's Jamie Dixon and Cincinnati's Mick Cronin. As fallback options, the Bruins are looking at St. Mary's coach Randy Bennett, Texas coach Shaka Smart and former Phoenix Suns coach and UCLA alumnus Earl Watson.
According to our own Ben Bolch, "Dixon, 53, recently hired UCLA associate head coach Duane Broussard as an assistant on his staff but said in January that he was staying at his alma mater when asked about the Bruins' opening. He seemed a bit more ambiguous about the possibility when asked about it Monday. "I don't talk about rumors, speculation ... no part of it," Dixon told the Fort Worth Star-Telegram. "I don't think it's good for anyone involved. I stay consistent in that regard."
"Dixon, a native of North Hollywood who apprenticed for several years as an assistant under former UCLA coach Ben Howland during previous stops at Pittsburgh and Northern Arizona, has compiled a 395-163 record in 16 seasons at Pittsburgh and Texas Christian. Dixon's Horned Frogs play Smart's Longhorns today in a National Invitation Tournament semifinal at Madison Square Garden.
"Cronin, 47, recently completed his 13th season at Cincinnati, where he's compiled a 296-146 record while taking the Bearcats to the NCAA tournament in each of the last nine years. Cincinnati advanced to a regional semifinal in 2012 but has not made it past the second round in any other season under Cronin; Iowa eliminated the Bearcats in the first round this season."
The Bruins offered John Calipari a six-year, $45-million deal to leave Kentucky, but he agreed to sign a lifetime contract with the Wildcats instead.
USC
Some bad optics for USC athletic director Lynn Swann. We'll let Patrick Hruby explain:
"In Los Angeles, the struggling football program was holding a spring scrimmage. The disappointing men's basketball team was sitting out March Madness. The athletic department was coping with the ongoing fallout from the college admissions bribery scandal that already has resulted in the indictments and subsequent firings of the school's water polo coach and a senior administrator. And trustees and senior leaders were discussing university governance issues at a retreat in nearby Santa Barbara.
"Meanwhile, USC athletic director Lynn Swann was more than 2,600 miles away, signing autographs for money.
"Dressed in black, Swann sat behind a folding card table inside a drab, fluorescent-lit exhibition hall [in a suburb of the nation's capital] for nearly two hours — laughing and smiling, shaking hands and posing for pictures, making small talk and paying extra attention to a toddler in a Pittsburgh Steelers onesie.
"Mostly, Swann signed stuff, running his Sharpie across football helmets and jerseys and red seats rescued from Pittsburgh's demolished Three Rivers Stadium, over and over again, all for fans and collectors who paid $220 and up for the privilege.
"A USC spokesperson said Swann had been invited to the Santa Barbara retreat but was not required to attend, and that there was nothing critical on the agenda related to him.
"A different spokesperson, from the USC athletic department, said Swann booked the autograph show months ago, that his invitation to the retreat was a courtesy, and that he had discussed not attending with former interim university President Wanda Austin.
"For former USC linebacker Riki Ellison, images of Swann's appearance that subsequently were posted on social media raised a question: During a time of crisis for the school's athletic department, why would the person in charge be all the way across the country just to pocket a few extra bucks?
"I couldn't believe it," said Ellison, a member of USC's 1978 national co-championship team who runs the Missile Defense Advocacy Alliance, a Virginia-based nonprofit. "Lynn's a good guy, but isn't his salary in the millions? Why does he need to do this? It's just embarrassing."
Horse racing
An update on Santa Anita from John Cherwa:
"Sunday's fatality occurred on the dirt crossing of the turf course, a unique layout that goes from the top of the hill behind the track, takes a slight right turn, then, near the top of the stretch, swings left as the horses transition from grass to 80 feet of dirt before returning to the turf. A 5-year-old gelding named Arms Runner fell, apparently after injuring his right front leg. A trailing horse tripped over the fallen horse but got up and was fine. Both jockeys were OK. Arms Runner was euthanized.
"You look at that horse; he was a low-risk horse," said Tim Ritvo, chief operating officer of The Stronach Group, which owns Santa Anita. "He won last time out. He's had three really good works since his last race. He's been over the course many times.
"It's really gut wrenching that you are trying to do all these things right. Everyone here in the community can feel it. It's just a tough time for everybody."
"The sudden rise in fatalities has baffled everyone. Explanations are in short supply.
"I think it's just an anomaly," said Bob Baffert, trainer of 2015 Triple Crown winner American Pharoah and 2018 Triple Crown winner Justify. "We just have this black cloud over us for some reason. I thought things were going good and then what happened [Sunday]. … I don't think anyone can really put the finger on it.
"Here we've been running for last 40 to 50 years, the same whips, medication. Now all of a sudden, boom, we're having problems. They are trying to find something. I'm just hoping we can get to Saturday where we've got some good horses running, and hopefully the fans are still excited when they come out."
March Madness
Saturday's men's Final Four schedule
All times Pacific
No. 1 Virginia vs. No. 5 Auburn, 3 p.m., CBS
No. 2 Michigan St. vs. No. 3 Texas Tech, 5:45 p.m., CBS
A look at the Elite 8 results for the women's tournament
Monday's women's Elite Eight schedule
No. 1 Baylor 85, No. 2 Iowa 53
No. 1 Notre Dame 84, No. 2 Stanford 68
Friday's women's Final Four schedule
No. 1 Baylor vs. No. 2 Oregon, 4 p.m., ESPN 2
No. 1 Notre Dame vs. No. 2 Connecticut, 6 p.m., ESPN 2
Other newsletters
If you are looking for more news on other teams or sports, please subscribe to these newsletters. They feature much more in-depth coverage of these teams or sports. The newsletter are free, are emailed to you and we don't sell your name to other companies, so no spam from us.
Our Dodgers newsletter, written by me. Subscribe here.
Lakers newsletter, written by Tania Ganguli. Subscribe here.
Horse racing newsletter, written by John Cherwa. Subscribe here.
Boxing/MMA newsletter, written by Lance Pugmire. Subscribe here.
Soccer newsletter, written by Kevin Baxter. Subscribe here.
Odds and Ends
Dodgers' Joe Kelly is booed at Dodger Stadium after blowing another lead in 4-2 loss to Giants…. Clayton Kershaw will make minor-league rehab start Thursday in Oklahoma City…. Dodgers' big free-agent addition A.J. Pollock sparks blazing-hot start…. Organist Dieter Ruehle wins over Dodgers fans with unique style…. Angels lose to Seattle, 6-3…. Angels get good news on pitcher Andrew Heaney's elbow injury…. Punchless Angels must overcome Justin Upton's injury, and soon…. L.A. Jr. Kings coaches, players suspended after reported anti-Semitic remarks are heard on video…. Joshua Jackson Jr. says importance of family spurred his decision to commit to USC…. Nipsey Hussle mourned by Clippers and around NBA: 'Lost an amazing soul'…. Lakers' 'G-league All-Stars' trying to make the most out of the team's lost season…. Kings lose to Calgary, 7-2.
Today's local major sports schedule (all times Pacific)
Lakers at Oklahoma City, 5 p.m., Spectrum Sportsnet, TNT, 710 ESPN
San Francisco at Dodgers, 7 p.m., Sportsnet LA, AM 570
Angels at Seattle, 7 p.m., FSW, KLAA 830
Kings at Arizona, 7 p.m., PRIME
Born on this date
1945: Former Dodger Don Sutton
1960: Sprinter Linford Christie
1966: NFL player Bill Romanowski
Died on this date
1972: Former Dodger Gil Hodges, 57
1979: Rams owner Carroll Rosenbloom, 72.
And finally
That concludes the newsletter for today. If you have any feedback, ideas for improvement or things you'd like to see, please email me here. If you want to subscribe, click here.
---