Column: Rams' male cheerleaders make NFL history at Super Bowl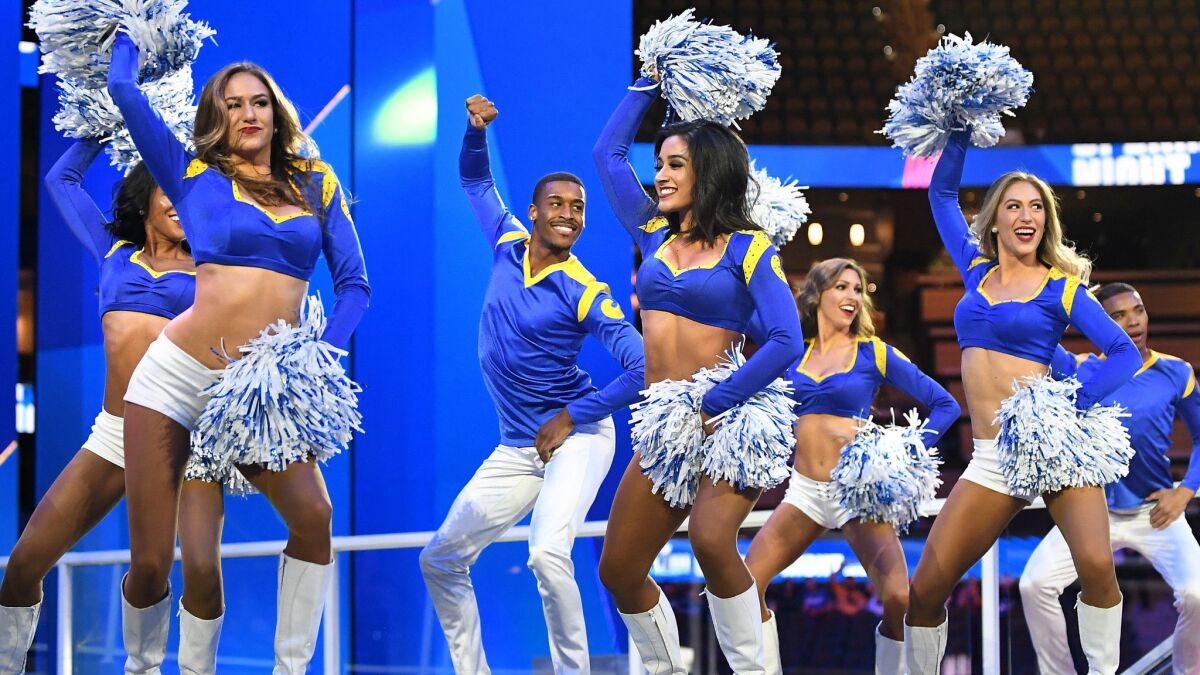 Reporting from ATLANTA —
They will be two of the toughest guys in the Super Bowl, yet they'll be on the field only when the players are not.
They are part of the Rams' legacy of pioneers, yet there are no numbers on the front of their shirts or names on the back.
After months of being showered with both praise and catcalls, hugs and stares, respect and disbelief, the men will complete their rookie football seasons Sunday by literally dancing their way into history.
No matter the final score of the game, Quinton Peron and Napoleon Jinnies have already won.
"You see this smile on my face?'' Peron said, grinning from Atlanta to Los Angeles. "You see this?''
When the Rams play the New England Patriots at Mercedes-Benz Stadium, the first male dance-style cheerleaders in the history of the NFL will become the first in the history of the Super Bowl.
The Rams cheerleading squad includes males for the first time, including Quinton Peron, left, and Napoleon Jinnies.
Jinnies and Peron belong to a 40-member Rams cheerleader squad that has broken barriers while the football team has chased a championship.
"It's been an upwards journey of excitement,'' said Jinnies, 28. "It's been the perfect season."
That season began imperfectly in August when, during the team's first home exhibition game against the Oakland Raiders, some unruly fans peppered the men with jeers and slurs, the taunts continuing throughout the season over social media.
It will end, however, with the men basking in the glow of appreciation from fans who have ultimately embraced and celebrated them as a symbol of their city's commitment to inclusion and diversity.
"Whatever has been out there we've been able to take it, because we know who has our backs." said Peron, 26. "Our family has our backs, our girls have our backs and the city of L.A., they've got us.''
If you attended a Rams game at the Coliseum, you saw them. They're impossible to miss. In the middle of skirts and boots and pompoms, they are the dudes in the stretch slacks and stretch tops and Nikes. Their dance moves are powerful, their presence strong. They blend so seamlessly with their celebrated teammates it makes you wonder, what took so long?
"They're such phenomenal dancers, once people see them dance and perform it changes their mind about what they thought it would be,'' said Keely Fimbres, the Rams' director of cheerleaders and mascot. "Everything just flows.''
This enlightening triumph flowed from the completely unexpected. The Rams didn't script this. They didn't arrange this. They never even imagined it.
Last March, during open cheerleading tryouts, Peron and Jinnies showed up out of nowhere.
Peron is a professional dancer and choreographer who got the idea while watching a Lakers game.
"I'm looking down at the Laker Girls and I thought, 'Why can't I do this?' " he said.
Jinnies is a professional dancer and makeup artist who got the idea from friends dancing alongside him during a Disneyland show.
"We were just casually talking about auditions and I thought, 'Why not just show up?' " he said.
In the Rams' two previous seasons since their return to Los Angeles, no males had tried to make the cheerleading team. But there has never been a rule against it.
"He came home one day and said he was trying out for the Rams cheerleaders and I'm like, 'They'll let you do that?' " said Peron's mother, Sherry. "He said, 'It doesn't say I can't.' So I said, 'Go for it!' "
The men drew long looks when they showed up among 300 or so hopefuls, but their dancing and interviewing skills quickly won over Rams officials and their future teammates.
"They're not just incredible men, they're incredible people,'' said Sarah Scheade, one of the team's five captains. "We thought it would be so special if they could represent our city.''
After realizing the men could actually make the team, Fimbres sent a note to her bosses that eventually reached the desk of the team's conservative owner, Stan Kroenke.
"I wanted to make sure everyone was aware that we have two extremely talented men who are phenomenal dancers, and I felt there was no reason for us to hesitate,'' Fimbres said.
The response was immediate and clear. Rams management was all in.
"The most important thing from Stan and all of us was that they were qualified and had earned their spot,'' Rams chief operating officer Kevin Demoff said. "They had done an amazing job and deserved to be on the team."
An organization that broke the modern NFL's color barrier with Kenny Washington in 1946, and later became the first team to draft a publicly gay player in 2014 with Michael Sam, was living up to its legacy.
"We've always been pioneers of inclusion, this was our chance to do it off the field,'' Demoff said.
Fimbres and her staff were equally thrilled and immediately made some changes to accommodate the men.
First, they designed a special uniform that accentuated their athleticism and excluded the pompoms. Second, they changed some of the squad's dancing moves to feature stronger and bigger arm motions. Finally, they stopped dancing to songs that would seem inappropriate for a mixed-gender team. Among tunes that were cut were, "Diamonds Are a Girl's Best Friend'' and "Single Ladies (Put a Ring on It).''
"We wanted to show everyone that we were happy and proud of our diversity,'' Fimbres said.
But not everyone was buying it.
"You'd hear a lot of negative, people saying they should be wearing skirts and crop tops, things like that,'' Jinnies' mother, Kathryn, said. "I try to laugh it off. I won't let it get to me, because I know it won't get to my son — nothing stops him.''
Catch up with the L.A. Times' Super Bowl coverage »
The two men have laughed it off. Really. Ask them about the insults and they laugh before getting serious.
Said Napoleon Jinnies: "If we can help inspire or motivate someone, it's all worth it.''
Said Peron: "Just to hear my dad say, 'I'm proud of you, son,' that's all I need.''
Bill Plaschke recounts a life-changing story from Super Bowl XXIX.
Since they joined the team, that pride has been contagious. Late last summer, the New Orleans Saints hired male cheerleader Jesse Hernandez, who said he was inspired to try out because of Peron and Jinnies. Since the start of the season, Fimbres has been contacted by several other teams about the viability of adding men to their own squads.
Also, with each game, the men are not only becoming more accepted, but they're also becoming stars.
"We interact with the fans and they're like, 'Where's the guys? We want to see the guys,'" veteran cheerleader Justene Alpert said.
Because 70% of the cheerleaders' interactions with fans is off the field — they are a constant presence at the Rams' many community functions — the men's influence ranges far beyond football.
These days, young boys who want to be dancers, or their parents, approach Peron and Jinnies. They want to thank them for being unafraid. They want to embrace them for the lessons they are teaching.
"People will come up to the guys and shake their hands and say, 'You've touched my heart. … My son wants to cheer because of you,' " Alpert said.
Go, fight, win, indeed.
Sign up for our daily sports newsletter »
Get more of Bill Plaschke's work and follow him on Twitter @BillPlaschke
Get our high school sports newsletter
Prep Rally is devoted to the SoCal high school sports experience, bringing you scores, stories and a behind-the-scenes look at what makes prep sports so popular.
You may occasionally receive promotional content from the Los Angeles Times.