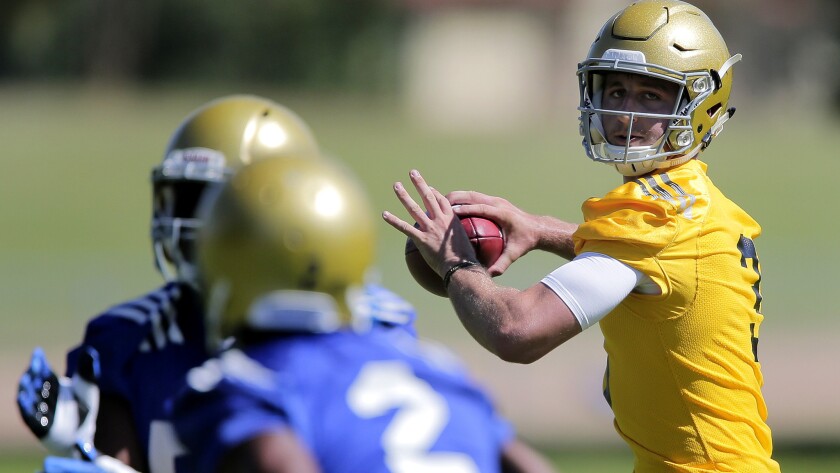 Drama camp wrapped up Saturday, as UCLA's football team ended its two-week out-of-town run at Cal State San Bernardino.
It closed with the announcement, delivered late Friday, that offensive line coach Adrian Klemm would be suspended for two games for NCAA violations. The investigation, like the show, must go on.
The news fit perfectly into the script that has been used for 14 days.
There were calculated rants. Coach Jim Mora heaped two onto UCLA's top freshmen, tight end Chris Clark ("I'll drive you to the airport and you can transfer to Rutgers or a junior college.") and quarterback Josh Rosen ("That's why you haven't been named the starter.").
There are scene stealers. Linebacker Myles Jack had a 10-minute fit during practice after a post-play fight with tackle Conor McDermott. Jack was finally tossed off stage by Mora. Freshman receiver Cordell Broadus, son of rapper Snoop Dogg, quit after being absent from the first four days of camp. Football, it was said, was not his thing and he will attend UCLA's film school instead.
None of which was disastrous — call it "Soft Knocks" — but it could be pitched as a reality TV show. Give it to that budding director who just enrolled in UCLA's film school.
And, action ...
"You come to camp and you want it to be stressful and you want it to be intense and you want it to be difficult," Mora said. "You're trying to create situations like that so when you get into the season, you know how they will react."
Mora, in some ways, already knows.
"I think our team is very edgy, and I like that," Mora said. "That's what we recruited. As long as we can control it. So far we have shown an ability to control it."
Well, except for Jack one day.
"He just lost his cool," Mora said, shrugging it off.
Of course, that is something that has happened to the Bruins en masse too often. UCLA ranked 117th out of 125 Football Bowl Subdivision teams in penalties.
"The key is how we control it on Saturdays," Mora said. "It's no secret that has been a little bit of an issue at times. You want to find that line, where you're playing with a little bit of an edge, but never going over it."
With 18 starters and 69 lettermen back, the Bruins, Mora said, should have the maturity to toe the line.
The experience, Mora said, "allows us to get into situational football a lot quicker. They have heard the same things from me for one, two, three, four years. They understand what we're trying to get out of a drill, so things can move a little faster and be a little bit more crisp."
The Bruins, though, lack experience in one key spot. UCLA still has to choose between Rosen and junior Jerry Neuheisel. Mora hoped that a decision would come by next weekend, but could not guarantee it.
Mora shed little light on the situation after Friday night's scrimmage.
"I thought they both handled themselves well," Mora said. "I thought they both made good throws. When I stand back there, I evaluate their presence in the pocket and how they move around, or how they control the team. Both of them look very comfortable."
The vagueness was understandable to those auditioning for the part.
"I think the coaches just want us focusing on our craft," Neuheisel said. "That's the only thing we should be thinking about."
Rosen said that the thought of possibly being the runner-up had to be pushed from his mind.
"It's like a trap game during the season," Rosen said. "If you're looking ahead to your next opponent, you won't play in the present and know what's going on right now."
Mora does see the theater in the situation.
"It's a great story," he said. "You have a high-profile guy like Josh coming in and you have Jerry Neuheisel, who is [former UCLA quarterback and coach] Rick Neuheisel's son. It's a pretty compelling story, but we can't let that affect our decision."
Basically, Rosen said, "You do what coach says."
Well, not always.
Mora did tell Rosen to go back to Bellflower St. John Bosco High this week. But that was all part of the drama during camp.
Twitter: @cfosterlatimes
---