UCLA basketball team making an extra effort to pick up the pace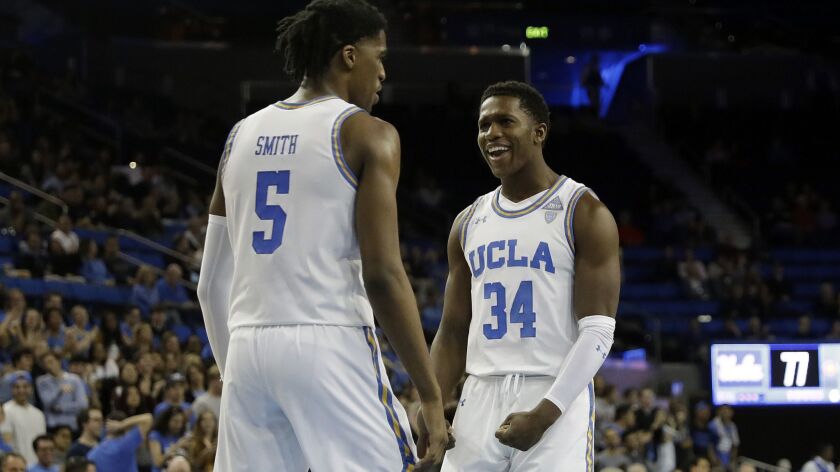 The way UCLA played in the second half Friday was a throwback to days of zippier ball movement.
Remember Lonzo Ball, TJ Leaf and Isaac Hamilton?
The Bruins looked a lot like they did two years ago in the latter half of their 95-58 runaway against Saint Francis. They compiled 15 of their 18 assists after halftime, making the extra pass that led to easy baskets.
UCLA had 11 dunks in the second half, including two from Jaylen Hands in a span of 10 seconds and one from Prince Ali that was reminiscent of the showstopper he had against Kentucky during the 2015-16 season.
"It just gets our energy flowing and makes us less tired," freshman guard Jules Bernard said of the dunks, "so when we're on the defensive end, we're active, getting steals and pushing in transition and get those types of dunks. It's a lot of fun."
UCLA coach Steve Alford called the second half the best his team had played this season, a brand of basketball the No. 20 Bruins (3-0) hope to sustain Monday night when they face Presbyterian (3-2) at Pauley Pavilion.
UCLA outscored Saint Francis by 30 points in the second half largely on the strength of making 25 of 31 shots (80.6%) after shooting only 38.5% in the first half.
Many of the shots were from point-blank range as a result of finally moving the ball. UCLA's three assists at halftime were a major talking point in the locker room.
"The ball's gotta move," Alford said.
Alford said he also told Hands and small forward Kris Wilkes to find other ways to contribute after they combined to miss all 11 of their shots in the first half.
"My message was if the shot's not going and you're taking good shots, then let's get five assists, Jay, and let's get five rebounds, Kris," Alford said. "I thought in the second half they allowed the game to come to them a little more.
"Jay ran the show much better. The first 10 minutes of the second half, I thought he orchestrated what we wanted to do both offensively and defensively very well and Kris took better shots and because of that, more shots went in for him."
Wilkes scored all 14 of his points and Hands logged three of his four assists in the second half.
"We really started to move the ball," Ali said. "That's when we're at our best, when we're moving the ball [and] everybody's getting good looks."
Up next
vs. Presbyterian
When: 8.
Where: Pauley Pavilion.
On the air: TV: Pac-12 Networks; Radio: 1150.
Update: The Blue Hose were tied with No. 24 Marquette at halftime Saturday before getting run down during the second half of a 74-55 loss. Freshman Adam Flagler led Presbyterian with 20 points.
Follow Ben Bolch on Twitter @latbbolch
---
Get the latest on L.A.'s teams in the daily Sports Report newsletter.
You may occasionally receive promotional content from the Los Angeles Times.