UCLA's Cameron Judge shows versatility, especially in a pinch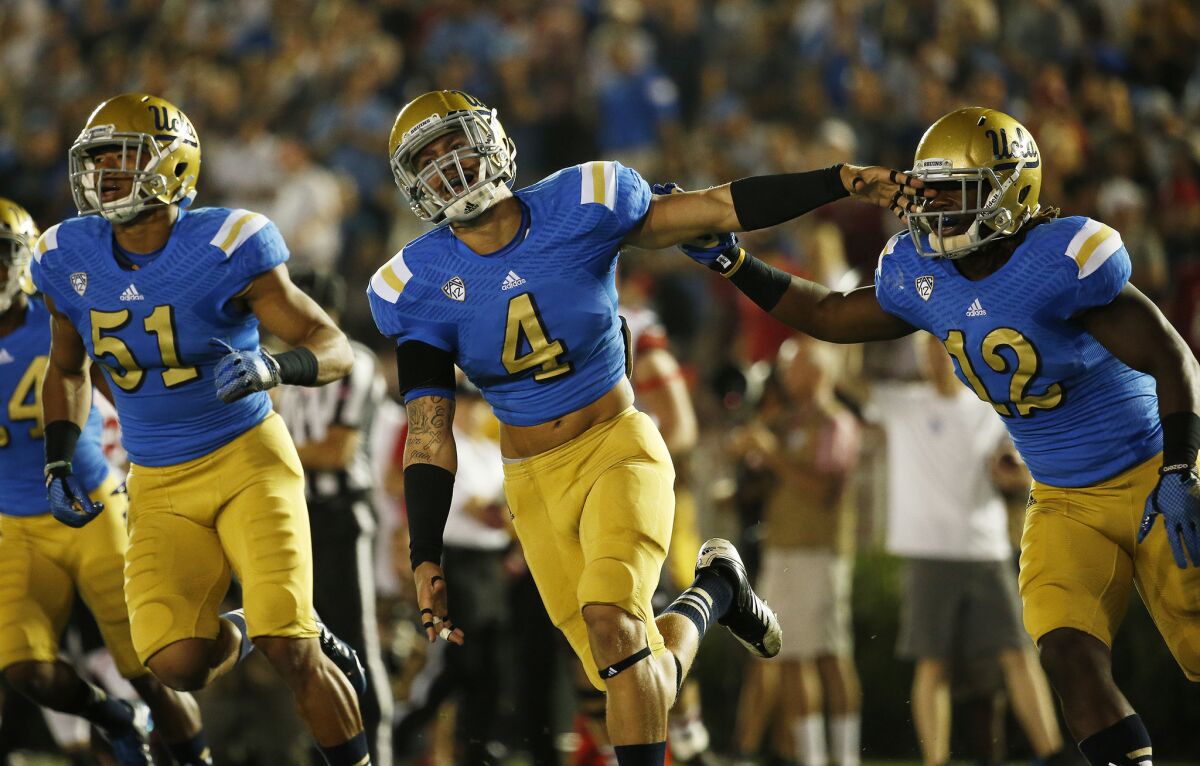 Cameron Judge gets around.
The UCLA junior has played special teams, inside linebacker and outside linebacker.
So he was the perfect go-to guy for the UCLA football team Saturday when injuries decimated the Bruins during a game against Colorado.
"We have had a lot people going down since the start of the season so I had to be ready," Judge said.
He was.
Judge, playing middle linebacker, made six tackles, three on consecutive plays late in the fourth quarter with Colorado trying to retake the lead.
Twice Judge held Colorado running back Donovan Lee to three-yard gains with the Buffaloes inside the UCLA 35. On fourth down, quarterback Sefo Liufau, under pressure, managed to get off a pass to Lee and, again, Judge was there to drop him for a six-yard loss.
"I did all right," Judge said.
He may need to do it again.
Linebacker Kenny Young, who left the Colorado game because of a head injury, practiced Tuesday, but his status for Saturday's game at Oregon State is unknown. Isaako Savaiinaea (ankle) and Josh Woods (hamstring) did not practice.
Judge arrived at UCLA as a middle linebacker before being moved outside in his second season.
"In meetings, I pay attention to all of the positions," he said. "I guess it paid off."
Judge said the biggest change from outside to inside is "you're behind the ball. You have to see the whole formation instead of one or two keys."
Many happy returns
Guard Alex Redmond, who was suspended for the Colorado game, practiced Tuesday and is expected to play against Oregon State.
"Alex is back with us and everything is cleared up," Coach Jim Mora said.
Redmond was punished for a "personal reason," Mora said.
Tackles Caleb Benenoch and Kolton Miller also practiced. Both left the Colorado game because of leg injuries.
Cornerback Marcus Rios, who suffered an undisclosed injury Saturday, was able to practice, but the status of cornerback Ishmael Adams (leg), receiver Devin Fuller (ankle) and receiver Stephen Johnson III (undisclosed) is unknown.
Reboot
Punter Matt Mengel, who temporarily lost his job, made an impressive comeback against Colorado. He averaged 46.4 yards on seven punts, with a long of 64 yards.
Mengel's long kicks were important because the Bruins went three and out on four of their first seven possessions
"It's a fickle position," Mora said. "It's like a golf swing at times. You get the shanks and then work through it. He stayed positive and had a really good day. Hopefully, he continues along that path."
Counter revolution?
UCLA, which totes "Bruin Revolution" as a marketing campaign, had a dramatic rise in attendance at the Rose Bowl the last three seasons — and a fall this season.
The Bruins' attendance jumped 21% in 2012, Mora's first season. Entering this season, UCLA had seven consecutive home games of 70,000-plus crowds, a first since the team moved to the Rose Bowl in 1982.
UCLA announced a crowd of 57,046 against California on Oct. 22, which was attributed in part to a 6 p.m. Thursday night kickoff.
But on Saturday there was an announced crowd 51,508 — the smallest attendance in Mora's tenure — for a noon homecoming game against Colorado.
Follow Chris Foster on Twitter @cfosterlatimes
---
Get the latest on L.A.'s teams in the daily Sports Report newsletter.
You may occasionally receive promotional content from the Los Angeles Times.