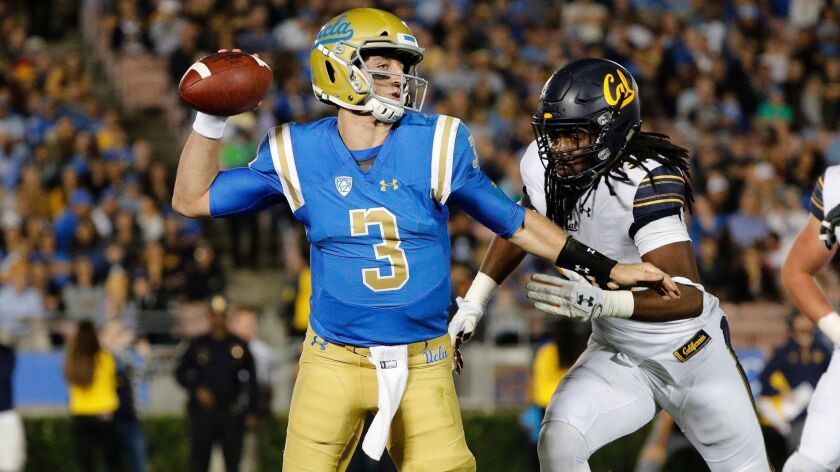 Reporting from Phoenix —
Josh Rosen, who doesn't know whether doctors will clear him to play in the Cactus Bowl and isn't certain if he'll return to UCLA or enter the NFL Draft, is sure of one thing. At least, he was Saturday.
He says he'll be at quarterback for the Bruins against Kansas State on Tuesday night at Chase Field if he gets the medical OK.
"Absolutely,'' Rosen said. "I'm here.''
Physicians continue to evaluate Rosen's recovery from a concussion suffered on Nov. 24 in the Bruins' regular-season finale, a 30-27 victory over California. It's the second concussion he's had this season.
"Get checked every morning,'' said Rosen, who said he saw doctors Saturday when the Bruins practiced at a high school in Gilbert, a Phoenix suburb.
When asked if the latest diagnosis was optimistic, Rosen couldn't be sure.
"I don't know,'' he said of a decision that might not be made until game time. "I'm not into inferring. But we'll see.''
That's the way it's been for Rosen, whom some NFL scouts have projected to be the No. 1 pick in the draft if he decides to forgo his senior season. Questions, especially about the NFL, came at him faster than a safety blitz Saturday. But he sidestepped them quickly and gracefully, perhaps because he knew they were coming.
Of course, he hears the talk about him going No. 1.
"Yeah, it's special,'' Rosen said. "I remember growing up and we watched Andrew Luck [go No. 1]. We watched Matthew Stafford. I remember watching the Reggie Bush draft. I just remember all of these drafts, growing up. It's just surreal. This year or next, it'll be a fun experience."
But, no, he says he has not made a decision about the when and he says won't until after the Cactus Bowl.
"I'll go home, sit down with my parents, have a conversation and go from there,'' he said.
If cleared to play, Rosen also said no to any chance he might sit out the Cactus Bowl so as to not risk an injury that might jeopardize his shot at being a top pick.
"No, not a thought,'' Rosen said. "Maybe, I like my team more than some guys. Personally, I just really want to play in this game. I love these guys.''
Last year there was controversy when Leonard Fournette of LSU declined to play in the Citrus Bowl and Christian McCaffrey of Stanford sat out the Sun Bowl. Fournette was the No. 4 pick and McCaffrey went at No. 8. This year, versatile safety Derwin James, a redshirt sophomore at Florida State, said he would not play in the Independence Bowl on Wednesday.
"I feel like it's unfair with the Christian McCaffreyes, the Leonard Fournettes, and maybe Derwin and some other guys, because they play really physical positions,'' Rosen said. "For them, it's not an issue of getting hurt. The issue is how severe. Those guys get banged up, to some extent, in every game.
"Quarterback is unique. We take a few licks here and there. But nothing like that. People also have to realize that a lot of these guys have family, kids. A lot of guys have to support families. They may want to play in a bowl game. But maybe they're locked into their futures and they need to take care of a kid, or family, or brother or sister. People should look into each of their stories and see how football is affecting their lives. I'm fortunate. I'm a quarterback. Every situation is unique.''
Despite the uncertainty, Kansas State has been preparing for Rosen and his accurate arm.
"Definitely,'' said Wildcats cornerback Duke Shelley, who already faced Heisman Trophy winner Baker Mayfield of Oklahoma. "A great quarterback. I mean, one of the best I've seen. I've been playing against great quarterbacks since I've been in the Big 12. Guys like Mayfield. Rosen fits into that category. He's not too quick to make decisions. That what separates from other guys. You can't bait him. Can't fool him.
"Against him, you've got to be sure, real sure, you're on your game.''
Kansas State linebacker Trent Tanking is hopeful Rosen plays.
"Of course,'' Tanking said. "If we win, we could say we faced a guy like him and succeeded. If he goes to the NFL and becomes a star, we can say we faced that guy, too. There's really no downside.''
Fisch preps for game No. 2
Interim UCLA coach Jedd Fisch said he spent part of Friday night reading Kansas State's bio of coach Bill Snyder. "He's been a head coach for 320 games and this is my second game,'' joked Fisch, who is 1-0 as a head coach with a victory over Cal after stepping in for the fired Jim Mora. "But I have a better winning percentage.''
Fisch said he has a close relationship with Mora. UCLA players do too, he said. He expects to speak to Mora a few times before Tuesday's kickoff. "I'm sure he'll have a message for all the guys,'' Fisch said.
---