UCLA's offensive tempo more of a jog than sprint in Chip Kelly's debut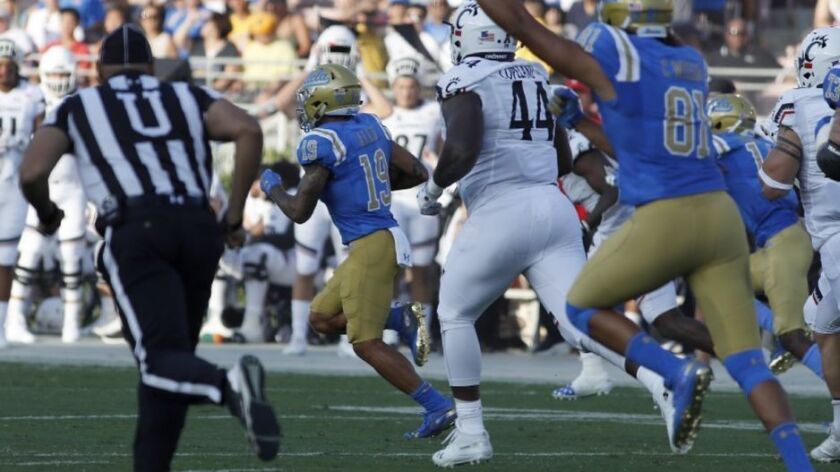 Chip Kelly's Oregon teams confounded opponents with their dizzying pace and dynamic play calls as part of a run-heavy offense.
In his UCLA debut Saturday at the Rose Bowl, Kelly's offense baffled only longtime observers of the coach.
The Bruins did bear some Kelly trademarks during a 26-17 loss to Cincinnati, rarely huddling and operating almost exclusively out of the shotgun formation. But the tempo was more of a jog than a sprint. UCLA averaged 22.6 seconds for each of its plays, according to ESPN Stats and Information, taking a tick longer than the 22.2 seconds the Bruins averaged last season under former offensive coordinator Jedd Fisch.
The blurry pace that UCLA players discussed throughout training camp rarely materialized in their season opener.
"I wouldn't say we were at our fastest," said true freshman tailback Kazmeir Allen, who provided the offensive highpoint with a 74-yard touchdown run early in the third quarter.
The only time UCLA approached warp speed was midway through the first quarter. The Bruins lined up almost immediately after tailback Bolu Olorunfunmi carried the ball to Cincinnati's one-yard line, forcing the Bearcats to use a timeout with their players still milling about behind the line of scrimmage.
That pleased UCLA quarterback Wilton Speight, who clapped his approval. The Bruins scored on the next play when Olorunfunmi bowled into the end zone for the game's first points.
But UCLA passed more than it ran, even after Speight gave way to true freshman quarterback Dorian Thompson-Robinson in the second quarter because of a back injury. Speight's status for the Bruins' game Saturday at No. 7 Oklahoma remained unclear Sunday.
Taking away Cincinnati's five sacks, UCLA ran the ball 26 times and passed it on 37 occasions, a departure from Kelly's Oregon teams that ran roughly two-thirds of the time. The Bruins had nearly equal success with both modes of offense, averaging 4.6 yards per carry and 4.4 yards per pass.
Allen appeared to make a case for a heavier workload with his long touchdown run. Curiously, he was given only two more carries the rest of the game even though UCLA's other tailbacks were far less productive. Joshua Kelley averaged 3.3 yards per carry and Olorunfunmi only 1.4 yards per carry.
"As he continues to grow and continues to learn in terms of what we're doing, it's our jobs as coaches to put him in position to make plays," Kelly said of Allen.
Allen finished with 103 yards in five carries, becoming just the fourth Bruin to rush for at least 100 yards in a game since late in the 2015 season. He also accounted for his team's only other offensive play that went for more than 16 yards when he cut outside on a 23-yard run in the first quarter.
Kelly's Oregon offenses were known for their precision and efficiency, areas in which UCLA struggled mightily Saturday. The Bruins converted only six of 15 third downs and neither of their fourth downs. Several drives ended as a result of dropped passes or receivers looking over the wrong shoulder.
Some sloppiness was expected. Kelly indicated after the game that an offense mixing in six true freshmen was likely to sputter at times, just part of the team's rebuilding efforts.
"It's about giving them an opportunity to play," Kelly said. "And now they've got a game underneath their belts and we can go back and teach and show them kind of what we did well and … what we need to correct. That will be an ongoing process for this group because there were a lot of firsts for everybody."
That includes a new coaching staff trying to incorporate a new scheme with two new quarterbacks. It all might work out eventually, unless the results of the opener represent a new normal.
Scheduled losses?
UCLA's next three opponents all won their openers in blowout fashion, raising the possibility that the Bruins' growing pains could persist for the foreseeable future.
Kelly joked that Florida Atlantic coach Lane Kiffin was asking for prayers after his team absorbed a 63-14 thrashing by Oklahoma, the Bruins' next opponent.
"I'll have to call Lane and see if he can share some," Kelly cracked.
Kelly went on to say that he envisioned playing on the road against the Sooners as an opportunity that should be coveted, not dreaded.
"If you can't get excited about playing in Oklahoma and going to Oklahoma. then you're in the wrong spot," Kelly said, "That's why you came here."
Follow Ben Bolch on Twitter @latbbolch
---
Get the latest on L.A.'s teams in the daily Sports Report newsletter.
You may occasionally receive promotional content from the Los Angeles Times.