UCLA is crawling along in its search for an effective offense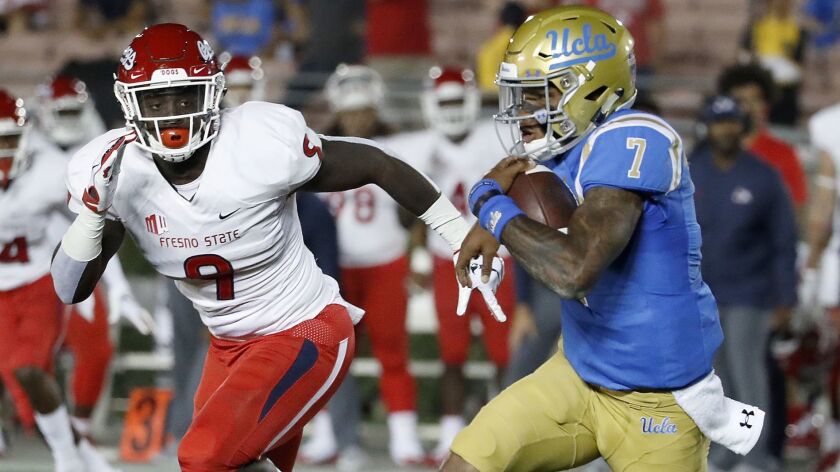 Mike Bellotti watched parts of UCLA's last two football games, noticing some things that vaguely reminded him of the offenses that Bruins coach Chip Kelly once ran at Oregon.
The team's tempo was not among them.
"Well, I don't know how to say this: It's barely average," said Bellotti, the retired Ducks coach whom Kelly succeeded almost a decade ago. "There's nothing there that I think puts a lot of fear into the heart of the defenses."
Kelly's Oregon offenses were so fast they were known as the blur. They diced up defenses with rapid-fire plays that relied on efficiency and a robust run game to wear down opponents.
It probably helped that those offenses never had a true freshman quarterback taking the snap from a true freshman center and handing off to a true freshman running back.
Before you can blur, you have to crawl. That may be the agonizing truth UCLA's fresh-out-of-the-crib offense has learned while mostly going three and out amid the team's 0-3 start heading into its Pac-12 Conference opener against Colorado (3-0) on Friday in Boulder.
"You can't go crazy tempo if you're like, man, we're not moving the ball on offense and we're not dictating terms in the run game," said Yogi Roth, an analyst for the Pac-12 Networks. "You can't go three and out and let your defense play 80 snaps. It's too long of a season and it's a recipe for disaster."
Kelly has never said he wanted the Bruins to replicate his flying-Ducks offense, only that he intended to run the scheme that would maximize his team's potential.
So far, this UCLA offense's ceiling wouldn't provide clearance for a Matchbox truck. The Bruins rank No. 101 nationally in passing offense (189 yards per game) — and that's the high point for a unit that's No. 103 in rushing offense (130.7 yards per game), No. 118 in total offense (319.7 yards per game) and No. 120 in scoring offense (17.3 points per game).
Like a website under construction, it might be prudent to post a sign reading: "Pardon our dust. Please check back soon."
"It's not a product at this point that is ready to take on the best teams in the Pac-12 or the nation," Bellotti said. "It very well may be by the end of the season, but it may take a year or two of recruiting and development for that to be the case."
The Bruins hoped they had found their quarterback of the present and future when true freshman Dorian Thompson-Robinson trotted onto the Rose Bowl field earlier this month to enthusiastic applause when he replaced injured starter Wilton Speight.
The cheers extended into the following week, when Thompson-Robinson played admirably in a loss at Oklahoma, before audible unease overtook the Rose Bowl during the quarterback's first extended freshman moments. He lost a fumble and had two tipped passes intercepted on Sept. 15 during the team's 38-14 loss to Fresno State.
Through three games, Thompson-Robinson has completed 54.7% of his passes for 522 yards with two touchdowns and two interceptions. The uneven start could have been expected from a player who started at quarterback for only one season in high school.
"It takes time, in my opinion, for a quarterback to become instinctive in college," Roth said. "That's going to be the biggest thing for them and for him, just to try to get the picture to be clear for him and be instinctive."
Kelly has tried to help his quarterback by calling roll-outs and short passes. Those plans have gone astray thanks to dropped passes, receivers looking the wrong way and Thompson-Robinson showing spotty touch while throwing on the run.
The quarterback situation remains muddled with Speight increasing his activity in practice this week, though Kelly said the graduate transfer would not automatically reclaim the starting job once cleared to play.
A much larger issue has been the 300-pounders. UCLA's offensive line has allowed 12 sacks while helping to generate a Pac-12 worst 3.5 yards per carry for a stable of running backs that has increasingly relied on freshmen Martell Irby and Kazmeir Allen.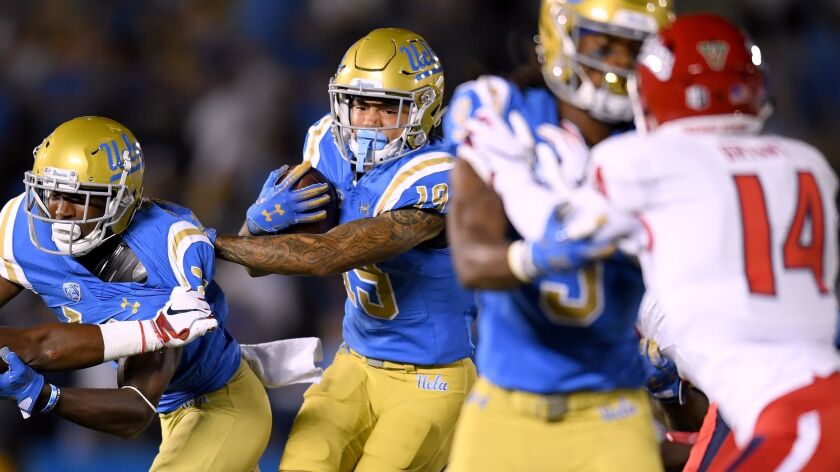 The line is also filled with players growing into roles. Christaphany Murray became the first true freshman to start at center for UCLA since at least 1982, when records first became available. Graduate transfer guard Justin Murphy is playing for the first time in nearly two years after taking a medical retirement. Guard Michael Alves and tackle Andre James are playing on the opposite side of the line from last season.
Combine that with true freshmen Chase Cota and Kyle Philips becoming a regular part of the receiver rotation and it's a lot of feeling out for the entire offense.
"It's a younger team, not a lot of experience, and that's not an excuse, it's just a reality," Kelly said after his team's season-opening loss to Cincinnati. "So they're going to get their experience and it's going to be a baptism under fire."
Kelly has sprinkled in some situational tempo plays, but probably hasn't had as many chances as he would have liked, given UCLA's inefficiency. The Bruins have converted only 12 of 40 third downs (30%), generating only four drives of more than 47 yards in three games.
"One of the things about tempo is, it thrives on completions and first downs where you can keep the same team in the game so you cannot allow the defense to substitute and you wear down that defense," Bellotti said. "Well, right now they're not as efficient as they'd like to be, so they're not getting to the point where tempo has been a factor in most of the games."
The shortcomings have left UCLA to try and win via an improving defense and special teams while making a handful of plays on offense. It hasn't happened. Not even close.
Roth said Kelly's play-calling isn't among the culprits.
"I know it might sound crazy, but I've got zero issues with anything they're doing on offense," Roth said. "The reality is they're playing better teams right now outside of Week 1 personnel-wise and they're playing with a true freshman quarterback and an offense that's dependent upon the trigger man to be really instinctive.
"I mean, I get why people are freaking out, frustrated, because it's Chip Kelly and he only lost seven games in Oregon. I'm fully aware of that, but we need to be fully aware of where this team is and just be a truth-teller. There's a lot of development that needs to keep happening."
Twitter: @latbbolch
---
Get the latest on L.A.'s teams in the daily Sports Report newsletter.
You may occasionally receive promotional content from the Los Angeles Times.