No Starks, and still no explanation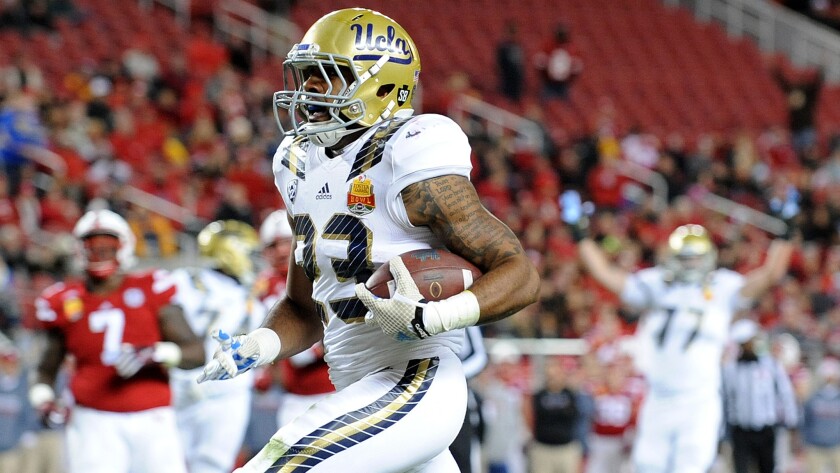 The Nate Starks mystery deepened Saturday.
The UCLA running back was not in uniform against Nevada Las Vegas at the Rose Bowl after not traveling with the Bruins the previous week to play Texas A&M.
The reason for Starks' inactivity remained a secret. UCLA Coach Jim Mora does not usually announce suspensions, but Starks being held out had the feel of a disciplinary measure because he was not injured and no other explanation was given for his absence.
Starks had been allowed to practice this week, with Mora saying his playing status would be a game-time decision. Asked midweek what Starks would need to do to be allowed to play, Mora said, "I'd have to decide to play him."
That didn't happen.
There was extra incentive for Starks to play against UNLV because it's his hometown team. Starks had starred for Las Vegas Bishop Gorman High before being dismissed from school after his junior season for an unspecified violation of school rules. He played his senior season at Cherry Creek High in Englewood, Colo., before enrolling at UCLA.
A Starks did play for the Bruins, but it was freshman tailback Jalen Starks, who is not related to Nate. He ran for 28 yards but fumbled early in the third quarter, a turnover that led to a UNLV touchdown.
Yellow submarined
UCLA offensive coordinator Kennedy Polamalu praised the offense for no penalties against Texas A&M. He might not have been in quite as complimentary a mood Saturday.
The Bruins offensive line committed four penalties in the first half against UNLV, including three on the same drive. Guard Najee Toran and tackle Kolton Miller were called for false starts, center Scott Quessenberry was penalized for being an ineligible receiver, and guard Kenny Lacy was called for a chop block.
The penalties couldn't halt UCLA's momentum, however. The Bruins scored touchdowns on each of their first four possessions.
But Miller was called for another false start in the third quarter, and an unsportsmanlike conduct penalty on receiver Darren Andrews pushed the Bruins deep into their own territory, forcing their first punt of the game.
Loyalty rewarded
Mike Fafaul is easily the most unshakable of UCLA's backup quarterbacks, having stuck around for five years despite throwing only six passes before relieving Josh Rosen in the fourth quarter Saturday.
The fifth-year senior completed his only pass against UNLV for 13 yards.
Fafaul has already graduated, which gave him the option to transfer and play a larger role for another school immediately. He wasn't interested, thank you very much.
"I just wanted to finish what I started," Fafaul said before the season. "I've never liked quitting. I've always followed through with what I ended up doing. I had a lot of options at the end of the year, but I wanted to stick it out here."
Quick hits
UCLA defensive ends Takkarist McKinley (groin) and Deon Hollins (concussion) did not play, though Hollins was in uniform. Safety Jaleel Wadood watched the game in streetclothes. … Quessenberry departed in the fourth quarter after suffering an injury. … UCLA is now 2-0 against UNLV and improved to 43-6-2 versus teams from the current configuration of the Mountain West Conference.
ben.bolch@latimes.com
Twitter: @latbbolch
---
Get the latest on L.A.'s teams in the daily Sports Report newsletter.
You may occasionally receive promotional content from the Los Angeles Times.