Michigan transfer Wilton Speight named starting quarterback for UCLA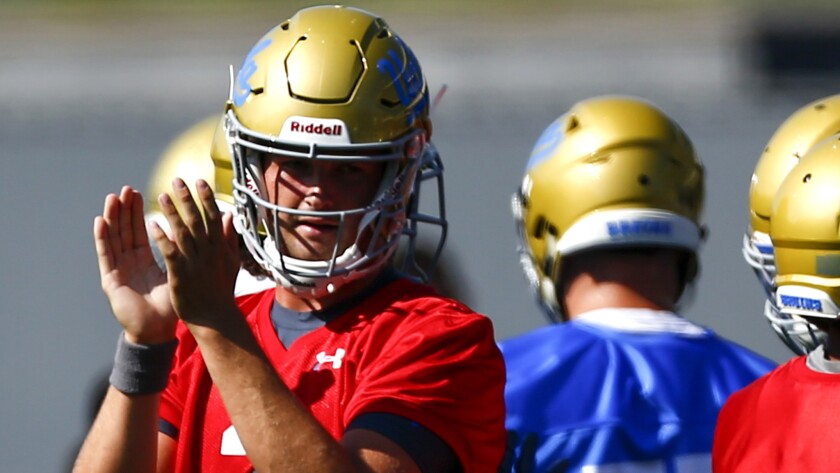 Wilton Speight intimated that he expected to be UCLA's starting quarterback three months before he threw his first pass in training camp.
"I don't really think like, 'Oh, what if I don't start,' " the graduate transfer told the Los Angeles Times during a spring interview. "I've never thought like that. I think that helped me win the starting job two years in a row at Michigan and I think it will help me moving forward too."
Speight's words seemed prophetic after the Bruins announced Thursday that he would start their season opener against Cincinnati on Saturday at the Rose Bowl.
Speight beat out true freshman Dorian Thompson-Robinson and redshirt sophomore Devon Modster in a heated three-way race that lasted until two days before the opener.
Just because Speight starts the game against the Bearcats doesn't necessarily mean he'll finish it. UCLA coach Chip Kelly said this week that multiple quarterbacks could play if their practice performance warranted it.
"You could see more than one guy play if that's what the rest of the week dictates to us," Kelly said Wednesday.
Speight easily outdistanced his Bruins counterparts in the experience department, having started 16 games at Michigan during the 2016 and 2017 seasons. Modster started two games for UCLA last season in place of an injured Josh Rosen.
This will be Speight's second start against Cincinnati in a span of just over a year. He completed 17 of 29 passes for 221 yards and two touchdowns with no interceptions last season during Michigan's 36-14 victory over the Bearcats.
Speight was something of a safe choice given his lengthy game log. Thompson-Robinson is widely considered to have the most upside among UCLA's quarterbacks and Modster is perhaps the most known quantity after having been the only one of the three finalists to compete in spring practices.
Listed at 6 feet 6 and 232 pounds, Speight is known as a pocket passer who faces questions about whether he can thrive in an offense orchestrated by Kelly, who has traditionally preferred his quarterbacks to flummox defenses with the ability to run as well as throw.
Speight said in the spring that Kelly intended to use him similarly to the way he used Philadelphia Eagles quarterback Nick Foles, who set several NFL records under Kelly during the 2013 season on the way to becoming a Pro Bowl selection.
Speight isn't the only one who disagrees with those who doubt his fit with the Bruins. Jedd Fisch, the onetime Michigan passing-game coordinator who watched Speight shred Big Ten Conference defenses for two seasons, said that Speight has the making of a Bruins big shot.
"He's a big, strong guy who can make every throw," Fisch, UCLA's offensive coordinator in 2017 and now an offensive analyst with the Rams, said this week. "He stands tall in the pocket, really good in the play-action game, has nice feet and is a guy that's won a lot of games as a starting quarterback and lost very few."
Speight led the Wolverines to a 9-0 start in 2016 that helped them reach the Orange Bowl, where they dropped a 33-32 heartbreaker against Florida State. He was a third-team All-Big Ten selection that season after completing 61.6% of his passes for 2,538 yards and 18 touchdowns with seven interceptions.
He was Michigan's starter again in 2017 until a severe back injury ended his season after four games. He arrived at UCLA near the end of May after pronouncing himself fully recovered, lured by what he said was an innovative coach as well as "a team that was ready to win."
Speight likes to be in control of every situation. He once suggested an ending to a reporter's story that would involve his new team meeting his old one in the Rose Bowl game.
That might require Speight to show that he's not the plodding quarterback some fans fear.
"I've made a lot of changes," he said, "and I'm looking forward to putting that on display."
Follow Ben Bolch on Twitter @latbbolch
---
Get the latest on L.A.'s teams in the daily Sports Report newsletter.
You may occasionally receive promotional content from the Los Angeles Times.