UCLA is headed in the right direction with help of mental-conditioning coach
He was shanking kicks long before his foot struck the ball.
UCLA freshman J.J. Molson obsessed about his next field-goal attempt as he stood on the sideline early in training camp, an approach that didn't jibe with his easygoing nature or boost his accuracy.
Then someone helped devise a new strategy. Molson would chitchat with teammates about their plans for that night or what they wanted for dinner while waiting to kick. Any topic worked as long as it wasn't related to football.
Only when Molson jogged onto the field did his focus shift to kicking and two recurring thoughts: head down, follow through.
The plan, like most of Molson's ensuing field goals, was good.
It came from Trevor Moawad, the Bruins' new mental-conditioning coach and resident Zen master.
Some of Moawad's tenets — stay positive, remain in the moment, visualize success — sound like they belong in Sports Psychology for Dummies. Their effectiveness is partially rooted in their simplicity.
"It's all common sense," said Moawad. "It's just understanding that when you form habits, those habits form you."
He focused on something we weren't accustomed to: how your brain works and how you think and approach different situations.
— John Parker Wilson, Alabama quarterback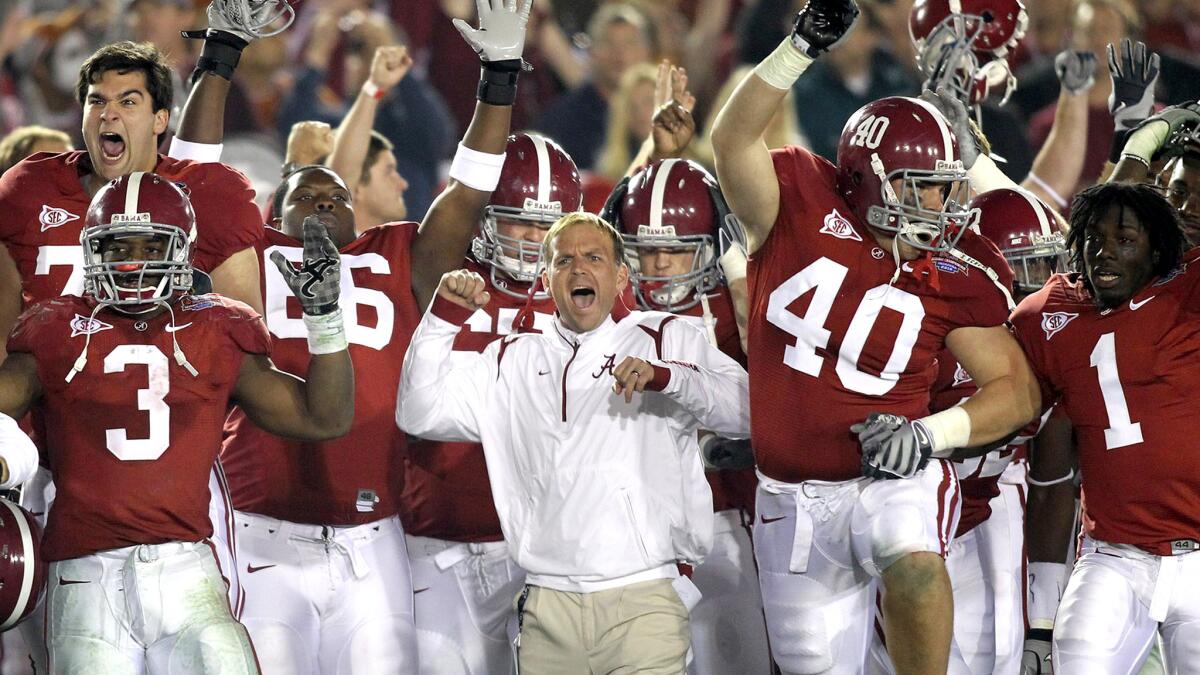 Moawad doesn't quantify his success through the wins and losses of the teams that employ him, though he might want to reconsider. He's worked with Alabama since Coach Nick Saban was hired in 2007, becoming a part of teams that have gone 119-19 while winning four national championships. Stints with Florida State and the NFL's Jacksonville Jaguars have also coincided with sustained bowl game and playoff appearances.
"He focused on something we weren't accustomed to: how your brain works and how you think and approach different situations," said John Parker Wilson, who played quarterback for the Crimson Tide during Saban's first two seasons. "That helped the transition and the culture change at Alabama."
Moawad's role at UCLA became an unexpected topic on the fourth day of training camp. Running back Nate Starks launched into a spontaneous tribute to the consultant by referencing the team's newfound togetherness and accountability.
Other players touched upon similar themes in the following days. The underlying premise was that the team had been somewhat fractured the previous season and the divisiveness was reflected in the Bruins losing three of their last four games.
"He's basically helping us to take our team back, in essence," quarterback Josh Rosen said of Moawad. "We got a little scrambled last year, and I think we're trying to get a core group of guys to pull the majority and those fence guys that maybe aren't so bought in or maybe it's not going so well for them on the depth chart or something, to be able to take those guys and take it away from 'me' and take it to 'we.'"
Moawad spent the first week of UCLA's training camp addressing players each day for about an hour. He met with them individually, in small groups and as a team. Sometimes he talked and on other occasions he asked players to acquaint themselves with unfamiliar teammates in an exercise designed to build unity.
Bruins Coach Jim Mora said he had already noticed an appreciable difference in the way his players speak with each other and react to adversity.
"This is not a one-time Navy SEALs speech," said Moawad, who plans to return to campus intermittently throughout the season. "This is a systematic part of your program that at different times will have higher degrees of relevance."
Although strength and conditioning, nutrition and even sleep programs have become heavily integrated into college football, sports psychology remains a largely fledgling realm. Moawad, 42, runs an eponymous consulting group but noted that his job growth has directly correlated to the growth of Saban's coaching tree at places such as Florida State, where former Saban assistant Jimbo Fisher is now the head coach.
"It's one of those areas in college football that most coaches don't know," Moawad said, "and don't know they're not doing it."
Moawad estimates that the mental component of his program contributes to roughly 5% of a team's success, the same percentage he ascribes to luck in a given season. UCLA hopes that's the edge it needs after 18 years without a major bowl game appearance or conference championship.
The Bruins' connection with Moawad could already be described as fortuitous. Moawad was seeking a Los Angeles training site for Seattle Seahawks quarterback Russell Wilson, perhaps his most famous client, when he spoke with UCLA offensive coordinator Kennedy Polamalu, a former colleague with Jacksonville.
Moawad was invited to campus and met with Mora, whose father, Jim Sr., he already knew as a fellow alumnus and board member at Occidental College, where Moawad played soccer and basketball while earning a bachelor's degree in comparative politics and a master's degree in education.
"Having an opportunity to access a guy like that made sense to me," the younger Mora said, "and I've been so over-the-top pleased to have him around here."
Moawad's schooling in mental conditioning started at the dinner table during conversations with his late father, Bob, one of the early contributors to the Chicken Soup for the Soul book series and a former president of the National Assn. for Self-Esteem who made presentations to Fortune 500 companies across the globe.
Standing in front of a group is only one component of Trevor Moawad's brain-training regimen. He texts, calls and reaches players through smaller gestures like providing a thought for the day while walking past them in the hallway.
Visualization is an important element. Third and five in the red zone? Moawad asks players to imagine critical situations so that when they arise in games they feel like they have already been there.
Players are also encouraged to shrug off mistakes and compartmentalize drives by not focusing on the need to go 80 yards for a touchdown.
"That seems daunting," said Wilson, the former Alabama quarterback, "but if you figure out the way to run the next play and move on after that, it's a lot more doable."
Moawad has been on the sideline for national championship celebrations, though those aren't always the moments that resonate most powerfully. He recalled a exchange between Florida State quarterback Jameis Winston and his teammates late in the 2014 Rose Bowl game against Auburn.
"Are you strong?" Winston asked, with the Seminoles trailing by four points and only 79 seconds left in the game.
"I'm strong if you're strong," a teammate responded.
"We're strong," Winston concluded before leading his team on the game-winning drive.
A similar sentiment is permeating Westwood, where a program once described as the "gutty little Bruins" is trying to transform itself into a juggernaut. Moawad's presence appears to be nudging it in the right direction.
"Our positivity, the words we say around each other, how we act around each other, it's been helping a lot," linebacker Jayon Brown said. "If we can keep this throughout the season, it's going to be amazing."
ben.bolch@latimes.com
Twitter: @latbbolch
Get the latest on L.A.'s teams in the daily Sports Report newsletter.
You may occasionally receive promotional content from the Los Angeles Times.