Confidence will be key for young UCLA team against 30-point favorite Oklahoma
Reporting from Norman, Okla. —
Dorian Thompson-Robinson held his hands out, palms down, and repeatedly pushed them toward the Rose Bowl turf. It was the UCLA quarterback's way of calming his teammates amid the frenzy.
Receiver Christian Pabico had just dropped a pass that would have gone for a long gain, if not a touchdown, last weekend during the third quarter of the Bruins' taut season opener.
Fans groaned. A Bruins player watching from the sideline placed his hands on his helmet in disbelief.
Thompson-Robinson tenderly placed a hand on Pabico's helmet while trying to comfort him.
"For me personally, it's just keeping these guys positive and having a positive outlook on the situation even though it was definitely a disappointing day," Thompson-Robinson said after his team's 26-17 loss to Cincinnati.
A few extra dollops of soothing cream could be required Saturday.
The Bruins (0-1) will take the field inside Gaylord Family-Oklahoma Memorial Stadium as 30-point underdogs against No. 6 Oklahoma (1-0).
It will be a powerhouse trying to stay in the running for the College Football Playoff versus a team trying to get back to .500 during a season in which Las Vegas oddsmakers picked the Bruins to finish with a losing record.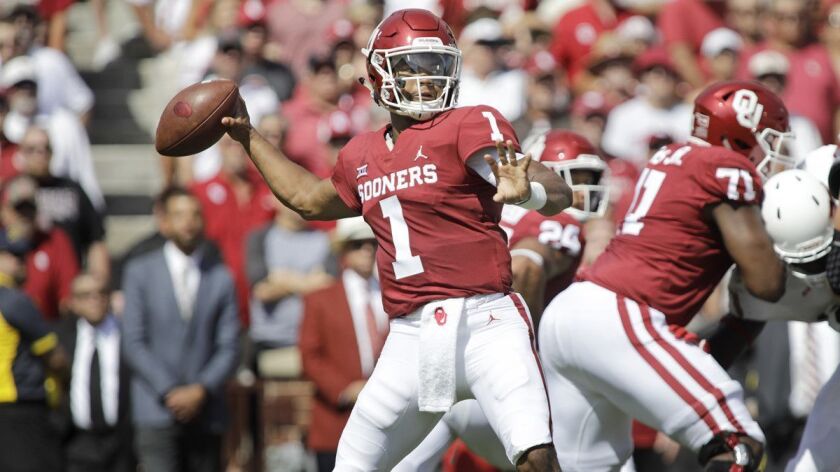 UCLA provided a taste of the potential slog ahead in its opener. The Bruins lost starting quarterback Wilton Speight in addition to a 10-point lead before halftime. There were missed tackles, dropped passes and a penalty for having 12 men on the field before a field-goal attempt that turned into a touchdown by Cincinnati on the next play.
Speight's status after suffering a back injury while being driven into the field on a tackle remained uncertain, with UCLA coach Chip Kelly providing one non-update after another throughout the week.
If Speight is unable to play, it would make Thompson-Robinson, a true freshman, the presumed starter and continue the Bruins' youth movement. UCLA is so young that it might be time to bring back the Brubabes nickname once bestowed upon its freshman teams. Eleven true freshmen played in the opener from a roster featuring 71.7% underclassmen, the fourth most of any team in the nation.
While first-game jitters may be out of the way, now those freshmen are experiencing their first trip, not to mention their first nationally ranked opponent in one of the nation's noisiest stadiums.
What's Kelly's advice to the youngsters?
"Just go play," the coach said. "We always talk about controlling the controllables and we don't control the crowd, we don't control the noise, so don't get caught up in it. Just focus and concentrate on what you can take care of and that's what your attitude's like, what your effort's like, what your preparation for the game is like."
Kelly tried to assist in unconventional ways on the preparedness front.
One of his practices included a twangy nod to the environment the Bruins expect to face when Alan Jackson's "Chattahoochee" blared over speakers during warmup stretches. The volume was turned to headache-inducing levels throughout the week to simulate what an anticipated sold-out crowd of more than 83,000 might sound like, at least in terms of decibels.
Kelly never lost consecutive games within the same season during his four years at Oregon, though he also was never confronted by the challenges facing his new team.
The Bruins likely will play without a number of injured inside linebackers and they certainly will be without running back Soso Jamabo, tight end Devin Asiasi and center Boss Tagaloa. The trio will sit out a second consecutive game as punishment for breaking unspecified athletic department rules.
That leaves more opportunities for the freshmen.
"It should really be interesting how the young guys adapt and how they prepare for this game, if that makes sense," said sophomore safety Quentin Lake, who made his first career start last week. "How are they going to take on the challenge? We're going to see a lot of the young guys rise up to the occasion."
No matter how the game goes, some Bruins consider the most important thing to be building toward a future in which their hands can be thrust into the air in celebration.
"I think we'll get better, week by week, and I'd say this is more of a building year anyway," Thompson-Robinson said. "So these guys will learn, and so will I."
Follow Ben Bolch on Twitter @latbbolch
---
Get the latest on L.A.'s teams in the daily Sports Report newsletter.
You may occasionally receive promotional content from the Los Angeles Times.