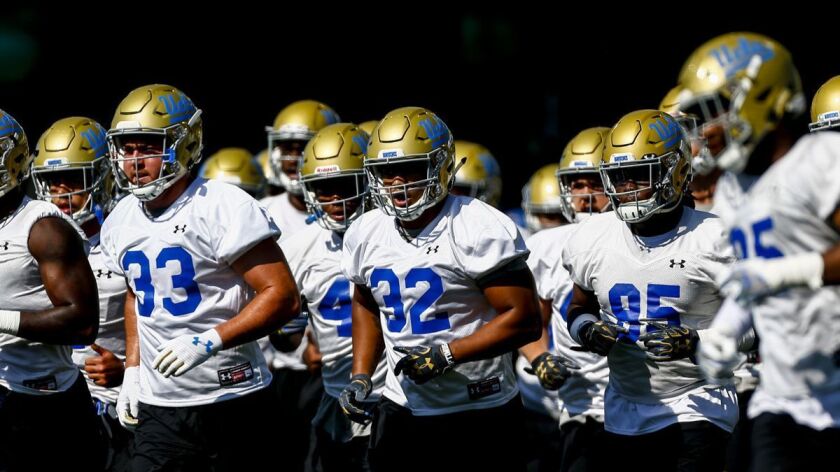 There were mad sprints from one drill to another, UCLA players announcing the name of their next practice assignment with a collective shout.
Near one sideline, defensive line coach Vince Oghobaase stood on the back of a blocking sled and insisted that the wide-bodied players in front of him strike the contraption with "extreme violence."
Coach Chip Kelly roamed the field while taking it all in Saturday morning, continually twirling a whistle around his hand.
The mechanics of the Bruins' 19th and final training camp session strongly resembled those of the first. Maybe that should have been expected from the coach who believes in repetition to the point of exhaustion.
The contrast that struck left guard Michael Alves was the difference in execution from the chaos of the camp's opening weeks.
"There are some guys a week ago who didn't even know the most basic concepts in our offense and now they're spitting out terms like they've known it all year," Alves said after the Bruins broke camp. " … Everyone's just a lot sharper now."
Of course, knowing what they will run against Cincinnati in their Sept. 1 season opener at the Rose Bowl doesn't mean the Bruins know who will be running it. Alves said the depth chart remained a mystery, with the quarterbacks vying for the starting job still being paired with every string of the offense.
"The problem that we're having is everyone is still getting better," Alves said. "So it's hard to say, 'Well, this guy's the starter' because the guy behind him is getting better and better."
Kelly said Friday he would meet with his staff Sunday to evaluate potential starters at every position. The coach acknowledged being pleased with the growth of a team laden with newcomers, including 35 true freshmen.
"There's a lot of guys when you watch make a mistake Day 2, you don't see it in Day 3," Kelly said. "So it's been a fun process to watch them develop ."
Whatever offense UCLA runs against the Bearcats, it's expected to be fast. Almost every player who met with reporters over the last few weeks spoke of a tempo that had turned practices into a blur.
But the look of the offense, like the depth chart, remains largely unknown.
"The thing with our offense is, I don't really know like too much of our style yet," Alves said. "I know like all the plays we're running, obviously, but practice has just been really smart, like strategic, so [Kelly] is just getting in as many plays as he can in a certain amount of time. So I don't know if it's an indication as to how our offense is going to be run."
Alves expressed confidence that the team will be able to run the ball, noting that defensive linemen often weren't getting a hand on tailbacks in practice until they were five yards past the line of scrimmage.
That sort of production was rarely seen the last two seasons, when the Bruins ranked among the worst rushing offenses in the country.
"The past few years, always when we ran a run play I was a little bit skeptical," Alves said, "but this year I think if they call a run play, I think we can get yards on it."
Alves said Kelly's imprint had manifested itself on the team beyond the playbook, including enhanced camaraderie and accountability.
"If one person screws up," Alves said, "people are going to get on him and that person's going to know that they're just getting on them because they want them to be better, so I think everyone's going to improve."
Having persevered through his first three weeks as a Bruin, freshman quarterback Dorian Thompson-Robinson posted highlight video footage on Instagram, including touchdown passes he threw to Chase Cota and Demetric Felton.
His next meaningful passes could come in less than a week.
"First fall camp in the books," Thompson-Robinson wrote. "See you all in the Rose Bowl next Saturday!"
Follow Ben Bolch on Twitter @latbbolch
---