UCLA struggles on offense and watches a chance to beat Washington State slip away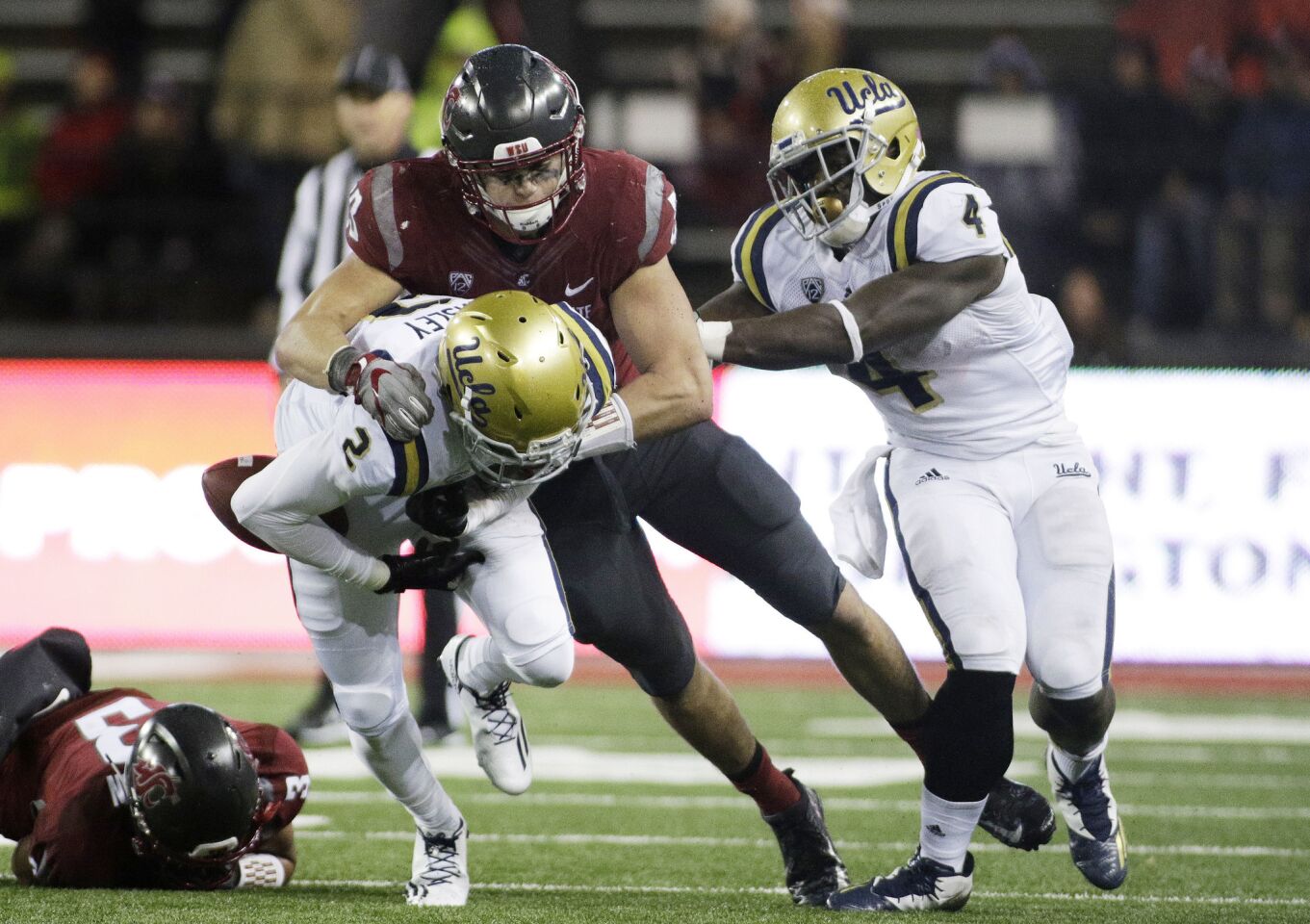 Washington State linebacker Dylan Hanser forces UCLA wide receiver Jordan Lasley to fumble the ball late in the fourth quarter of the Bruins' 27-21 loss to the Cougars.
(Young Kwak / Associated Press)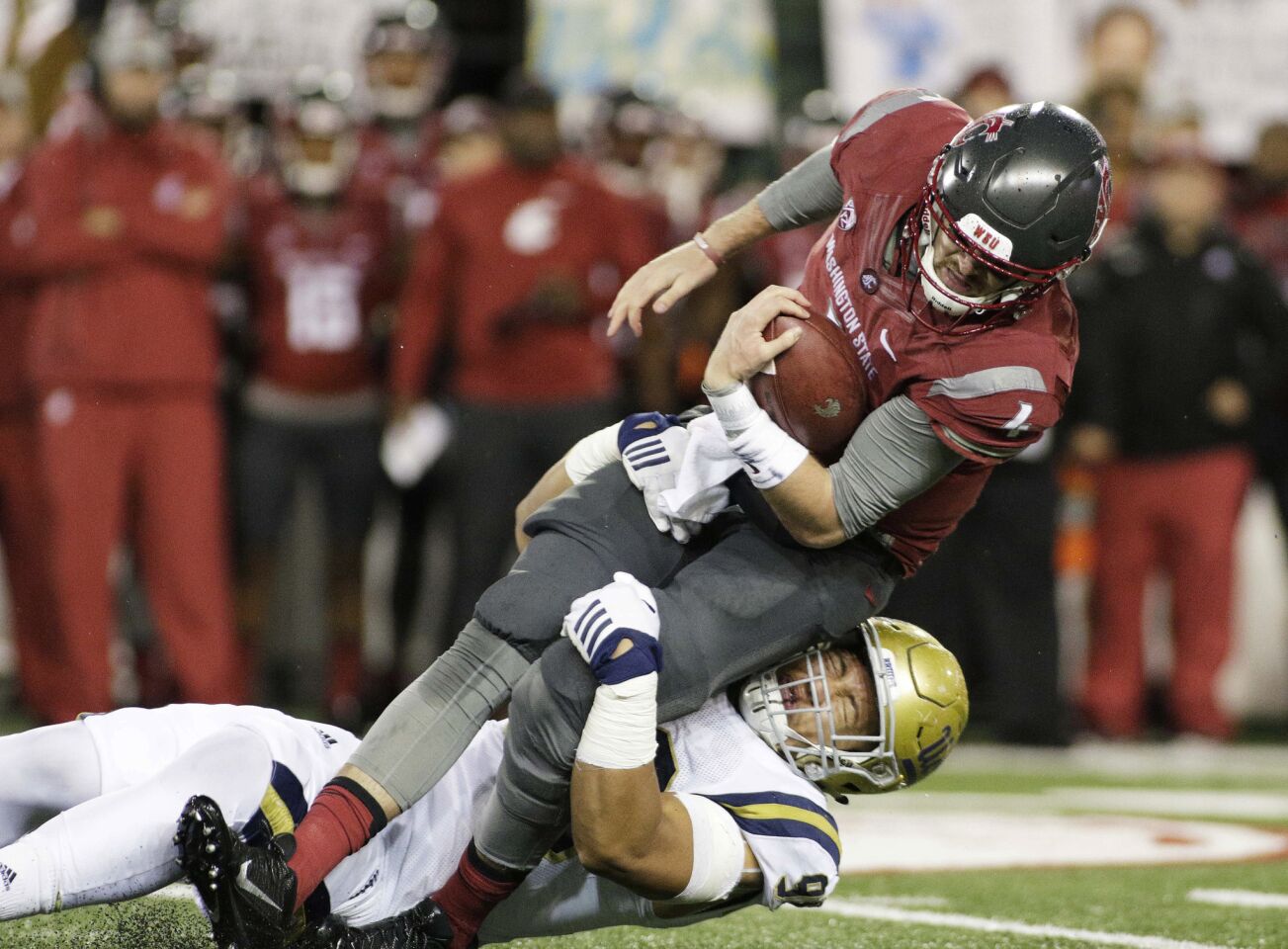 UCLA defensive lineman Matt Dickerson brings down Washington State quarterback Luke Falk during the second half of a game on Oct. 15.
(Young Kwak / Associated Press)
UCLA quarterback Mike Fafaul is brought down by Washington State defensive end Hercules Mata'afa during the first half of a game on Oct. 15.
(Young Kwak / Associated Press)
UCLA linebacker Jayon Brown intercepts a pass intended for Washington State receiver Tavares Martin Jr. during the first half of a game on Oct. 15.
(Young Kwak / Associated Press)
UCLA running back Nate Starks tries to get away from Washington State safety Shalom Luani during the first half of a game on Oct. 15.
(Young Kwak / Associated Press)
UCLA receiver Ishmael Adams carries the ball past Washington State punter Erik Powell during a game on Oct. 15.
(William Mancebo / Getty Images)
UCLA quarterback Mike Fafaul looks to pass during the first half of a game against Washington State on Oct. 15.
(Young Kwak / Associated Press)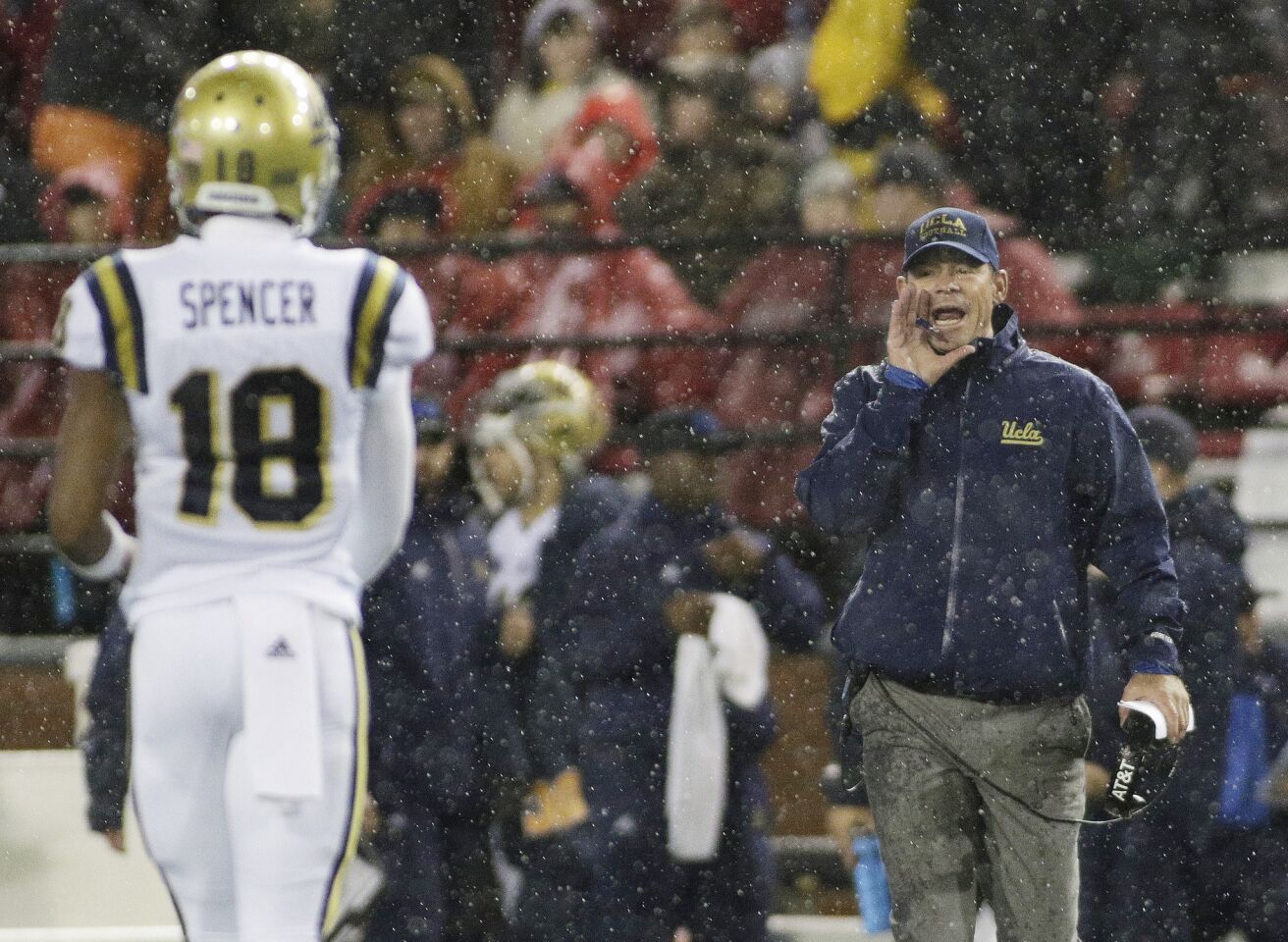 UCLA Coach Jim Mora directs his team during the first half of a game against Washington State on Oct. 15.
(Young Kwak / Associated Press)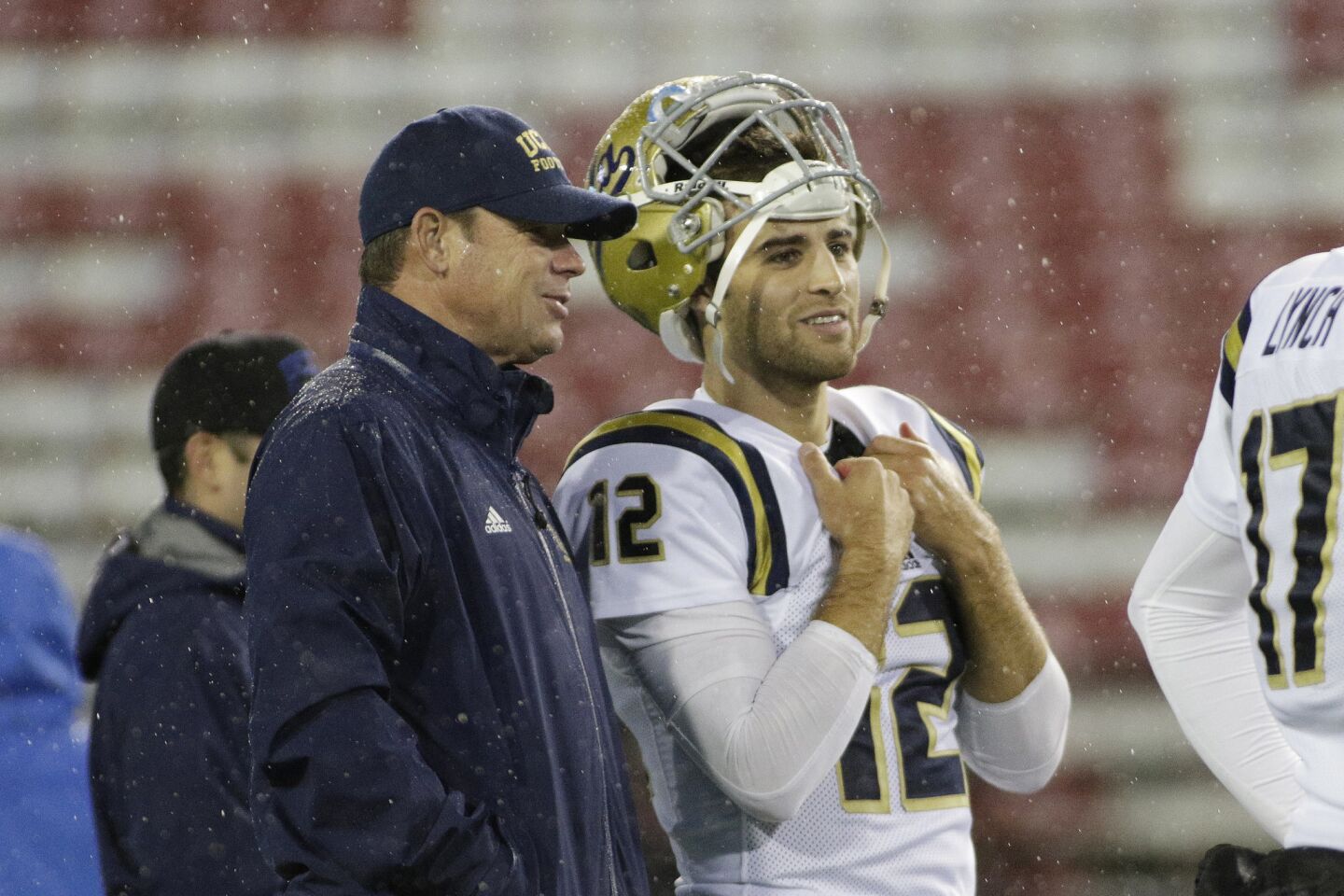 UCLA quarterback Mike Fafaul speaks with Coach Jim Mora before the game against Washington State.
(Young Kwak / Associated Press)
Washington State quarterback Luke Falk throws a pass during warmups before a game against UCLA on Oct. 15.
(Young Kwak / Associated Press)
Reporting from Pullman, Wa. —
It was the same old issue for UCLA's receivers on a night everything changed.
They couldn't hold onto the ball.
Jordan Lasley fumbled after making a catch in the final minutes and a Mike Fafaul interception on his final pass served as a familiar ending for the Bruins during a crushing 27-21 loss to Washington State on Saturday night at Martin Stadium.
Fafaul had gamely rallied the Bruins, throwing all three of his touchdown passes in the second half, during his first career start after quarterback Josh Rosen was unable to play because of injuries sustained the previous week.
But Lasley had the ball stripped by Washington State's Dylan Hanser and it was recovered by the Cougars with 2 minutes 18 seconds left. The Bruins got the ball back with 49 seconds left at their own two-yard line but Fafaul's final pass was intercepted for a second consecutive week.
UCLA Coach Jim Mora said his team should have snapped the ball before officials could review Lasley's fumble because he was initially ruled down on the field.
"Even with the fumble, we had a chance to get a snap off and negate the fumble if we had executed what we work on every week multiple times and we didn't get it done and that is so disgusting to me," Mora said. "I mean, the fumble is certainly distressing but not being able to execute a simple play that we run every week is even more distressing. I'm obviously not doing a good job of getting the message through."
Fafaul was much better in his first career start than he had been in relieving Rosen last week against Arizona State. He completed 24 of 40 passes for 258 yards with two interceptions.
Fafaul looked nimble while scrambling on fourth down before firing a 30-yard pass to Darren Andrews that gave the Bruins a first-and-goal situation. He found Andrews again for a four-yard touchdown that pulled UCLA to within 27-21 with 3:17 left.
But UCLA's running game sputtered again as the Bruins (3-4 overall, 1-3 in Pac-12 Conference play) suffered a third defeat in their last four games.
Asked about the atmosphere in the locker room after the game, Andrews said, "I'd rather not say."
UCLA gained 43 yards and averaged only 1.7 yards a carry, which qualified as progress after they had finished with minus-one rushing yard the previous week.
Bruins tailback Bolu Olorunfunmi (2.2 yards a carry) was more effective than teammate Nate Starks (0.7 yards a carry), though that wasn't saying much.
"I've never in my career been around a run game as awful as this," Mora said. "That has to be the first thing we address. It's staggeringly poor and we have to fix it."
Rosen was the last of UCLA's quarterbacks to appear on the field more than two hours before game time. He grabbed a football from underneath a blue tarp on the sideline, walked onto the field and gingerly tossed a few short passes to a football staff member.
Rosen then lingered near Fafaul, who slung passes 30 yards down the field, before meandering among other teammates, hands planted firmly in his jacket pockets, white towel slung over his head.
He looked like someone trying to protect a sore shoulder, not warm up for a game.
Rosen did not start for the first time in his college career. He teased those wondering whether he might start when he emerged from the locker room in uniform to stretch with his teammates about an hour before the game. He milled about as Fafaul threw warmup passes, pantomiming his throwing motion before finally tossing a few balls to Lasley from no more than 10 feet away.
Injuries to Rosen's lower body and the area around his throwing shoulder suffered last week against Arizona State would not allow him to play.
Fafaul had only spotty success throwing the ball until he found Andrews in the corner of the end zone for a 22-yard touchdown pass that pulled UCLA to within 10-7 early in the third quarter. It was the first touchdown pass of Fafaul's career and came shortly after he had underthrown an open, streaking Andrews, the ball intercepted by Washington State cornerback Marcellus Pippins.
Fafaul, a fifth-year senior, later completed a five-yard touchdown pass to Lasley early in the fourth quarter that cut the Bruins' deficit to 24-14.
Washington State quarterback Luke Falk shook off some early struggles to complete 28 of 48 passes for 261 yards with no touchdowns and one interception. He entered the game averaging 370 yards per game.
"I'll take this defense that I've got on this team right now and I'll go play anyone with them," Mora said. "We've just got to help them by running the football."
The Cougars (4-2, 3-0) did the bulk of their scoring on the ground, with Gerard Wicks rushing for two touchdowns and Jamal Morrow another.
Morrow's three-yard touchdown late in the third quarter was made possible after a pass interference penalty against UCLA cornerback Fabian Moreau helped Washington State convert a third down.
It was part of a spate of regrettable plays for the Bruins.
Receiver Kenneth Walker III lost a fumble and Austin Kent somehow punted for a loss of one yard, eliciting the fury of Mora once Kent returned to the sideline.
A rash of bad penalties also went against the Bruins. Defensive end Keisean Lucier-South was called for a block in the back and defensive end Jacob Tuioti-Mariner was penalized for roughing the passer on a drive that ended in Erik Powell's 36-yard field goal midway through the first quarter.
Follow Ben Bolch on Twitter @latbbolch
---
Get the latest on L.A.'s teams in the daily Sports Report newsletter.
You may occasionally receive promotional content from the Los Angeles Times.