Bryce Alford gets emotional in sendoff before UCLA's win over Washington State, 77-68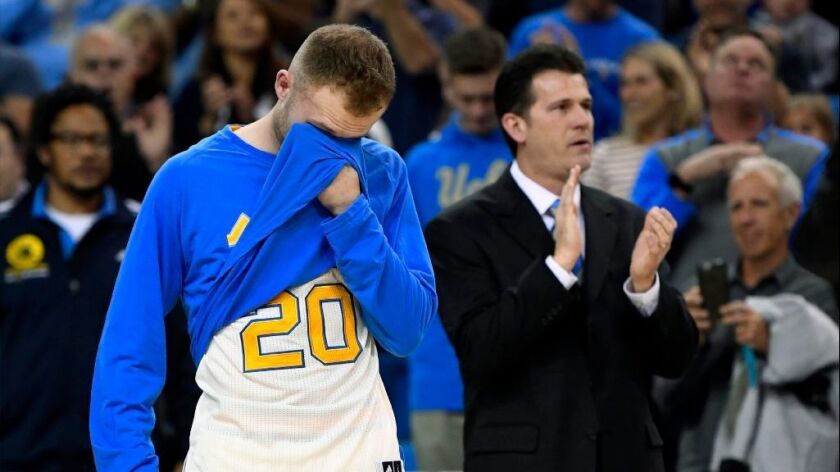 The sobbing started after Bryce Alford had strolled about a quarter of the way across the Pauley Pavilion court.
One arm around his mother, Tanya, the other waving to the crowd, the UCLA shooting guard briefly looked like he might prevail in an unwinnable battle with his emotions. Then his father and coach, Steve, reached out to slap hands with the senior who was about to play in his final home game Saturday night.
The father held his son in a momentary embrace, patting him on the shoulder as Bryce dipped his head and let his feelings flow. He continued to march toward the far end of the court before wiping his eyes with his jersey and hugging his teammates.
It was a tearful, but ultimately happy, send-off for the Alfords and the other UCLA seniors who were bidding farewell as the third-ranked Bruins sloughed off a sluggish opening 30 minutes for a 77-68 victory over Washington State.
"Nobody really warned me it was going to be like that," Bryce Alford said of the way he felt during the pregame ceremony. "It kind of got me out of rhythm. The amount of emotion kind of drains you a little bit before the game and it's hard to refocus."
Alford didn't have one of his more memorable showings for a player who ranks No. 5 on the Bruins' all-time scoring list, finishing with 13 points while making only four of 12 shots. He also made two of eight three-point attempts, giving him 317 three-pointers for his career to move into a tie with Jason Kapono atop the school's all-time list.
All that mattered was the Bruins held on for their ninth consecutive victory after trailing with less than 10 minutes left in the game. Alford contributed by making the three-pointer that gave UCLA a 53-51 lead with 9:48 left. The Bruins would never trail again.
UCLA freshman point guard Lonzo Ball logged nine of his career-high 14 assists in the first half to help the Bruins (28-3 overall, 15-3 Pac-12 Conference) tie the school record for regular-season victories even with power forward TJ Leaf sidelined by an ankle injury.
UCLA will open the Pac-12 Conference tournament on Thursday in Las Vegas against either USC or Washington in the quarterfinal round.
They will hope to have Leaf back in their starting lineup by then. He sat out the game against the Cougars after spraining his left ankle three days earlier. Leaf wore a walking boot Saturday but moved without a limp, slapping hands with teammates as they warmed up before the game.
"He's done very well in the last three days, so things are going pretty well," Steve Alford said. "I'm fully prepared for him to play on Thursday."
Leaf had terrorized Washington State last month, scoring a career-high 32 points, and UCLA certainly could have used him in the rematch. Gyorgy Goloman, his replacement in the starting lineup, had seven points and four rebounds.
Isaac Hamilton, UCLA's other senior starter playing in his final home game, also struggled with his shot, firing an airball midway through the second half. He made up for it with a three-pointer in the final minutes and finished with 14 points on four-for-10 shooting.
After being announced earlier in the day as one of 15 finalists for the Wooden Award that goes to the nation's top player, Ball broke Gary Payton's Pac-12 freshman record for assists in what will almost surely be his final home game before heading to the NBA. Ball has 241 assists on the season.
"Emotion wasn't the same," Ball said of being a freshman on senior night, "but I'm thankful for all the fans and I'm a Bruin for life."
Thomas Welsh had 13 points and 11 rebounds for UCLA, which wore throwback jerseys to commemorate the 1966-67 national championship team it honored at halftime. Welsh took and made the first three-pointer of his career in the first half, prompting Leaf to raise both arms in celebration from the bench.
Fans also cheered Bruins center Ike Anigbogu's right-handed block of a shot by Washington State's Robert Franks with 6:42 left after it had appeared Franks had an unimpeded path to the basket. UCLA's defense sparked a 14-0 run that transformed a 51-50 deficit into a 64-51 lead over the Cougars (13-17, 6-12).
Point guard Aaron Holiday added 16 points off the bench for the Bruins, who finished the season 16-1 at home and sold out eight of their nine Pac-12 games at Pauley Pavilion. The crowd was treated to one final thrill when senior Jerrold Smith, a former practice player for the women's basketball team, got into the game for the final 33 seconds after Bryce Alford and Hamilton departed to raucous applause. Smith missed both of his shots as fans stood in anticipation of another reason to cheer.
Follow Ben Bolch on Twitter @latbbolch
---
Get the latest on L.A.'s teams in the daily Sports Report newsletter.
You may occasionally receive promotional content from the Los Angeles Times.