UCLA beats Utah to set up Pac-12 South showdown with USC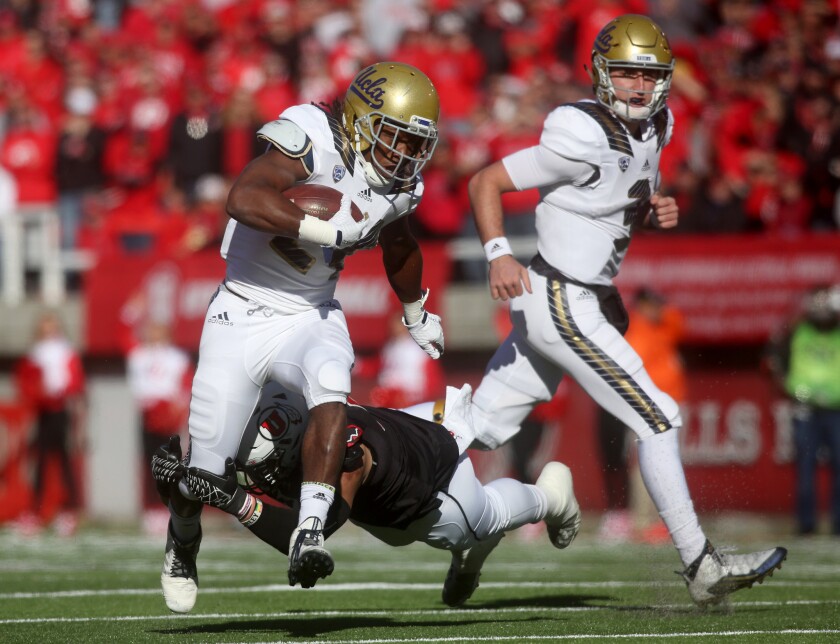 Utah quarterback Travis Wilson scrambled, to his right, then twirled backward, well behind the line of scrimmage. The UCLA defensive front gave chase. It was fourth and nine, with not much more than a minute left.
He turned to his left and saw open ground and took off. The Bruins couldn't catch him. As fourth-down conversions go, it doesn't get much more demoralizing.
Two plays later, UCLA saved the game. Wilson fumbled on a bad exchange during a play-action fake, and Jayon Brown hopped on the loose ball. UCLA held on for a 17-9 victory over the 13th-ranked Utes.
The Bruins have one win down. They need one more, over USC next weekend, to make the Pac-12 Conference championship game, and one more after that to win the conference.
Entering the game, Josh Rosen had thrown for more than 300 yards in four of his previous five games. He began in rhythm.
UCLA's first play of the game was a 33-yard strike to Thomas Duarte. Soon after, Rosen found Duarte again, on a perfectly thrown ball, for a 28-yard touchdown.
Afterward, though, Rosen stagnated. After completing three passes on that first drive, he completed as many in the rest of the half. He ended up completing 15 of his 30 attempts for 220 yards and one touchdown, and he set a UCLA record for consecutive completions without an interception.
Jordan Payton caught seven passes for 105 yards and Paul Perkins rushed for 98 yards and a touchdown.
For Utah, even without All-Pac-12 running back Devontae Booker, its game plan did not change. By the end of the second quarter, the Utes had mostly abandoned the passing game.
Near the end of the half, they drove 72 yards with just one pass, a short five-yard completion. They settled for a field goal to make the score 10-6.
Then, to start the second half, they went 76 yards with no completions at all, and only one pass attempt. Many on the UCLA defense had their hands on their hips, breathing heavy, already starting to tire in the altitude of Rice-Eccles Stadium.
Joe Williams finished with 121 yards on the ground for the Utes and Wilson added 67.
But UCLA tightened. Presented with a first down from UCLA's own two-yard line, the Utes opted for three straight rushes. This time, the Bruins pushed them back two yards. Once again, they held Utah to a field goal despite a lengthy drive.
The Bruins ended a string of three straight Utah scores with a methodical 14-play, 69-yard drive. Paul Perkins punched in the touchdown from two yards out to give UCLA an eight-point lead.
In the fourth quarter, UCLA drove into Utah territory to set up a 49-yard field-goal attempt and a chance to go ahead by two scores. But the kick by Ka'imi Fairbairn, who had made 19 in a row, curled wide right.
Then the UCLA defense took over. They forced four straight three and outs before falling on the fumbled exchange.
::
A recap of the game follows.
UCLA had just given up a huge fourth-down conversion on a wild scramble by Travis Wilson. Two plays later, the Bruins caught a huge break. A bad exchange on a play-action fake led to a fumble, and Jayon Brown fell on it. UCLA will have a chance to ice the game with about one minute left.
-----------------
Utah will have plenty of time to mount a drive, if it can find a way to move the ball on UCLA. A UCLA punt gave the Utes the ball with three minutes and nine seconds, and three timeouts, remaining, from their own 16-yard line.
-----------------
That reception by Jordan Payton, the 194th of his career, just set a UCLA record.
-----------------
UCLA's defense continues to suffocate Utah. The Utes had a chance to grab the momentum after UCLA's missed field goal. The Bruins did not let them. After an incompletion and a rush for no gain, Aaron Wallace sacked Travis Wilson for a loss of 17, and a fourth straight three and out
-----------------
UCLA kicker Ka'imi Fairbairn has been one of the best in the country. He had made 19 field goals in a row. He had a chance to put UCLA up two scores. But, after an 11-play, 52-yard drive, Fairbairn's 49-yard attempt curled wide right. Utah is still hanging around, with less than eight minutes left in the game.
-----------------
The UCLA defense stays hot. It has now forced three straight three and outs.
-----------------
UCLA just narrowly avoided disaster. On third down, the ball slipped out of Josh Rosen's hand and went backward, into the air. Paul Perkins was there to catch it. He lost four yards, but kept the ball, and allowed UCLA to punt.
-----------------
After going the bend-but-don't-break route for much of the game, UCLA has opted for the don't-bend-at-all method. The Bruins forced Utah's second consecutive three and out, and they'll take over at their own 24-yard line.
-----------------
Facing third and 23, thanks to a sack and a flag, Josh Rosen delivered. Kenny Walker couldn't hang on. His drop forced UCLA to punt.
-----------------
Remember Nate Meadors, UCLA's savior against Colorado with a late interception? He just prevented a Utah first down with a hard hit that jarred loose a would-be completion. UCLA will start its drive on its own 29-yard line.
-----------------
UCLA 17, Utah 9 (5:17 left in third quarter)
There's an answer for UCLA. Paul Perkins muscled his way into the end zone from two yards out. It capped a 14-play, 69-yard drive.
UCLA had just one play go for more than 10 yards, a 12-yard completion to Jordan Payton.
-----------------
UCLA lineman Conor McDermott is down on the field and receiving medical attention for what appears to be a leg injury. If the injury is serious, it would be a big loss. McDermott has been one of UCLA's best linemen.
-----------------
UCLA 10, Utah 9 (8:39 left in third quarter)
UCLA has been getting gashed, at times, on the ground, but the defense has tightened up when it counts. Utah settled for another field goal after getting as far as UCLA's three-yard line.
The Utes have found the way it wants to attack the UCLA defense. During the drive to end the first half they used only one completion before they kicked a field goal. To start the half, they didn't complete any passes at all (they attempted only one). Utah rushed 12 times to travel 76 yards. Joe Williams is up to 112 yards rushing for Utah.
But facing first down from UCLA's two-yard line, Utah tried three straight runs and went nowhere.
-----------------
For UCLA, Josh Rosen has cooled after his quick start. He completed three passes for 75 yards on the first drive. He completed just three passes in the rest of the half, for 65 yards.
-----------------
How has Utah's attack changed without Devontae Booker? Not much. The Utes have rushed 27 times, for 126 yards, and passed only 11 times.
Travis Wilson has completed seven of 11 passes for 68 yards. He also leads Utah with 62 yards on the ground.
Joe Williams has 55 yards on 13 rushes.
-----------------
Jim Mora opted against one final try before halftime. UCLA will take a lead into the break.
-----------------
UCLA 10, Utah 6 (0:38 left in second quarter)
Utah just drove 11 plays and 72 yards with just one completion, a five-yard underneath pass to Joe Williams. They used plenty of Williams and Travis Wilson rushes to set up another 39-yard field goal. UCLA's lead is now down to 10-6. With 38 seconds left, UCLA may have time to make a late drive before the half ends.
-----------------
Josh Rosen wasn't happy about it, but UCLA was forced to punt on fourth and one near midfield. After Paul Perkins fell just short of a first down on third and one, Rosen tried to wave off the punt team. Jim Mora had other plans. Utah will start its drive at its own seven-yard line.
-----------------
Josh Rosen just threw his 200th pass in a row without an interception. That's a UCLA record.
-----------------
Utah is leading the ground battle, with 74 rushing yards to UCLA's 44. But most of the Utes' production has come from Travis Wilson, who has 42 yards on seven attempts. Joe Williams has 25 yards on nine rushes.
For UCLA, Paul Perkins has been efficient, with 30 yards on six attempts.
-----------------
UCLA 10, Utah 3 (6:17 left in first quarter)
Maybe a week complaining about a lack of holding penalties has made a difference for UCLA. Utah seemed to complete a highlight-reel pass to to the one-yard line, but it was called back for a holding penalty, Utah's second of the drive.
The Bruins sacked Travis Wilson on fourth-down, but this time a defensive holding penalty gave Utah a first down, and the Utes made a 39-yard field goal to get on the board.
-----------------
A holding penalty put a halt to that drive. The Utes will start their drive at their own 12-yard line.
-----------------
That's the end of the first quarter. UCLA faces second down and 21 when play resumes.
-----------------
Utah's offense seems to be feeling the absence of Devontae Booker. UCLA's Jaleel Wadood made a shoestring tackle in open space on Joe Williams on third and one to force a punt.
-----------------
UCLA 10, Utah 0 (4:01 left in first quarter)
UCLA couldn't finish in the red zone, and they settled for a field goal. They were probably lucky to get that: Rosen's final third-down attempt was nearly intercepted. The big play on the drive was a 37-yard completion to Jordan Payton, who caught an underthrown ball over the Utah defensive back.
-----------------
Turns out, UCLA forced a turnover anyway. Joe Williams, the back-up running back in for the injured Devontae Booker, coughed up the ball, and Goforth pounced on it. The turnover stopped a long drive for the Utes.
-----------------
UCLA had a great chance to steal lots of momentum early. Randall Goforth intercepted a poor decision by Travis Wilson, but Jayon Brown was flagged for pass interference. Utah retained possession.
-----------------
UCLA 7, Utah 0 (13:13 left in first quarter)
With Josh Rosen playing like he is, UCLA is hard to beat. Rosen threw a perfectly placed pass to Thomas Duarte for a 28-yard touchdown. On UCLA's first play of the game, he hit Thomas Duarte for a 33-yard completion. Then, on a third down, Rosen found a wide-open Kenny Walker to extend the drive.
Rosen has thrown for more than 300 yards in four of his past five games.
-----------------
Nate Starks' return went nowhere. UCLA will begin the game on its own 13-yard line.
-----------------
UCLA lost the coin toss, and Utah has deferred.
-----------------
In seven days UCLA will have gone from participating in a track meet to participating in a rugby scrum, reports Chris Foster.
The Bruins lost to pass-happy Washington State a week ago and will face meat-and-potato Utah today in Salt Lake City.
"That's life in the Pac-12," UCLA defensive line coach Angus McClure said. "That's kind how it's been all year. You have to be very adjustable on defense. One week we're going to see a West Coast power game, the next week we'll see a spread. You see teams that have a pistol look. Last week, we saw a team with vertical passing game. Now we get back into a zone read running game with a very mobile quarterback."
-----------------
Three players whose injury status was in question are dressed and participating in warmups: linebacker Isaac Savaiinaea, who missed the last three games with a sprained ankle, wide receiver Devin Fuller, who also missed three games with an ankle injury, and cornerback Johnny Johnson, who is nursing a neck injury.
Receiver Stephen Johnson III is not dressed to play.
-----------------
Here's some pregame reading:
-----------------
UCLA will play Utah on Saturday at 12:30 at Rice-Eccles Stadium. You can follow along right here.
About 45 minutes remain until the kickoff, and Chris Foster reports it will be perfect football weather in Salt Lake City.
Game time temperature is expected to be 42 degrees with little wind. Foster reports there is not a cloud in the sky. It's a big change from the Bruins' last two games at Rice-Eccles Stadium, when they had to deal with snow.

---
Get the latest on L.A.'s teams in the daily Sports Report newsletter.
You may occasionally receive promotional content from the Los Angeles Times.