Error-prone USC dodges a bullet and escapes with a 24-20 win over Arizona
Reporting from Tucson —
USC's upcoming bye week may not feel that much different from the game week the Trojans just experienced. On Saturday night, during a shockingly sloppy 24-20 victory over the flawed Arizona Wildcats in the desert, the Trojans were mostly playing against themselves.
They technically had an opponent, sure, but Arizona was never going to challenge USC for four quarters on its own. So the Trojans went about trying to make it interesting with 18 penalties for 169 yards and three fumbles, including two in the fourth quarter. Once they had created their own adverse circumstances, they pushed hard to overcome them, which led to a feeling of accomplishment each time they were successful.
USC (3-2, 2-1 Pac-12) had some fine individual performances that rose above the mucky malaise and gave the final score an appearance of a hard-fought road win over a division rival.
The Trojans know better.
They know they nearly blew a game late against an opponent they should have dominated.
"I'm sick," USC senior captain Cameron Smith said. "This doesn't feel like a win."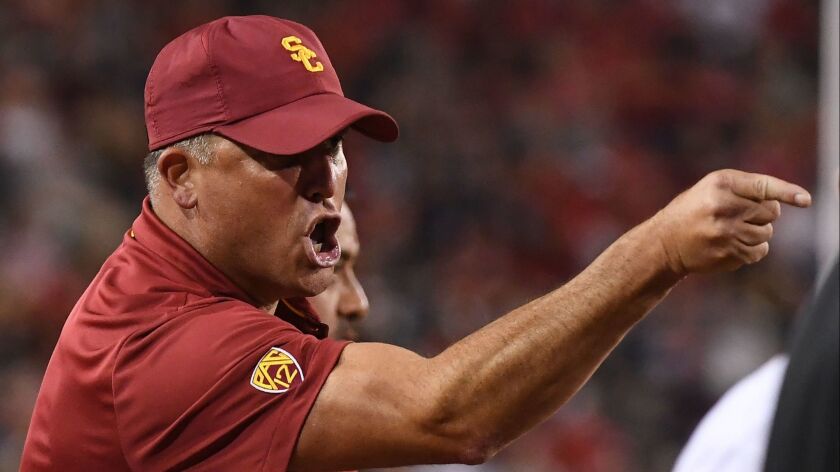 Aca'Cedric Ware carried 21 times for 173 yards and two touchdowns, and his 69-yard scoring run in the third quarter put the Trojans up 24-0, which felt like a pretty comfortable margin at the time. Marvell Tell III had an interception and a field-goal block in the first half. These senior leaders deserve applause for getting the Trojans to a bye week in which they will have unlimited issues to iron out before unbeaten Colorado comes to the Coliseum.
"We've got to get better fast," Smith said, "because we're not executing on little things that I think we can, and we have a really talented group. We have to push a sense of urgency these next two weeks and really focus on getting better."
USC's 18 penalties were the most in Clay Helton's tenure and the most since the Trojans had 16 for 161 yards in 2007 against Washington. They gave life to the hapless Wildcats, who were able to muster only 116 total yards in the first half as they continued to try to navigate how to play offense with Khalil Tate hampered by an ankle injury.
USC just could not get out of its own way, a theme of this confounding season.
"Obviously the win is good," Helton said, "but there's a lot of things to fix."
The Trojans led 17-0 near the end of the second quarter, and despite doing whatever they could to keep Arizona in the game, they seemed on the verge of giving Wildcats fans an excuse to beat the traffic home at halftime.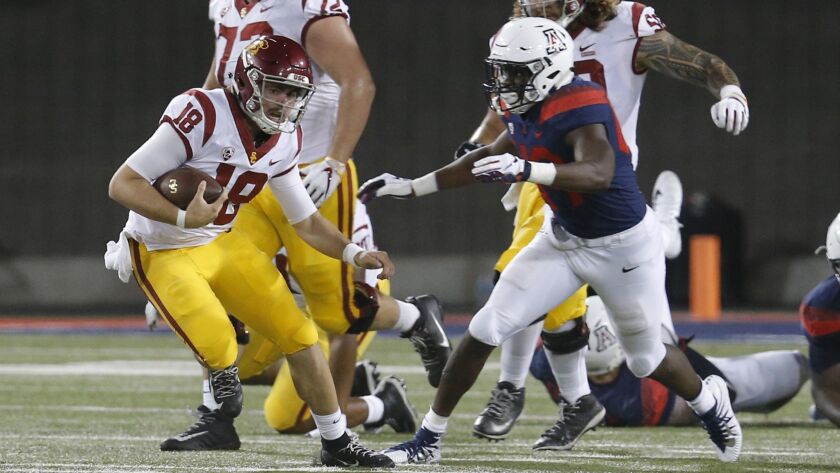 Handed prime field position at the USC 43, quarterback JT Daniels hit Amon-ra St. Brown for a 20-yard gain. Then Stephen Carr darted for 24 more, putting the Trojans at the Arizona 13-yard line. But as Daniels surveyed the field before calling for the ball, center Toa Lobendahn snapped it at his knees. Daniels didn't see it coming, and the ball caromed off him into the hands of Arizona's Colin Schooler for a turnover that gave the Wildcats life again.
The Trojans then offered some help to Arizona's impotent offense, which hadn't found its way into USC territory all half. On what was supposed to be the last play of the half from Arizona's 45, Tate passed to JJ Taylor, who carried it 20 yards to the USC 35. There, his face mask was grabbed by John Houston Jr., giving the Wildcats 15 more yards and an untimed down to attempt a 38-yard field goal.
When Tell blocked the field goal to preserve USC's halftime shutout, it became clear that the Wildcats (2-3, 1-1) weren't going to take advantage of the Trojans' charity, no matter how giving they would be in the game's final minutes.
A seemingly never-ending stream of penalties put a damper on what could have been a statement victory for USC, which got its first road win of the season but not much else to show for its trip to Tucson.
"I'm glad we fought as a team to get out of it," Smith said. "I think we just haven't put a complete game together, and I think we're due. We really are. We're due."
UP NEXT >>> USC gets a week off to prepare for the Colorado Buffaloes, who stayed unbeaten and moved to 4-0 with a 38-16 win over UCLA Friday. Colorado hosts Arizona State on Saturday.
Twitter: @BradyMcCollough
---
Get the latest on L.A.'s teams in the daily Sports Report newsletter.
You may occasionally receive promotional content from the Los Angeles Times.