USC football: What to expect when the Trojans open camp Friday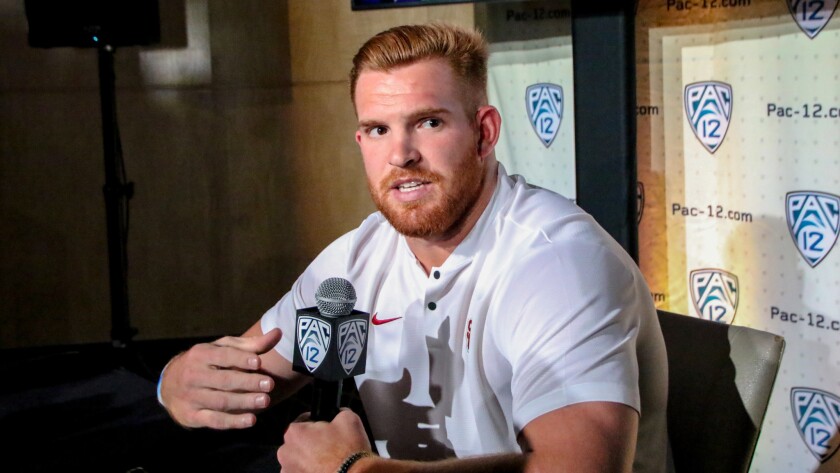 The day before the start of fall camp, the USC football team was given a gift by the 65 voters in the preseason Amway coaches poll.
The Trojans have spent the offseason fuming over the way their season ended with a 24-7 beatdown against Ohio State in the Cotton Bowl. It dampened the enthusiasm the Trojans felt a month earlier in winning their first Pac-12 championship since 2008 — surely a sign that USC had retaken its rightful spot as one of the perennial powers of college football — and pushed them throughout winter workouts, spring practice and summer conditioning.
Listening to senior linebackers Cameron Smith and Porter Gustin at last week's Pac-12 media day, you got the feeling that USC players haven't stopped thinking about Ohio State since the moment the game ended. They felt like they had been pushed around by Big Ten brawn and were frankly embarrassed.
And then Thursday, the coaches picked USC as the 15th-best team in the nation entering the season.
For most programs, that would be viewed as a sign of respect. For the Trojans, it served as confirmation of just how far they have to go.
"Are we on pace?" coach Clay Helton asked. "Yes. I think of the last two years to have a chance to win a Rose Bowl and Pac-12 title. Yes. Are we where we want to be? No. When we win a national title, that's where we'll want to be."
USC has recruited like a national championship contender the last five years, finishing as high as second (2015) in the 247Sports composite team rankings and as low as 10th (2014 and 2016). The Trojans have been ranked fourth the last two recruiting cycles, and the next step in the program's return to prominence is to be one of the top four teams on the field at season's end and earn a spot in the College Football Playoff for the first time.
The work begins today at USC's Howard Jones Field. Here are the most pressing questions facing the Trojans heading into fall camp:
Is JT Daniels ready?
In the last year, Daniels led Santa Ana Mater Dei to an undefeated season and national champion designation by USA Today, decided to reclassify to the 2018 recruiting class, finished two semesters' worth of senior-level classes in one semester and moved onto campus at USC to begin the summer session and participate in player-run practices. He also was named the Gatorade national male athlete of the year in July.
It's enough to make even the most accomplished person look back on his or her high school days and question whether they could have done more. And yet, the challenge Daniels will face during the coming months may be even more to ask of the 18-year-old:
Win the starting quarterback job at USC. March the team through a September slate that includes trips to Stanford, Texas and Arizona. Lead the Trojans back to where their legion of fans feel they belong — the top.
"I've told all the quarterbacks what it takes to be the quarterback here," Helton said. "You represent USC. You're in the second-largest media market in the country. So how you represent yourself on and off the field is imperative, how you are the example of what a Trojan is.
"For us, we're going to put those kids in some tough situations in training camp. More live situations than just throwing the ball in the air and seven-on-sevens. They're going to have Porter Gustin breathing down their necks to see how they function, how they operate and how the ball moves."
Redshirt sophomore Matt Fink and redshirt freshman Jack Sears are not going to make it easy for Daniels. They're more experienced with USC's playbook and better able to make big gains with their legs.
Can Stephen Carr reach his potential?
Carr has been waiting to be the man in USC's backfield for what must seem like an eternity.
He committed to the Trojans in the spring of his sophomore year of high school, developing into a five-star running back and the No. 20 player in the nation according to the 247Sports Composite rankings.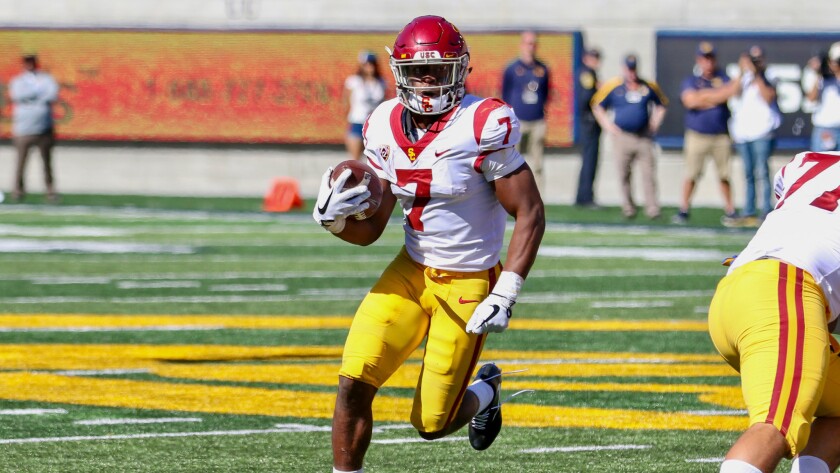 Last year as a freshman, he knew he would be playing behind Ronald Jones II but still made a huge impact during his first five games, rushing for 119 yards and 82 yards in wins over Stanford and California, respectively. From there, it has been nothing but frustration. A small tear in his plantar fascia sidelined him out the next four games, derailing his season. Then, he sat out spring practice while recovering from back surgery.
But thankfully for Carr and the Trojans, he has been cleared to practice. And he'll be expected to carry a heavy load for USC all season — if he can remain free of injury.
"Obviously coming off back surgery we'll be smart and won't throw him out there the whole practice," Helton said. "I've had the chance to watch him run, had the chance to watch him change direction. I have asked, 'Do you have any pain?' And he feels great right now. But obviously he has not been hit yet. We'll slow-pace that to see where he's at and hopefully by Game 1 he's ready to go."
Has the offensive line improved?
Last season, USC gave up 30 sacks, which put the Trojans at 71st in the nation. Against Ohio State, USC gave up eight sacks.
With seasoned Sam Darnold at quarterback, USC was able to get away with shoddy offensive line play most games, but this season will be different with a quarterback making his first starts in college football.
Luckily for the Trojans, they return three seniors on the line in Toa Lobendahn, Chris Brown and Chuma Edoga, who worked all offseason to improve the unit's performance.
Lobendahn is expected to move back to center, his most natural position.
Who will replace Rasheem Green and Uchenna Nwosu?
USC will need to find dominant pass rushers to replace Green and Nwosu, who combined for 19½ sacks last season.
Christian Rector emerged in 2017 with 7½ sacks playing for the injured Gustin before he was sidelined because of a hand injury. This season, Gustin and Rector will be expected to make life difficult for opposing quarterbacks, but to do that they need to stay on the field.
Which true freshmen will contribute?
USC's true freshmen will all have a chance to work their way up the depth chart in the coming weeks. One rookie who could make an immediate impact is five-star wide receiver Amon-Ra St. Brown, who played with Daniels at Mater Dei and was brash enough to tell The Times in June that his goal was to win the Heisman Trophy this season.
"I know a lot of the kids have been bragging [about] Amon-Ra and what he's been doing," Helton said, "and he's had that shut-up-and-work mentality this summer and is earning a lot of respect with our older guys."
Twitter: @BradyMcCollough
---
Get the latest on L.A.'s teams in the daily Sports Report newsletter.
You may occasionally receive promotional content from the Los Angeles Times.