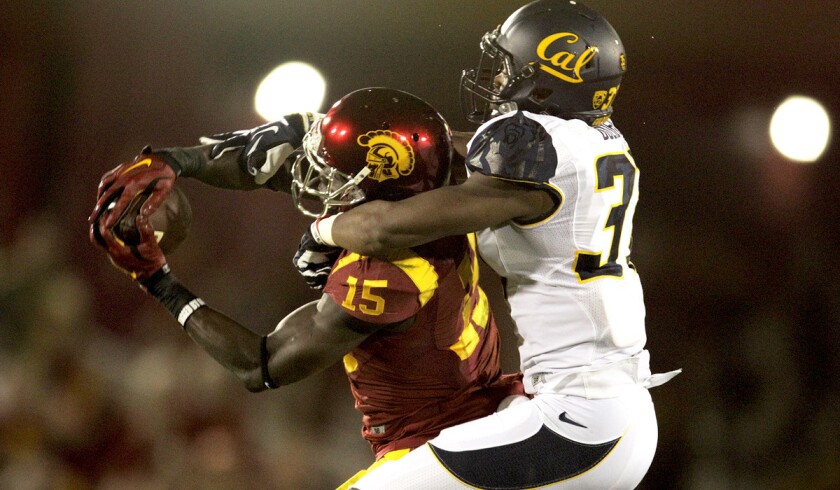 USC's Nelson Agholor goes into Saturday's game against UCLA riding a hot streak.
The junior has amassed more than 200 yards receiving in two consecutive games. This week, he was selected as a semifinalist for the Biletnikoff Award, presented to college football's top receiver.
"It's an amazing honor," Agholor said Tuesday after practice.
Agholor has 82 receptions, 10 for touchdowns for a Trojans team that is No. 19 in the College Football Playoff ranking.
Agholor is averaging 13.2 yards per catch and 107.9 yards receiving per game.
"I took advantage of my opportunities," he said, "and I want to continue to do that."
Two weeks ago, Agholor caught eight passes for 220 yards against Washington State, including an 87-yard touchdown pass from quarterback Cody Kessler.
Last Thursday, with NFL rookie and 2012 Biletnikoff winner Marqise Lee on the Coliseum sideline, Agholor caught 16 passes for 216 yards and two touchdowns in the Trojans' 38-30 victory over California.
"It was great by the coaches to trust me, to target me that many times, and for Cody to give me opportunities," Agholor said.
Agholor has amassed 110 yards or more in each of the last four games.
In USC's 2012 loss against UCLA, Agholor caught three passes, including one for a touchdown. In last season's loss to the Bruins, he had four catches for 35 yards.
Agholor is looking forward to Saturday's rivalry game at the Rose Bowl, but said he views the Bruins "just like every other opponent in the Pac-12 Conference. I'm focusing on preparing this week and playing as hard as I possibly can."
He's a fake
Freshman Jalen Greene is playing the role of UCLA quarterback Brett Hundley for the USC scout team.
Greene is wearing a yellow jersey emblazoned with No. 17, Hundley's number for the Bruins.
"I'm just sticking to how I play and getting between the tackles when there's nothing up field," Greene said. "They just want me to rush up field because that's what he did a lot last year."
Hundley passed for 208 yards and rushed for 80 yards and two touchdowns in the Bruins' 35-14 victory at the Coliseum.
Status: uncertain
Tight end Bryce Dixon is practicing this week, but his status for Saturday's game remains uncertain.
Dixon, a freshman, was suspended for the Cal game. Coach Steve Sarkisian said after the game that Dixon did not play because of an unspecified "student conduct issue."
Dixon was not made available to reporters after Tuesday's practice.
Sarkisian said Dixon's situation was "ongoing" and "in the university's hands."
"They have given him the green light to practice, which is a positive, so we'll see where it goes," he said
Asked if Dixon would be eligible to play Saturday, Sarkisian said, "I don't know yet."
Dixon has six receptions, three for touchdowns.
If he is held out again, senior Randall Telfer would be the Trojans' only scholarship tight end.
Quick hits
Linebacker J.R. Tavai, who had been sidelined since suffering a sprained knee against Utah, practiced and appears on track to play Saturday. . . . Safety John Plattenburg, who was sidelined against California because of a bruised thigh, returned to practice.
Follow Gary Klein on Twitter @latimesklein
---