USC quickly rebuilding depth on offensive line with freshmen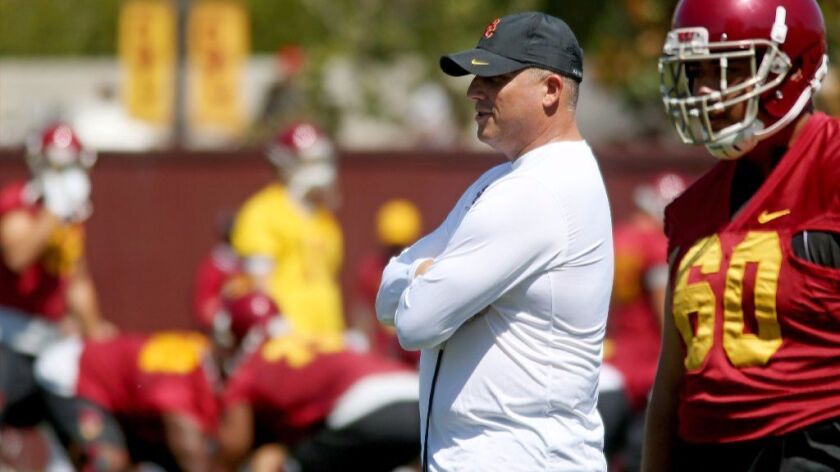 Freshman offensive tackle Austin Jackson was the smallest of five offensive linemen in USC's most recent recruiting class. He quickly set about changing that.
"Yeah, I was eating a whole lot of food," he said. "There's a lot of food here to eat. And coach [Neil] Callway's been on me."
In high school, Jackson was nimble. He once anchored his school's 400-meter relay — and won. He is listed at 290 pounds on USC's roster. But by the start of training camp, he'd already ballooned to 308 pounds before settling at 298, he said.
This is what Coach Clay Helton had envisioned when he targeted these freshman linemen. After USC lost a substantial amount of bulk to the NFL — about 700 pounds combined between tackle Zach Banner and guard Damien Mama alone — Helton expressed a desire for the offensive line to get bigger. It did. Andrew Vorhees is 6 feet 6 and 310 pounds. Jalen McKenzie 6-5, 305. Alijah Vera-Tucker is 6-4, 300. And Brett Neilon is 6-2, 295.
It is rare for freshmen offensive linemen to sniff the starting lineup. But the physicality of USC's freshmen has given them an advantage. And two hover just outside the starting five.
When guard Viane Talamaivao was unable to practice Wednesday because of a foot injury, Vorhees moved up to the first team.
"They've really proven themselves, that they can step in and play for us," Helton said. "That second group is a very talented group."
Vorhees has trained at guard and tackle and is likely to play this season in reserve. Jackson could also be an early option if there is an injury at left tackle.
Jackson said he came to USC understanding that "it's very unlikely for freshmen to start."
"But," he said, "I feel like Andrew and I can both contribute to this team at a young age."
Helton said the linemen fit his ideal of flexible athletes. He said he looked for personnel with the frame of a tackle, plus speed. All five, he said, could play multiple positions.
"I don't know how fast you'll see those five," Helton said. "It may be a day. It may be 100 days. It may be a year. But they're going to have very bright futures here."
Guest appearance
In the middle of practice on Wednesday, Helton made a substitution at receiver. Split out wide was a 10-year-old named Taylor Hammond, who wore a No. 2 USC jersey. Hammond, who has battled leukemia for four years, had earlier played catch with quarterback Sam Darnold during a water break.
Hammond caught a screen pass and USC's team ran with him into the end zone.
"Just a neat, special moment," Helton said.
Hammond and his family talked with defensive line coach Kenechi Udeze after practice. Udeze said he has been in regular contact with the family because they share a connection: Udeze, a former first-round draft pick, was diagnosed with leukemia in 2008. After treatment, the disease went into remission, but it ended Udeze's playing career prematurely.
Having Hammond at practice "makes you literally look at all the stuff that you complain about, and you need to evaluate what's really making you happy," Udeze said. "It's really a blessing to see him."
Quick hits
Helton said Talamaivao probably will be out the rest of the week. … Kicker Mike Brown made three of four field goals Wednesday. Chase McGrath made four of four.
Follow Zach Helfand on Twitter @zhelfand
---
Get the latest on L.A.'s teams in the daily Sports Report newsletter.
You may occasionally receive promotional content from the Los Angeles Times.