Stephen Carr is creating a good problem for USC: competition at running back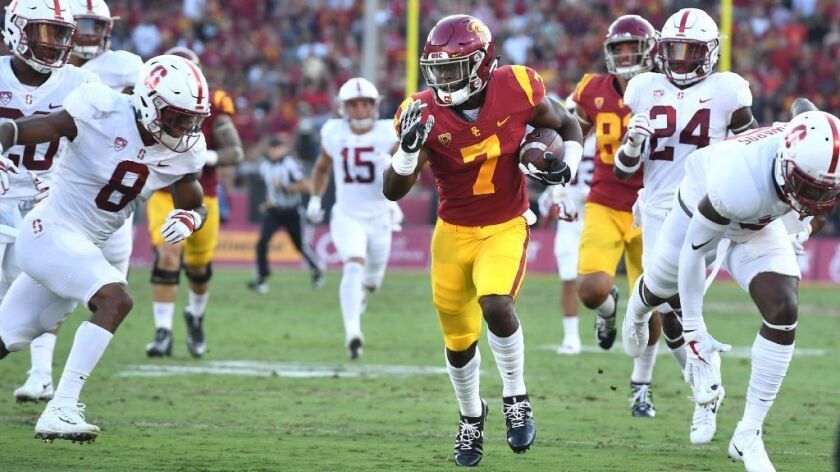 USC running back Stephen Carr says he is built for the open field. He calls it his "specialty."
After USC's win over Stanford on Saturday, when he found the open field often, he described what he thinks about when he is one-on-one with a defender:
"Let's see what this highlight's gonna be like."
Carr already has created an impressive number of highlights in only two college games. The freshman rushed for 69 yards in seven carries in USC's opener. He led USC with 119 yards in 11 carries against Stanford. USC already has made him a staple of its passing game. He is a big, powerful back, at 210 pounds, but also has demonstrated a burst and quickness in space.
And he has done so as a backup.
The Trojans' physical domination against Stanford, and Carr's emergence, has left them with a good problem. USC doesn't have enough carries to go around. Carr has not looked far behind starter Ronald Jones II, who rushed for 159 yards against Western Michigan and 116 against Stanford. Sports Illustrated called the pair possibly "the best tailback duo in college football."
Carr carried more often in Game 2 than Game 1. Should his workload continue to increase, closer to that of Jones?
"Man, we leave that up to coach [Clay] Helton," Carr said.
It is not only Carr who has benefited from USC's strong offensive line play. Redshirt freshman Vavae Malepeai ran for 49 yards in six carries against Stanford. While Carr and Jones have similar builds and running styles, Malepeai offers a chance of pace. He is more bruiser than track star.
"Right now I think Ronald does a tremendous job on a down-to-down basis being a very complete back," Helton said. "Stephen has been very good in the run game and catching the ball out of the backfield. He continues to learn pass protection. And then Vae. Vae has come in and really provided us a lot of downhill running."
The challenge that Helton faces is distributing a limited number of touches. Malepeai has the clearest role. He has been utilized at times in short-yardage situations and, along with Aca'Cedric Ware, to give Jones and Carr a breather.
The dynamic is more complicated between Jones and Carr. Carr has a slightly better rushing average than Jones, with more long runs. He is a better receiver than Jones. Jones is a better blocker and has been more consistent, if slightly less explosive.
"I think we complement each other amazingly," Carr said. "His running ability, the way he runs through tacklers, the way he keeps his legs moving, his balance. Both of us together is a great combination."
Helton noted that there were enough touches to go around against Stanford. USC ran 45 times, not including a swing pass to receiver Deontay Burnett and two kneel-downs. The Trojans also gave another touch each to Jones and Carr in the passing game.
"So we have the ability to get 50-plus touches from those backs," Helton said.
In games when the offensive line isn't as dominant, and USC leans on its passing game, USC will have to make difficult decisions.
Carr doesn't expect that to happen often.
Of Stanford, he said, "I don't think they could take the pressure that we apply. I think no defense can."
Quarterback competition
Texas coach Tom Herman said that he was not set on a starting quarterback for Saturday's game against USC.
Shane Buechele, who passed for 2,958 yards and 21 touchdowns with 11 interceptions as a freshman last season, started in Game 1 against Maryland but sat out last week against San Jose State because of a sore shoulder.
Freshman Sam Ehlinger, who adds dangerous running ability, started in his place.
Buechele's status is uncertain. Even if he's available, Herman said, he's not a lock to start.
But who's counting?
USC's loss to Texas in the 2006 national championship game was unforgettable. Except when it comes to official NCAA purposes.
And that is how USC's game notes this week list USC as "4-0 in its series with Texas." The notes go on: "(not including 1 loss vacated due to NCAA penalty; original record, 4-1)."
The NCAA required USC to vacate all of its BCS appearances as part of sanctions leveled in 2011. In other words, Texas' victory counts. But USC's participation in the game does not.
Quick hits
USC moved up two spots to No. 4 in the Associated Press top-25 poll, leapfrogging Penn State and Ohio State. … Quarterback Sam Darnold was chosen the Pac-12 Conference's offensive player of the week. … USC had issues to clean up even after its win over Stanford. "Eight penalties for 90 yards in a close game will get you beat," Helton said.
Follow Zach Helfand on Twitter @zhelfand
---
Get the latest on L.A.'s teams in the daily Sports Report newsletter.
You may occasionally receive promotional content from the Los Angeles Times.