USC quarterback JT Daniels doesn't make excuses for ineffective debut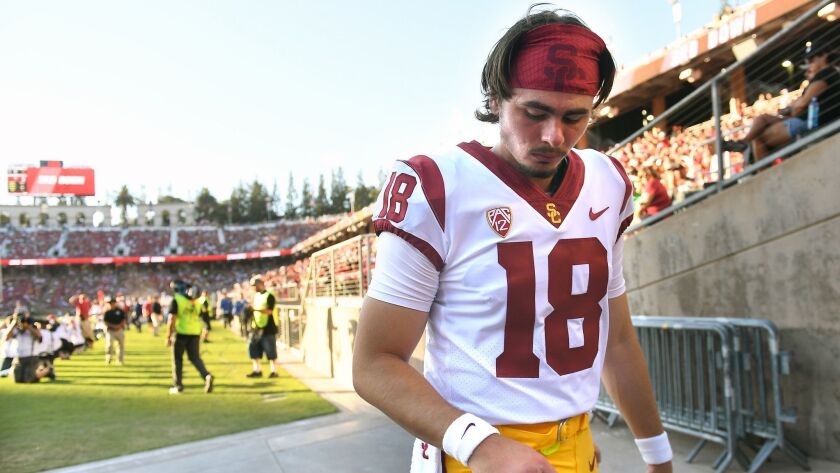 After his first defeat as USC's quarterback Saturday night, JT Daniels faced reporters on his way to the team bus and said the things a leader is supposed to say.
"I didn't do my part," Daniels said. "I think the biggest blame goes on me. Age is not an excuse and neither is experience. Coach put me as starter and I had to get the job done, and I didn't get it done tonight."
Daniels had plenty of excuses at his disposal if he wanted to explain away a showing in the Trojans' 17-3 loss at Stanford. The freshman elected not to use them, though, even saying that the bruise he suffered on USC's first drive when a helmet hit his right (throwing) hand was not an excuse. Daniels left for a full series.
"We didn't know if we were going to get JT back or not," offensive coordinator Tee Martin said. "JT finished the game and fought through that. The kid fought hard. I'm proud of him."
Daniels said his hand was swollen, which meant he had to change his grip on the football. He was not sharp for much of the game, throwing short on several passes that could have been game-changers in the second half.
Martin said he did not know whether Daniels' inaccuracy was a product of the injury.
Although Daniels was not willing to use his age as an excuse, Martin took the opportunity to add perspective.
"I told him to keep his head up," Martin said. "He should be in high school still and not on the road playing Stanford."
Coach Clay Helton said Sunday night that Daniels had an MRI exam on the hand, which showed the injury was only a bruise.
Helton said Daniels' hand was sore Sunday but the coach was optimistic about the quarterback's availability for Texas.
Lamenting stalled drives
It wasn't that USC didn't move the ball against Stanford. The Trojans crossed into Cardinal territory six times but left those flirtations with only three points. In the first half, drives of 10 and 13 plays resulted in no points.
"That's the difference in the game when you look at it," Helton said. "This can be an exceptional football team. … This is not the end of the world. The sky is not falling. It's one game early in the season against a top-10 team. We'll do what we've done in the past, stay consistent, stay stable. We'll add them up at the end of the season and see where we are. Hopefully, it's back in Santa Clara on Nov. 30 against Stanford."
Helton pointed to two illegal motion penalties for the offense once it had crossed midfield. Plus, there were several breakdowns in protection on crucial plays and some misfires in the passing game.
"It was just one person here or there," Martin said. "Get them all blocked on the front side and one guy comes free on the back. It was one of those nights. Putting your finger in a hole in the boat and another one keeps popping open."
Isaiah Pola-Mao to miss Texas
Helton said USC will be without starting strong safety Isaiah Pola-Mao against Texas and possibly longer. Pola-Mao dislocated a shoulder in the first half against Stanford.
"We're going to let that thing rest for a couple weeks and re-evaluate," Helton said.
The Trojans used redshirt sophomore C.J. Pollard and freshman Talanoa Hufanga in Pola-Mao's place. Helton said freshman Chase Williams, who has been playing cornerback, would shift to safety this week to add depth.
Twitter: @BradyMcCollough
---
Get the latest on L.A.'s teams in the daily Sports Report newsletter.
You may occasionally receive promotional content from the Los Angeles Times.