USC's JT Daniels continues to impress with a variety of throws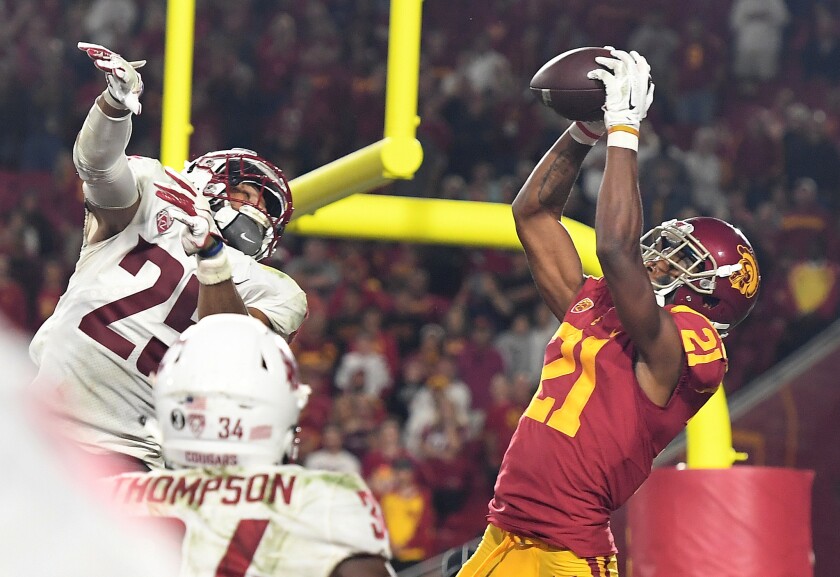 JT Daniels' favorite was his two-point conversion throw to Tyler Vaughns in the back of the end zone that gave USC a 39-36 lead.
Amon-ra St. Brown was partial to Daniels' fade pass in the final seconds of the first half to Michael Pittman Jr. that was caught in the end zone but ultimately ruled incomplete after a lengthy review.
USC quarterbacks coach Bryan Ellis couldn't decide between two throws Daniels made in the second half that beat a "Cover 2" defense. The first was a 22-yarder down the left sideline to Pittman that got USC moving on its first drive of the second half. The second was a 21-yarder on third-and-nine on the Trojans' game-winning drive when Vaughns leaped over a Washington State defender on the right sideline to keep the chains moving.
Ellis appreciated the debate going around USC's practice Tuesday night and took it as a good sign that things had taken a turn for his young quarterback Friday night in a much-needed win over the Cougars.
"That goes to show you that he made a couple good ones, right, if people have got different opinions?" Ellis said.
Ellis saw where St. Brown was coming from too.
"But I like the ones that are actual completions," Ellis said with a chuckle.
Daniels only threw the ball 26 times against the Cougars, but he made them count for 241 yards and three touchdowns, instinctively taking shots down field against man-to-man coverage and zone looks alike.
"When you have Michael Pittman and you have Tyler Vaughns and Amon-ra, what they do so well is you're really not going to throw an interception on a deep ball," Daniels said. "They'll make sure they catch it or the ball hits the ground. When you have guys like that, there's no reason not to take your shots when you have them, and even when you don't, there are plays where Pitt and Tyler and Amon shouldn't come with that they'll come up with, you know?"
While Daniels already has a feel with St. Brown from their high school days at Santa Ana Mater Dei, he has spent the first four weeks of the season working to catch up with Vaughns and Pittman.
"Pitt and Tyler are really, really good future NFL receivers," Daniels said. "The miscues you saw earlier in the season when we aren't connecting are just miscues. It takes time.
"A guy like Tyler, just make sure you don't overthrow Tyler, because Tyler will make sure it's a catch or it's hitting the ground. Pitt has some real speed and he's got a second and third gear when the ball is in the air, so Pitt is a guy I want to throw the ball deep and throw it out there and let him run under it."
USC coach Clay Helton said he could see the chemistry was getting there last week during practice.
What was never in doubt was Daniels' willingness to put it up.
"The good ones I've been around have no conscience," Helton said. "They just let it fly, and he's one of those guys. His ability to pull the trigger on the deep ball to Velus [Jones Jr.] … that was a perfectly timed ball. The ability even on the fade throw before half … it was a perfectly executed throw. It was us or nobody. He has confidence in his arm, and he trusts his wideouts. … The sky's the limit for the kid."
Helton's call on tailbacks
It's been hard to get a feel for USC's running back rotation through four games, as Aca'Cedric Ware, Stephen Carr and Vavae Malepeai have split carries.
Entering the game Saturday at Arizona, Ware and Carr have 33 carries. Malepeai has 26.
USC offensive coordinator Tee Martin said Helton makes the decision during the game based on his intuition.
"Clay substitutes the running backs on the sidelines during the game," Martin said. "I think he does it based on the feel and how they're looking. I'm upstairs myself and coach [Tim] Drevno is upstairs. I think [Helton] manages it based on how he feels and what he sees for the most part."
Etc.
Helton mentioned five players Tuesday who were being limited or held out of practice — St. Brown (shoulder sprain), defensive tackle Jay Tufele (illness), Jones (elbow), outside linebacker Porter Gustin (knee) and right guard Andrew Vorhees (sternum). All five practiced Wednesday. … Offensive tackle Jalen McKenzie was held out Wednesday with back tightness. … Wide receiver Josh Imatorbhebhe has not played this season because of a highankle sprain, but he has practiced the last two days. Helton said he doesn't expect him to play this week.
Twitter: @BradyMcCollough
---
Get the latest on L.A.'s teams in the daily Sports Report newsletter.
You may occasionally receive promotional content from the Los Angeles Times.