USC coach Clay Helton reiterates: JT Daniels is the starting quarterback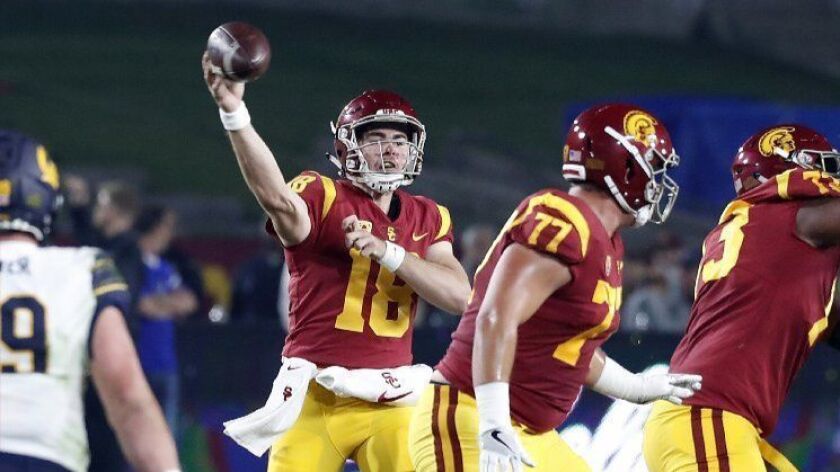 For one half of football last weekend, JT Daniels looked like he had turned a corner in his surprisingly challenging freshman season. Facing California's top-20 defense, Daniels competed 15 of 20 passes in the first half as USC built a 14-0 lead.
At halftime, it would have been hard to imagine coach Clay Helton having to field a question this week inquiring how he knows that Daniels is his best quarterback. But that's where Helton found himself after practice Wednesday in preparation for UCLA.
"I've been doing it 24 years and know from experience that right now JT is playing good football," Helton said. "I do know that we are extremely fortunate to have both Jack [Sears] and Matt [Fink]. I thought Matt came into the Utah game and did some great things too. That's what you want — as many good quarterbacks as you can have on your football team. But right now, JT is our starter."
Among passionate observers of the USC program, there are doubters of Helton's ability to evaluate quarterbacks, based on him choosing Max Browne over Sam Darnold in their 2016 battle during fall camp, only to switch to Darnold after a 1-2 start. Darnold led the Trojans to nine wins in a row to end that season.
This season, Sears' performance in a loss to Arizona State gave those doubters something more to chew on. Taking his first college snaps, Sears threw for 235 yards and two touchdowns, albeit in a losing effort.
After Daniels completed just six of 14 passes for 33 yards and an interception in the second half against Cal, the confidence he had built in the first half had disappeared.
Helton was asked if he would consider putting Sears in the game against the Bruins if the offense struggles again. He did not answer the question specifically, saying it was a hypothetical.
"Last week's stall was not an act of the quarterback," Helton said. "It was an act of three dropped balls on second down, of two false-start penalties and a snap going over our head that provided five third-and-seven-plusses. That's hard on any quarterback. If all of a sudden you go from third-and[-short] in the first half to five third-and-longs, that's a little bit tougher. I don't put that on the quarterback."
USC quarterbacks coach Bryan Ellis agreed with Helton that Daniels was more a victim of circumstances than the culprit Saturday.
"Football is such a game of momentum," Ellis said. "You go in at halftime, at worse you're going to be up 17-0 and Amon-ra [St. Brown] is competing his butt off out there, fighting for extra yards, and unfortunately he fumbles the ball. Then you come out of the second half and we snap the ball over our quarterback's head. There's two points. A couple plays later it's a touchdown. Instead of it being 17-0, just like that it's 14-9. That's football.
"As a team, you gotta continue to fight and understand that, when something bad happens, you gotta make a couple plays in consecutive order to bring the momentum back to your side. We kind of lost our mojo. That's on us as coaches of getting them to understand, you have to fight through this adversity. We've got to take one drive, fellas. Unfortunately, Saturday, we didn't get that done."
Etc.
Helton said that running backs Aca'Cedric Ware (shoulder) and Vavae Malepeai (ankle) should play against UCLA. "Knock on wood they stay healthy," Helton said. … Chuma Edoga (knee) remains out for USC, so redshirt freshman Jalen McKenzie will start at right tackle. … Defensive tackle Brandon Pili practiced Thursday and looked "functional," Helton said. … Linebacker Juliano Falaniko cleared concussion protocol and has been cleared to play, if needed.
Twitter: @BradyMcCollough
---
Get the latest on L.A.'s teams in the daily Sports Report newsletter.
You may occasionally receive promotional content from the Los Angeles Times.