After following around losing teams for years, USC's 'Road Warriors' indulge in rare treat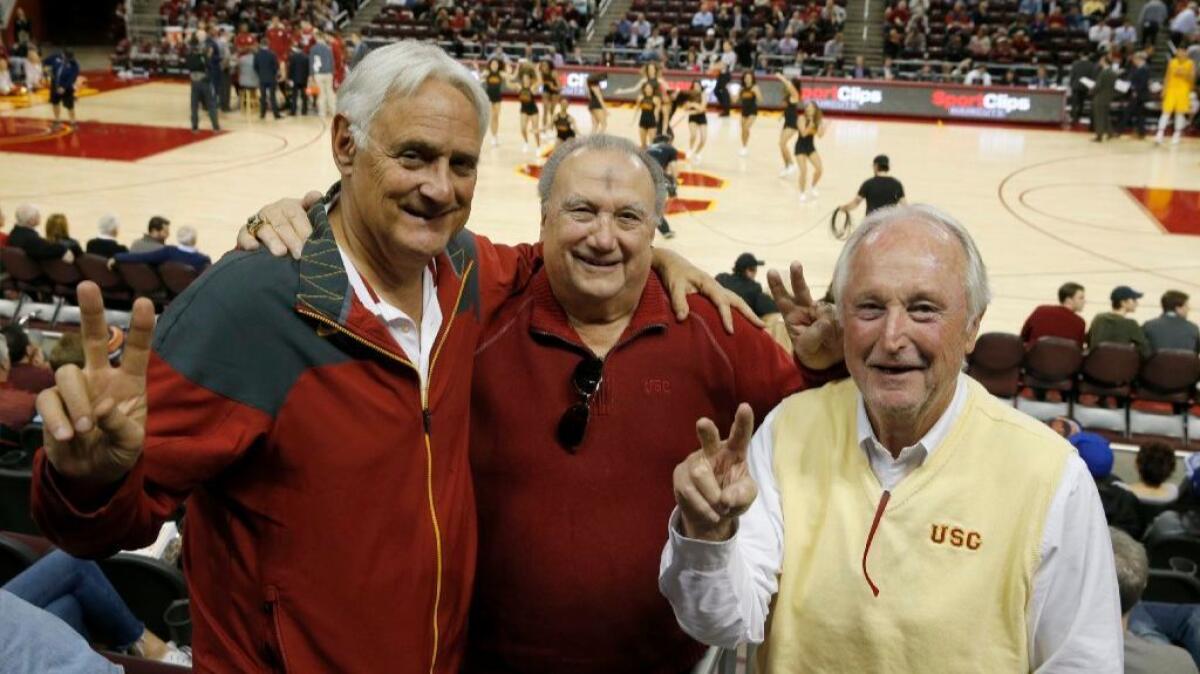 Sunday was a whirlwind day for the USC basketball team.
The Trojans learned they had been placed in an NCAA tournament "First Four" play-in game, which meant arrangements had to be made to get to Dayton, Ohio, on short notice. Travel had to be planned, schedules pieced together, expenses forecast.
And that was just for the fans.
Within hours, Mary Pashley and her husband, Mike, local USC fans, had booked a serpentine route: To Cincinnati by plane via a transfer in Chicago — praying snow didn't ground the flights — then up to Dayton by car.
Mary paid for it all using airline miles to avoid potential change fees. If the Trojans win in Ohio on Wednesday, the Pashleys would book the first flight to Tulsa, Okla., where USC would play next.
Missing any of the games wasn't an option.
USC has trouble drawing sizable crowds for home games. Finding USC fans during away contests can be a game of Where's Waldo. Who would want to schlep on planes and in rental cars to see a team that has rarely ever won on the road until recently?
"You either have to be a big fan or an idiot," USC fan Scott Pallais said at a recent game. "Or both."
They exist, though, and have come to be known as the Road Warriors, a collection short on idiots that nonetheless follows USC basketball everywhere it goes.
At least one member of the group has been at just about every road game for almost 20 years. The Pashleys will represent the group in Dayton.
USC football is easy to root for: Simple, abbreviated travel, plenty of company, lots of winning. It can draw a massive following on the road.
Basketball requires more endurance. USC plays about 12 to 15 games outside Los Angeles most seasons, with trips sometimes occupying half a week. The Trojans have traveled to the Bahamas and to Italy. The Road Warriors follow them.
This season, there are nearly 20 members of the group. (It's an informal club and membership is fluid, so the exact tally is up for debate.)
Michael Swets, USC's director of operations, helps coordinate their travel and said between six to 10 Warriors travel to most games. Not everyone attends every game, though there are a few who do.
"In hostile environments, it's good to know you have some people on your side," Swets said.
All of the Road Warriors have either been USC fanatics since birth, or married someone who is. One member, Ron Laraneta, who travels with his wife, Victoria, is the son of Manuel Laraneta, the man who scored the first touchdown at the Coliseum. All are well-off enough to afford the frequent travel. Most are at retirement age, a necessary component of their avocation: A job can get in the way.
For the players, Pashley said, "It's like having grandparents there."
Pallais, 56, is the newest addition. Not long ago, his wife asked him what was on his bucket list. Climb Machu Picchu? Visit Fiji? He chose USC basketball games.
The longest-running members are Fred and Cathy Crook, who have stopped counting how many years they've been traveling. The Road Warriors formed, they said, early in the tenure of coach Henry Bibby, who began in 1996. Fred, 77, and Cathy, 74, were longtime USC donors and football season-ticket holders. For Fred, USC football was like a religious experience.
But there was something about basketball, the chance to see the players' faces up close, to watch them grow and mature. A small band of supporters formed and grew close. They started traveling more, until they were at every game. One of the original members, Jeff Spellens, remarked that they were like road warriors. The name stuck. So did the habit.
"This is what we do," Cathy Crook said. "I have friends that go to museums all the time, and they're all artsy. And they'll say, 'Poor Cathy, she has to go all these tournaments all the time.' But there's a little something for everybody."
Plenty of basketball schools travel with hordes of fans. Kentucky's "Big Blue Nation" travels notoriously well. Some of Duke's Cameron Crazies will follow the team anywhere. The difference is that those teams are historically elite.
USC is … not. Traveling requires patience and optimism.
The Trojans played at Arizona not long ago, following an embarrassing loss to UCLA where USC fans were heckled. Fred Crook found himself thinking, "Do I really want to come to Arizona and watch this again?" But there he was, among a hostile crowd — with a big contingent, too.
"It's kind of like a sickness," he said. "But these kids, they like knowing that someone is yelling for them at a place like this."
The losing can be frustrating, said Pallais, who also travels 112 miles each way from Escondido for home games.
"But then the victories are so sweet," he said. "The victories are like, I don't know how to describe it." He asked for a moment to think of a comparison. "The victory is like when you go to a fast food restaurant and they actually get your order right."
The stakes aren't as high as in football, where a loss can leave some fans inconsolable. Basketball, the Road Warriors say, is more about the fellowship than anything.
"There's a real camaraderie among us," said Grant Nichol, who also began traveling during Bibby's tenure. "Because there's so few."
Usually, the regulars stay at the team hotel, and they sometimes get to know the team. Fred and Cathy Crook said they are careful to keep a respectful distance, but they grew especially close with coaches Kevin O'Neill and Tim Floyd, with whom Fred would sometimes sit and talk for hours on days between games.
During a tournament in Alaska, Floyd invited the regulars to Thanksgiving dinner with the team. Another night, Floyd took all the travelers out to dinner.
"And he said, 'Cathy, what did you think of the second half?' " Cathy Crook recalled. "And I thought 'Oh my God, I can't tell him what I thought.' I really like Tim, and I thought it was really cute that he thought I would have criticism of the second half."
The travel is a hobby, not an obsession, and sacrifices sometimes must be made for important life events. The Crooks won't be able to attend games during the first week of the NCAA tournament because they are preparing to host about 60 people on Sunday for St. Joseph's Day, an Italian holiday.
"There's no messing around with it," Cathy Crook said. "My 96-year-old mother is cooking, and we are hosting. Fred will die, but there's no way we can do it."
Speaking separately, Fred said he "almost went by myself. But I thought that probably wasn't the best decision."
He still sounded a little unsure.
The NCAA tournament bid was a treat, but traveling to Dayton proved challenging for other Road Warriors, too. Some of them are getting older, making travel difficult. One younger member recently adopted a son. Another couldn't get off work.
Pashley knew if she was able to go, she would.
"It is a crazy thing," she said. "And to tell you the truth, we were a little disappointed that we were the ones that had to go to Dayton, that they put us in a play-in game.
"But what can we do? It's our team."
Follow Zach Helfand on Twitter @zhelfand
Get the latest on L.A.'s teams in the daily Sports Report newsletter.
You may occasionally receive promotional content from the Los Angeles Times.