Second-half run propels USC past Robert Morris 83-62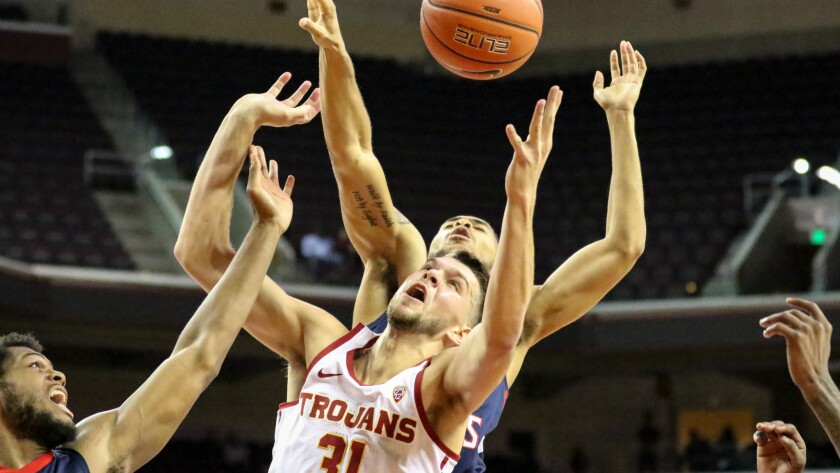 With Robert Morris on an 8-0 run, giving the Colonials a four-point lead with 12 minutes left, USC coach Andy Enfield called a timeout and set his assistants loose on the players.
"A few choice words," Enfield said.
Only a few minutes before, the Trojans had taken a four-point lead on a step-back three-point basket from freshman wing Kevin Porter Jr. But, on the way back down the court, Porter was called for a technical foul for jawing at a Robert Morris player, his swagger helping and then hurting his team.
The technical led to a four-point trip down the court for the Colonials, a feisty group from the Northeast Conference that had quieted the Galen Center through sheer grit in the season opener Tuesday night.
Moments like these, of course, are why coaches love having seniors. Enfield has only two this season on scholarship, and one of them, preseason national player-of-the-year candidate Bennie Boatwright, was out finishing rehab on his surgically repaired knee. That left Shaqquan Aaron, a streaky and sinewy wing who will be asked to contribute to the Trojans more than he has in previous seasons.
Out of the timeout, Aaron promptly made a three-pointer. Moments later, he emphatically jammed in a transition dunk. He was on his way to a personal 9-0 run that put the Trojans ahead for good in their 83-62 victory over the Colonials that was only comfortable on the scoreboard because a senior stepped in to erase a freshman mistake.
"We were down," Aaron said, "and I just felt like it was time to give my team a boost and told guys to get it together. It wasn't just me. We all bought in and locked down on defense, which led to offense."
Aaron threw down another slam minutes later to give USC its first double-digit lead of the game at 65-55 after clearing the baseline for himself with a pump fake. He displayed explosiveness and poise with a team-high 20 points on 8-for-11 shooting, including three for four on three-point shots.
"He's expanding his game," Enfield said. "He's learning how to play the right way. He takes open shots. If you don't have the shot, go create. He did a great job tonight."
Junior big man Nick Rakocevic had 18 points and 16 rebounds for a monstrous double-double, while junior wing Jonah Mathews and Porter each had 15 points for the Trojans, who will take a 1-0 record into Sunday night's game against Vanderbilt at Galen Center.
Even before learning that Boatwright would not play Tuesday night, USC was going to have a roster full of players who are walking into bigger roles this season. The Trojans lost three starters from last season in Jordan McLaughlin, Chimezie Metu and Elijah Stewart. With Boatwright and freshman point guard Elijah Weaver (ankle surgery) out, each remaining player would have to take on a little more to start the season with a victory.
Perhaps no Trojan was going to have more on his shoulders than junior point guard Derryck Thornton, who took his lumps behind McLaughlin last season after transferring from Duke. Tuesday, Thornton turned the ball over on USC's first two possessions by playing out of control. He recovered well with one turnover the rest of the way and scored eight points with four assists.
Without a proven floor general to get things moving, USC struggled with half-court offensive sets in the early going. In the first 12 minutes, the Trojans had eight turnovers and two assists. All offense was generated in transition and through Thornton, Mathews and Aaron pushing tempo and stubbornly getting to the basket. USC attempted only four three-pointers in the first 20 minutes, making one, a sign that Enfield's free-flowing offense was stuck in neutral.
Enfield looked to Porter to rev things up. Porter spelled Matthews and Aaron and was as smooth as advertised in the open court, also showing a rare touch in his midrange game. The only things that stopped him were the moments he showed his age with three turnovers and two fouls that sent him to the bench after nine first-half minutes.
And that technical foul.
"He just needs to learn to be more controlled, act like you've been there, done that," Enfield said.
Enfield said Boatwright is day-to-day with his knee.
"It's a team of opportunity right now," Enfield said. "I didn't know what to expect. Until we figure this out and get our guys healthy, we'll probably be a work in progress."
USC next
Sunday vs. Vanderbilt, 6 p.m., Galen Center, Pac-12 Networks — In Bryce Drew's first season in Nashville, the Commodores were 12-20 and 6-12 in the SEC.
Twitter: @BradyMcCollough
---
Get the latest on L.A.'s teams in the daily Sports Report newsletter.
You may occasionally receive promotional content from the Los Angeles Times.