USC running back Aca'Cedric Ware might be the Trojans' best-kept secret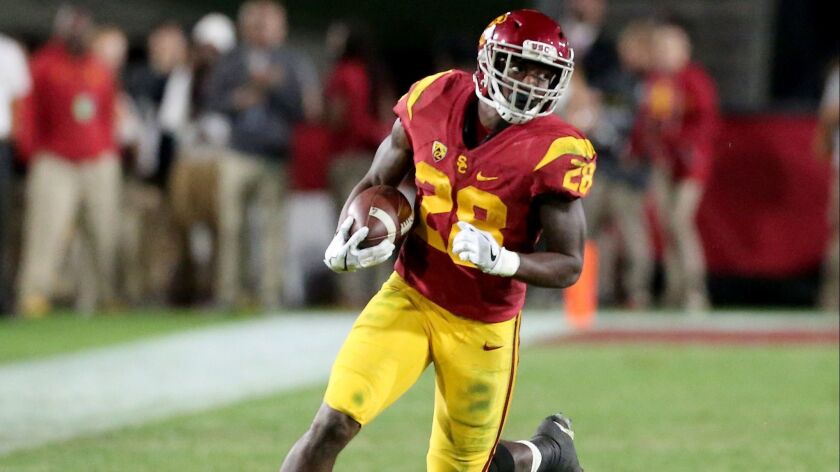 As part of its 2015 recruiting class, USC signed two running backs from the Dallas-Fort Worth Metroplex.
One was Ronald Jones II. He had more stars next to his name than the other kid, and there was more attention paid nationally when he committed to the Trojans. All of it was warranted. Three years later, Jones declared early for the NFL draft as a modern USC legend, fifth on the school's all-time rushing list ahead of Heisman Trophy winners O.J. Simpson, Mike Garrett and Reggie Bush. He came to USC as Ronald Jones. He left as "RoJo."
The other kid? Well, with a name like Aca'Cedric Ware, he could have used a catchy nickname. Some people called him "Aca" with a hard 'C'. Others preferred "Ced" with a soft 'C.' Along the way, someone probably called him "Ric" too. What nobody ever called Ware was a potential All-American, the next anything. A three-star recruit from Cedar Hill High rated the 42nd-best running back in the nation, he committed to USC five months before Jones, the big-name back from McKinney North High, 50 miles up the road. Ware has been waiting for Jones to get out of his way ever since.
As Ware begins his final season at USC, his personal roadblock now runs the football in Tampa Bay. It was only right for Jones to clear out his locker and let someone else carry the ball after toting it 261 times for 1,550 yards and 19 touchdowns last season. And Ware could finally be next.
"No pressure," Ware said.
Through three days of training camp, Ware doesn't appear to be feeling any extra weight other than the 10 pounds of muscle he added since last season. But this is USC, where one five-star recruit departs and another is expected to replace him — especially at quarterback and running back, where another Heisman Trophy feels something like a birthright to Trojan fans.
So, in steps sophomore Stephen Carr, a five-star prospect from Fontana Summit High that USC brought in last season as the third-best back in the nation. Carr, a chiseled and elusive runner, is ready-made for preseason hype.
"He's an amazing talent," USC offensive coordinator Tee Martin said. "Just his skill set in general, we haven't had that really since Buck Allen [in 2014], a guy who could catch 40 balls in a season and also rush for 1,000 yards."
Ware has lined up with the first-team offense thus far. He took advantage of Carr sitting out spring practice after back surgery, but Carr is back now and looks fit.
"I'll be telling them, it doesn't matter who starts," USC coach Clay Helton said. "One of you will get tired after three or four plays, and the next one is going to come in. They have to feed off each other. When USC has been at its best, we've had two great backs. Not good backs, great backs.
"[Ware] has the ability with his size right now to be a physical runner. He's in the best shape of his life, almost 215 pounds, and he's got a great burst. He's truly becoming an every-down back. You just feel that sense of urgency by him that this is my time."
While Carr sat through much of the summer unable to properly condition his body, Ware worked to turn himself into the guy he looked up to the last three years.
"Not just being a four-yards-every-down back," Ware said. "Trying to bust the thing open. Once I get past the second level, taking it home."
On top of his work with USC's trainers, Ware met his uncle four times a week at Dorsey High, where many top local players train during the summer.
"Working on my form, picking my knees up," Ware said.
During Saturday's practice, Ware made a cut, broke through the line and felt something different as he sped toward daylight.
"It's gonna come out," Ware said, nodding. "It's gonna come out. You're gonna see eventually."
A fresh take on quarterbacks
Quarterbacks coach Bryan Ellis is in his first year at USC. He has been impressed with how far Matt Fink and Jack Sears have progressed since the spring and credits JT Daniels' arrival with sparking a fire in them.
"They're not dumb," Ellis said. "They know that JT was a highly regarded guy, and we recruited him to be the quarterback, just like we recruited those two to be the quarterback. They know they're all going to get a fair shake at it, and they know each rep is vital.
"At the end of this thing, they'll know who the best one is. They may not want to admit it to themselves, but they all know just as much as the rest of the team knows: 'This is the best guy.'"
Etc.
Helton said that senior linebacker Cameron Smith and junior safety Ykili Ross sat out Monday because of tight hamstrings, as did sophomore Erik Krommenhoek. … Sophomore wide receiver Randal Grimes and redshirt freshman defensive lineman Jacob Lichtenstein returned to action after nursing injuries.
Twitter: @BradyMcCollough
---
Get the latest on L.A.'s teams in the daily Sports Report newsletter.
You may occasionally receive promotional content from the Los Angeles Times.