USC's last home game, a win over Washington, is for the fans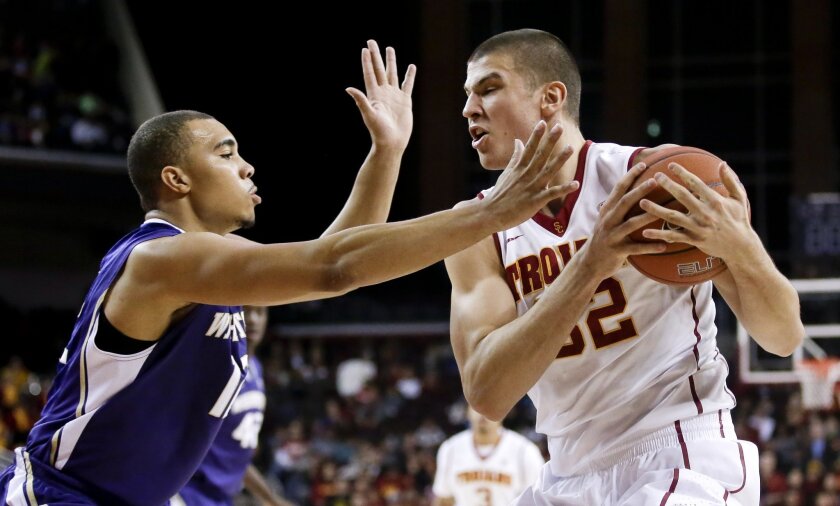 USC's 70-55 win over Washington on Saturday night, the Trojans' last home game of the season, doubled as Fan Appreciation Night. If ever the night were necessary, it is this season. The few fans, 3,420 on average, who had attended USC's home games probably deserve a debt of gratitude.
They saw an opening-night loss to Portland State — a team that is currently in fifth place in the Big Sky conference — and things did not improve drastically from there.
In return for their loyalty, on Saturday the fans received a special treat: the bottom two teams in the Pac-12 standings squaring off without their top players.
At stake? The rights to last place in the conference. USC (11-18, and 3-14 in the Pac-12) has already clinched at least a share.
Early on, it lived up to the billing.
The teams shot a combined 29.7% in the first half, but USC was able to jump out to a 10-0 lead to start the game, and a dunk ended the half with a USC lead, 27-22.
In the second half, though, USC's play finally resembled the up-tempo, above-the-rim style favored by Coach Andy Enfield. They held Washington (15-13, 4-12) to 29.7% from the field.
Against a team that has been vertically challenged after its center, Robert Upshaw, was dismissed from the program, USC played above the rim. There were dunks, put-backs and ally-oops.
The Trojans led by as many as 18 points. Nikola Jovanovic finished with 16 points and Katin Reinhardt had 11. Elijah Stewart scored 14 with nine assists.
"He's just a spectacular highlight reel," Enfield said. "He's going to be an All-Pac-12 Player down the road."
Through the last 10 days that have included suspensions, a fight and surgery on point guard Jordan McLaughlin's right shoulder, there has been a silver lining: Despite missing key players, the Trojans have remained competitive. It took awhile, but USC translated that to a victory.
"Our goal is to compete," Enfield said. "We should've had more conference wins right now."
At the very least, USC has unearthed several emerging young players. The brightest of the bunch has been sophomore Julian Jacobs, who has assumed point guard duties in McLaughlin's absence.
Jacobs had his best game yet on Saturday. He flirted with a triple-double but was pulled with one minute and 51 seconds remaining with eight points, nine assists and 10 rebounds. In the past eight games, Jacobs has averaged 10.8 points, 5.9 assists and 6.5 rebounds.
"He's much better than he was a month ago, and he's not even close to the beginning of the season," Enfield said. "He was not a very good basketball player at the beginning of the season."
The latest step in the transformation was witnessed by 5,529 fans — the largest crowd since Jan. 14 against UCLA. The conference win was, at least, a nice parting gift.
"We basically just wanted to give them something to look forward to next season," Jacobs said.
Injury update
Enfield said McLaughlin's shoulder surgery on Friday was successful.
Twitter: @zhelfand
---
Get the latest on L.A.'s teams in the daily Sports Report newsletter.
You may occasionally receive promotional content from the Los Angeles Times.