Last-minute holiday gifts for the fashion-minded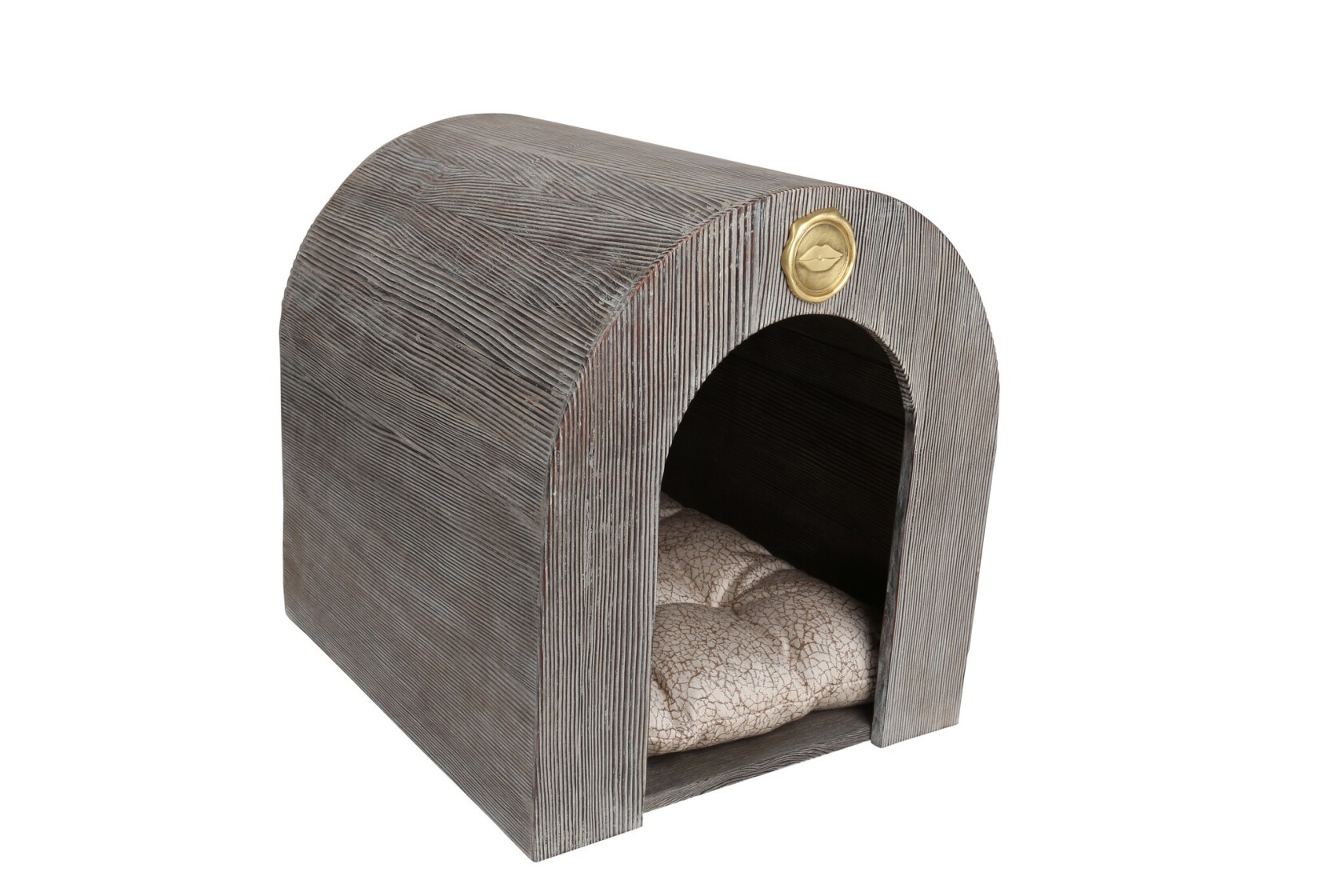 Kelly Wearstler Douglas fir Avant dog house with down-filled cushion, $2,500, with a portion of proceeds benefiting Best Friends Animal Society, at Kelly Wearstler in West Hollywood (323) 895-7880, kellywearstler.com
(Kelly Wearstler)
Coach pebbled leather and shearling Urban Hiker baby shoes, $75 at Coach in Beverly Hills, (310) 247-1309, coach.com
(Coach )
Pendleton x Roots limited-edition wool and leather men's varsity jacket with striped knit trim, $598 at Roots in Beverly Hills, (310) 858-8343, roots.com
(Pendleton x Roots)
Chanel sequin striped Classic Flap handbag, $16,800 at Chanel in Beverly Hills, (310) 278-5500
(Olivier Saillant / Chanel )
Saint Laurent by Hedi Slimane leopard-print maple wood skateboard, $995 at the Saint Laurent Men's store in Beverly Hills, (310) 271-4110
(Saint Laurent by Hedi Slimane)
Thaddeus O'Neil men's Hanan Pipe Pant $485 at thaddeusoneil.com
(Thaddeus O'Neil )
Apple Watch Hermès, with stainless steel case and Hermès stitched leather Double Tour band, $1,250 at the Apple Store at the Grove, (323) 617-9800, apple.com
(Apple Watch Hermès)
Jacquie Aiche 14-karat gold Mini Shark Tooth Shaker Necklace with diamond pavé and 12 shark teeth, $5,750 at jacquieaiche.com
(Jacquie Aiche)
Bed/Stu leather Exile travel bag handcrafted in Mexico, $575 at Bed/Stu in Malibu, (310) 456-3032, bedstu.com
(Bed/Stu)
Stop the Water While Using Me! boxed set of all-natural vegan Cucumber Lime soap and hand balm, $52, with a portion of proceeds benefiting water projects, at stop-the-water-usa.com
(Stop the Water While Using Me)
NC ROCKS 18-karat white gold Cascade D'Eden earrings with multicolored sapphires and tsavorite, $9,700 at Mona Moore in Venice, (310) 452-4070
(NC ROCKS)
Suzanne Felsen 18-karat yellow gold ring with emerald slice and diamond pavé, $4,000 at Suzanne Felsen in West Hollywood, (323) 653-5400
(Suzanne Felsen)
Bliss & Mischief embroidered cotton Shifting Veils BAMdana, $158 at blissandmischief.com
(Bliss & Mischief)
Jocelyn chevron-knit mink fur Tassel Cape with leather fringe trim and hood, $2,125 at Calypso St. Barth at Brentwood Country Mart, (310) 434-9601, calypsostbarth.com
(Jocelyn)
Buscemi pebbled Italian calfskin Brick Dopp Kit with lamb suede lining and 18-karat gold-plated hardware, $825 at buscemi.com
(Buscemi )
I Love Mel's "Colour Me Swiftly" coloring book, by Mel Elliot, 32 pages, $13 at Burro stores in Venice, (310) 450-6288, and Malibu, (310) 456-3700, burrogoods.com
(I Love Mel)
Ariel Gordon 14-karat gold personalized Name It Stud single earring, $350 at arielgordonjewelry.com
(Tim Wilson / Styleexpo LA / Ariel Gordon)
Aveda's Feeling Balanced is a gift set of aromatherapeutic essential oil body mists, $85 for pre-wrapped set of seven 8 milliliter bottles at the Aveda Experience Center, Beverly Center, (310) 659-5067, aveda.com
(Aveda)
Roost for Reservoir Home leather Barrett tool bag with nickel hardware and nine interior pockets, $410 at Reservoir in Beverly Grove, (323) 300-5309, reservoir-la.com
(Roost for Reservoir Home)
Edie Parker acrylic Oscar USA handbag in an exclusive California edition, $1,695 at Reservoir in Beverly Grove, (323) 300-5309, reservoir-la.com
(Edie Parker)
Stella McCartney silicone Rings iPhone 6 cover, $145 at Stella McCartney in West Hollywood, (310) 273-7051, stellamccartney.com
(Stella McCartney)
Nars Steven Klein limited-edition Dead of Summer Dual-Intensity eye shadow palette with four wet/dry shadows and one eyeliner, $49 at Nars in West Hollywood, (310) 623-1730, narscosmetics.com
(Nars Steven Klein)
Jason Markk limited-edition holiday box by L.A. street artist PUSH with shoe cleaner, handcrafted brushes, Quick Wipes, Repel water-stain repellent, $60 at Jason Markk in Los Angeles, (213) 687-7060, jasonmarkk.com
(Jason Markk)
Dolce & Gabbana + Frends metallic leather headphones embellished with Swarovski crystals and faux pearls, from $4,448 at net-a-porter.com
(Dolce & Gabbana)
Shinola + John Golomb leather boxing gloves with Muhammad Ali's signature embossed on the side with a custom box, $500 at Shinola in Silver Lake, 323-473-5250, shinola.com
(Shinola + John Golomb)
Jane Taylor Jewelry 14-karat gold Cirque bangle with color-change garnets and green tourmaline, $3,520 at janetaylor.com, (413) 256-8404
(Jane Taylor Jewelry)
Tory Sport by Tory Burch neoprene Pearl Slip-On sneakers decorated with hand-sewn beads, $350 at torysport.com
(Tory Sport by Tory Burch)
Graf & Lantz merino wool felt and leather Duo wine carrier handcrafted in Los Angeles, $129 at graf-lantz.com
(Graf & Lantz)
Heidi Merrick silk pajama set with personalized monogram made in Los Angeles of repurposed fabrics, $350 at heidimerrick.com
(Heidi Merrick)
Parachute x Clare V. limited-edition Travel Kit with extra-fine Merino wool eye mask, blanket (38 inches by 52 inches) and carrying case doubling as airplane pillow cover, $199 at local Clare V. stores, clarev.com and parachutehome.com
(Parachute x Clare V.)
Tommy Bahama + Riviera exclusive Original Stand-Up Paddleboard with hula girl pattern and built-in handle (111/2 feet long), $1,200 at Tommy Bahama at the Grove, (323) 930-2888, tommybahama.com
(Tommy Bahama + Riviera)
Garrett Leight California matte tortoise Kinney glasses and folding clip-on sunglasses with pink mirrored lenses, $575 exclusively at Barneys New York in Beverly Hills, (310) 276-4400, barneys.com
(Garrett Leight)
Jenni Kayne x Simone LeBlanc's Woods gift box with bath salts, incense, ceramic mug, matches and striker, tea, soap, sage bundle, seaweed platter, bath and body oil, $225 at Jenni Kayne in West Hollywood, (310) 860-0123, jennikayne.com
(Jenni Kayne x Simone LeBlanc)
Deus Customs skull motif sweater with ribbed shoulders, $155 at Deus Ex Machina in Venice, (888) 515-3387, us.deuscustoms.com
(Deus Customs)
Todd Reed palladium cuff links with Tahitian pearls, brilliant-cut diamonds and raw diamond cubes, $17,710 at Todd Reed in Venice, (310) 450-7840
(Todd Reed)
Brackish handcrafted McKinney bow tie with pheasant and partridge feathers in wooden gift box, $185 at brackishbowties.com and Ron Robinson in Santa Monica, (310) 458-1160, and West Hollywood, (877) 476-6762
(Brackish)
Sunnylife oversize inflatable gold swan pool floatie (54 inches by 36 inches), $70 exclusively at Nordstrom stores in Topanga, Fashion Island at Newport Beach, South Coast Plaza at Costa Mesa, nordstrom.com
(Sunnylife)
Daniela Villegas one-of-a-kind 18-karat black gold Wing feather earrings with yellow sapphires and gray tourmalines handcrafted in Los Angeles, $9,200 at Just One Eye in Hollywood, (888) 563-6858, justoneeye.com
(Daniela Villegas )
Anna-Karin Karlsson acetate and Swarovski crystal Decadence sunglasses, $1,815 at Elodie K in West Hollywood, (323) 658-5060 and $1,830 at neimanmarcus.com
(Jesper & Mathias)
Cuddle Clones stuffed animals custom-made in a pet's likeness, gift cards $25-$300, with a portion benefiting pet-related causes such as Dogs on Deployment, at cuddleclones.com
(Cuddle Clones)
Gladys Tamez Millinery wide-brimmed rabbit felt Zodiac hat with silver-studded leather band; collection includes designs for each astronomical sign, $890 at Ron Robinson Fred Segal in West Hollywood (877) 476-6762, ronrobinson.com
(Gladys Tamez)
Smashbox x Yago Hortal limited-edition Art. Love. Color. set of five makeup brushes, $55 at smashbox.com
(Smashbox x Yago Hortal)
Isa Tapia striped snakeskin Kelly sneaker, $315 at lordandtaylor.com
(Isa Tapia)
Monique Péan 18-karat recycled white gold ring with dendritic opal and diamond pavé, $5,060; 18-karat recycled rose gold ring with ruby slice and diamond pavé, $6,050, at Barneys New York in Beverly Hills, (310) 276-4400, barneys.com
(Monique Péan)
Jennifer Meyer 18-karat yellow gold Mini Disc Initial Rings with diamond pavé, $1,275 at Barneys New York in Beverly Hills, (310) 276-4400, barneys.com
(Jennifer Meyer)
The Elder Statesman cashmere patchwork bomber jacket, $2,640 at the Elder Statesman in West Hollywood, (424) 288-4221, elder-statesman.com
(The Elder Statesman)
Charlotte Olympia's Kitty candle with notes of Indonesian patchouli, neroli, vanilla bourbon and oak in box with dust bag and matches, $100 at Charlotte Olympia in Beverly Hills, (310) 276-1111, charlotteolympia.com
(Charlotte Olympia)
Olfactive Studio's Selfie eau de parfum blends accords of suede and maple syrup with spices, ginger, incense, woods and tonka bean; $195 for 3.4 ounces at Barneys New York in Beverly Hills, (310) 276-4400, barneys.com
(Olfactive Studio)
Régime des Fleurs limited-edition Dregs candle made in Los Angeles with notes of red wine, wood smoke and leather in custom marble vessel by Bloc Studios in Florence, Italy, $450 at Maxfield in West Hollywood, (310) 274-8800
(Régime des Fleurs)
Marc by Marc Jacobs x Disney limited-edition Domo Arigato Garden Packrat backpack with a digital floral print taken from clips from Disney's "Alice in Wonderland" film, $348 at Marc Jacobs in West Hollywood, (323) 653-0100, marcjacobs.com
(Marc by Marc Jacobs x Disney)
Kelly Wearstler for La Mer limited-edition bespoke crystal-adorned, black lacquer walnut and bronze vanity box and Genaissance de la Mer Serum Essence, $1,200 at cremedelamer.com
(Kelly Wearstler for La Mer)
Elisabeth Weinstock snakeskin California motorcycle helmet with base designed by Biltwell, $1,995 at Elisabeth Weinstock in Beverly Grove, (323) 655-3000, elisabethweinstock.com
(Elisabeth Weinstock)
Ronin custom Bad Moon Semi-Hollow electric guitar handcrafted in Humboldt, Calif., of reclaimed redwood with tortoise-shell binding, from $6,500 at Ronin Guitars, (503) 263-2263, roninguitars.com
(Ronin )
Deborah Lindquist rhinestone-embellished recycled cashmere Movie Star scarf handcrafted in Los Angeles, $150 at Tweak in West Hollywood, (323) 653-6531, deborahlindquist.com
(Deborah Lindquist r)
Still shopping? We've got you covered with these last-minute inspirations for gifts that span the spectrum from pretty to practical to reach-for-the-stars. (We are in Hollywood, after all.)
——
Kelly Wearstler Douglas fir Avant dog house with down-filled cushion, $2,500, with a portion of proceeds benefiting Best Friends Animal Society, at Kelly Wearstler in West Hollywood (323) 895-7880, kellywearstler.com
Coach pebbled leather and shearling Urban Hiker baby shoes, $75 at Coach in Beverly Hills, (310) 247-1309, coach.com
Pendleton x Roots limited-edition wool and leather men's varsity jacket with striped knit trim, $598 at Roots in Beverly Hills, (310) 858-8343, roots.com
Chanel sequin striped Classic Flap handbag, $16,800 at Chanel in Beverly Hills, (310) 278-5500
Saint Laurent by Hedi Slimane leopard-print maple wood skateboard, $995 at the Saint Laurent Men's store in Beverly Hills, (310) 271-4110
Thaddeus O'Neil men's Hanan Pipe Pant $485 at thaddeusoneil.com
Apple Watch Hermès, with stainless steel case and Hermès stitched leather Double Tour band, $1,250 at the Apple Store at the Grove, (323) 617-9800, apple.com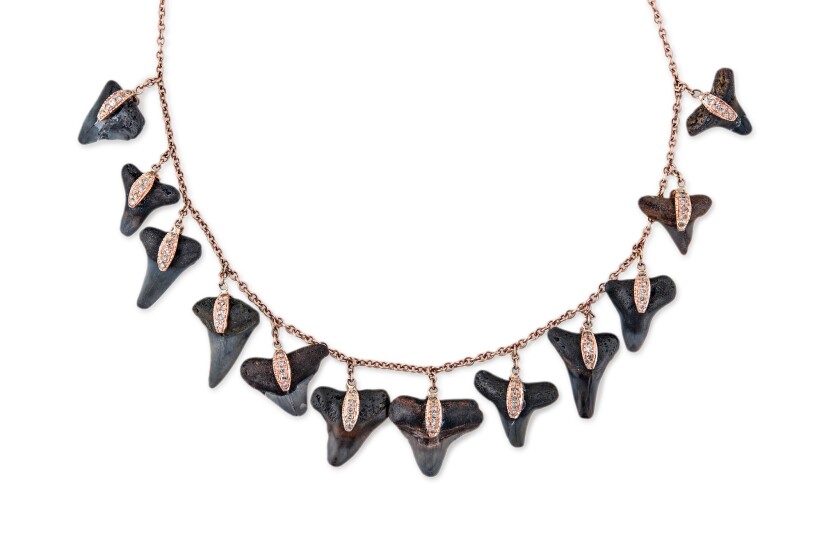 Jacquie Aiche 14-karat gold Mini Shark Tooth Shaker Necklace with diamond pavé and 12 shark teeth, $5,750 at jacquieaiche.com
Bed/Stu leather Exile travel bag handcrafted in Mexico, $575 at Bed/Stu in Malibu, (310) 456-3032, bedstu.com
Stop the Water While Using Me! boxed set of all-natural vegan Cucumber Lime soap and hand balm, $52, with a portion of proceeds benefiting water projects, at stop-the-water-usa.com
NC ROCKS 18-karat white gold Cascade D'Eden earrings with multicolored sapphires and tsavorite, $9,700 at Mona Moore in Venice, (310) 452-4070
Suzanne Felsen 18-karat yellow gold ring with emerald slice and diamond pavé, $4,000 at Suzanne Felsen in West Hollywood, (323) 653-5400
Bliss & Mischief embroidered cotton Shifting Veils BAMdana, $158 at blissandmischief.com
Jocelyn chevron-knit mink fur Tassel Cape with leather fringe trim and hood, $2,125 at Calypso St. Barth at Brentwood Country Mart, (310) 434-9601, calypsostbarth.com
-------------
FOR THE RECORD, 12:40 p.m. Dec. 17, 2015: The price of the Jocelyn chevron-knit mink fur Tassel Cape was originally stated incorrectly as $225. It is $2,125.
--------------
Buscemi pebbled Italian calfskin Brick Dopp Kit with lamb suede lining and 18-karat gold-plated hardware, $825 at buscemi.com
I Love Mel's "Colour Me Swiftly" coloring book, by Mel Elliot, 32 pages, $13 at Burro stores in Venice, (310) 450-6288, and Malibu, (310) 456-3700, burrogoods.com
Ariel Gordon 14-karat gold personalized Name It Stud single earring, $350 at arielgordonjewelry.com
Aveda's Feeling Balanced is a gift set of aromatherapeutic essential oil body mists, $85 for pre-wrapped set of seven 8 milliliter bottles at the Aveda Experience Center, Beverly Center, (310) 659-5067, aveda.com
Roost for Reservoir Home leather Barrett tool bag with nickel hardware and nine interior pockets, $410 at Reservoir in Beverly Grove, (323) 300-5309, reservoir-la.com
Edie Parker acrylic Oscar USA handbag in an exclusive California edition, $1,695 at Reservoir in Beverly Grove, (323) 300-5309, reservoir-la.com
Stella McCartney silicone Rings iPhone 6 cover, $145 at Stella McCartney in West Hollywood, (310) 273-7051, stellamccartney.com
Nars Steven Klein limited-edition Dead of Summer Dual-Intensity eye shadow palette with four wet/dry shadows and one eyeliner, $49 at Nars in West Hollywood, (310) 623-1730, narscosmetics.com
Jason Markk limited-edition holiday box by L.A. street artist PUSH with shoe cleaner, handcrafted brushes, Quick Wipes, Repel water-stain repellent, $60 at Jason Markk in Los Angeles, (213) 687-7060, jasonmarkk.com
Dolce & Gabbana + Frends metallic leather headphones embellished with Swarovski crystals and faux pearls, from $4,448 at net-a-porter.com
Shinola + John Golomb leather boxing gloves with Muhammad Ali's signature embossed on the side with a custom box, $500 at Shinola in Silver Lake, 323-473-5250, shinola.com
Jane Taylor Jewelry 14-karat gold Cirque bangle with color-change garnets and green tourmaline, $3,520 at janetaylor.com, (413) 256-8404
Tory Sport by Tory Burch neoprene Pearl Slip-On sneakers decorated with hand-sewn beads, $350 at torysport.com
Graf & Lantz merino wool felt and leather Duo wine carrier handcrafted in Los Angeles, $129 at graf-lantz.com
Heidi Merrick silk pajama set with personalized monogram made in Los Angeles of repurposed fabrics, $350 at heidimerrick.com
Parachute x Clare V. limited-edition Travel Kit with extra-fine Merino wool eye mask, blanket (38 inches by 52 inches) and carrying case doubling as airplane pillow cover, $199 at local Clare V. stores, clarev.com and parachutehome.com
Tommy Bahama + Riviera exclusive Original Stand-Up Paddleboard with hula girl pattern and built-in handle (111/2 feet long), $1,200 at Tommy Bahama at the Grove, (323) 930-2888, tommybahama.com
Garrett Leight California matte tortoise Kinney glasses and folding clip-on sunglasses with pink mirrored lenses, $575 exclusively at Barneys New York in Beverly Hills, (310) 276-4400, barneys.com
Jenni Kayne x Simone LeBlanc's Woods gift box with bath salts, incense, ceramic mug, matches and striker, tea, soap, sage bundle, seaweed platter, bath and body oil, $225 at Jenni Kayne in West Hollywood, (310) 860-0123, jennikayne.com
Deus Customs skull motif sweater with ribbed shoulders, $155 at Deus Ex Machina in Venice, (888) 515-3387, us.deuscustoms.com
Todd Reed palladium cuff links with Tahitian pearls, brilliant-cut diamonds and raw diamond cubes, $17,710 at Todd Reed in Venice, (310) 450-7840
Brackish handcrafted McKinney bow tie with pheasant and partridge feathers in wooden gift box, $185 at brackishbowties.com and Ron Robinson in Santa Monica, (310) 458-1160, and West Hollywood, (877) 476-6762
Sunnylife oversize inflatable gold swan pool floatie (54 inches by 36 inches), $70 exclusively at Nordstrom stores in Topanga, Fashion Island at Newport Beach, South Coast Plaza at Costa Mesa, nordstrom.com
Daniela Villegas one-of-a-kind 18-karat black gold Wing feather earrings with yellow sapphires and gray tourmalines handcrafted in Los Angeles, $9,200 at Just One Eye in Hollywood, (888) 563-6858, justoneeye.com
Anna-Karin Karlsson acetate and Swarovski crystal Decadence sunglasses, $1,815 at Elodie K in West Hollywood, (323) 658-5060 and $1,830 at neimanmarcus.com
Cuddle Clones stuffed animals custom-made in a pet's likeness, gift cards $25-$300, with a portion benefiting pet-related causes such as Dogs on Deployment, at cuddleclones.com
Gladys Tamez Millinery wide-brimmed rabbit felt Zodiac hat with silver-studded leather band; collection includes designs for each astronomical sign, $890 at Ron Robinson Fred Segal in West Hollywood (877) 476-6762, ronrobinson.com
Smashbox x Yago Hortal limited-edition Art. Love. Color. set of five makeup brushes, $55 at smashbox.com
Isa Tapia striped snakeskin Kelly sneaker, $315 at lordandtaylor.com
Monique Péan 18-karat recycled white gold ring with dendritic opal and diamond pavé, $5,060; 18-karat recycled rose gold ring with ruby slice and diamond pavé, $6,050, at Barneys New York in Beverly Hills, (310) 276-4400, barneys.com
Jennifer Meyer 18-karat yellow gold Mini Disc Initial Rings with diamond pavé, $1,275 at Barneys New York in Beverly Hills, (310) 276-4400, barneys.com
The Elder Statesman cashmere patchwork bomber jacket, $2,640 at the Elder Statesman in West Hollywood, (424) 288-4221, elder-statesman.com
Charlotte Olympia's Kitty candle with notes of Indonesian patchouli, neroli, vanilla bourbon and oak in box with dust bag and matches, $100 at Charlotte Olympia in Beverly Hills, (310) 276-1111, charlotteolympia.com
Olfactive Studio's Selfie eau de parfum blends accords of suede and maple syrup with spices, ginger, incense, woods and tonka bean; $195 for 3.4 ounces at Barneys New York in Beverly Hills, (310) 276-4400, barneys.com
Régime des Fleurs limited-edition Dregs candle made in Los Angeles with notes of red wine, wood smoke and leather in custom marble vessel by Bloc Studios in Florence, Italy, $450 at Maxfield in West Hollywood, (310) 274-8800
Marc by Marc Jacobs x Disney limited-edition Domo Arigato Garden Packrat backpack with a digital floral print taken from clips from Disney's "Alice in Wonderland" film, $348 at Marc Jacobs in West Hollywood, (323) 653-0100, marcjacobs.com
Kelly Wearstler for La Mer limited-edition bespoke crystal-adorned, black lacquer walnut and bronze vanity box and Genaissance de la Mer Serum Essence, $1,200 at cremedelamer.com
Elisabeth Weinstock snakeskin California motorcycle helmet with base designed by Biltwell, $1,995 at Elisabeth Weinstock in Beverly Grove, (323) 655-3000, elisabethweinstock.com
Ronin custom Bad Moon Semi-Hollow electric guitar handcrafted in Humboldt, Calif., of reclaimed redwood with tortoise-shell binding, from $6,500 at Ronin Guitars, (707) 263-2263, roninguitars.com
Deborah Lindquist rhinestone-embellished recycled cashmere Movie Star scarf handcrafted in Los Angeles, $150 at Tweak in West Hollywood, (323) 653-6531, deborahlindquist.com
MORE:
Gifts ideas for intrepid travelers
Holiday wreaths: Spread some cheer at your doorstep
---
The essential weekly guide to enjoying the outdoors in Southern California. Insider tips on the best of our beaches, trails, parks, deserts, forests and mountains.
You may occasionally receive promotional content from the Los Angeles Times.