Iceland's remote Deplar Farm delights heli-skiers and adventurers
Deplar Farm is a heli-skiing base from March through May. The 13-suite lodge, on a former sheep ranch in the Fljot Valley, is in northern Iceland on the Troll Peninsula.
(Brian E. Clark)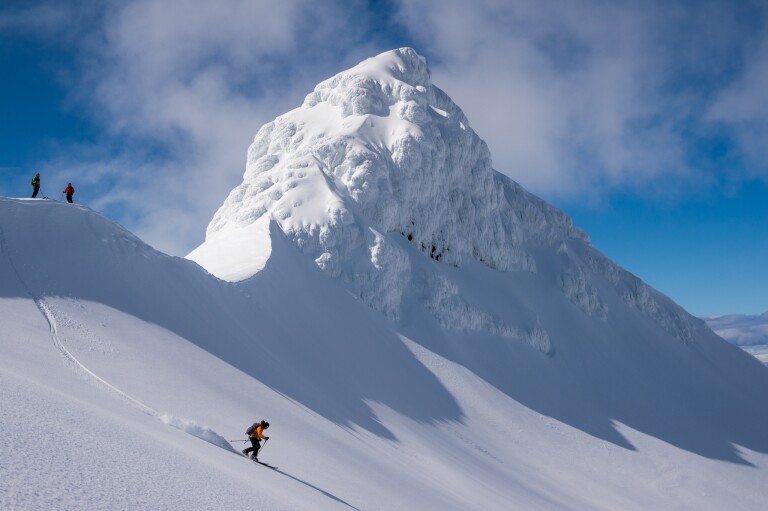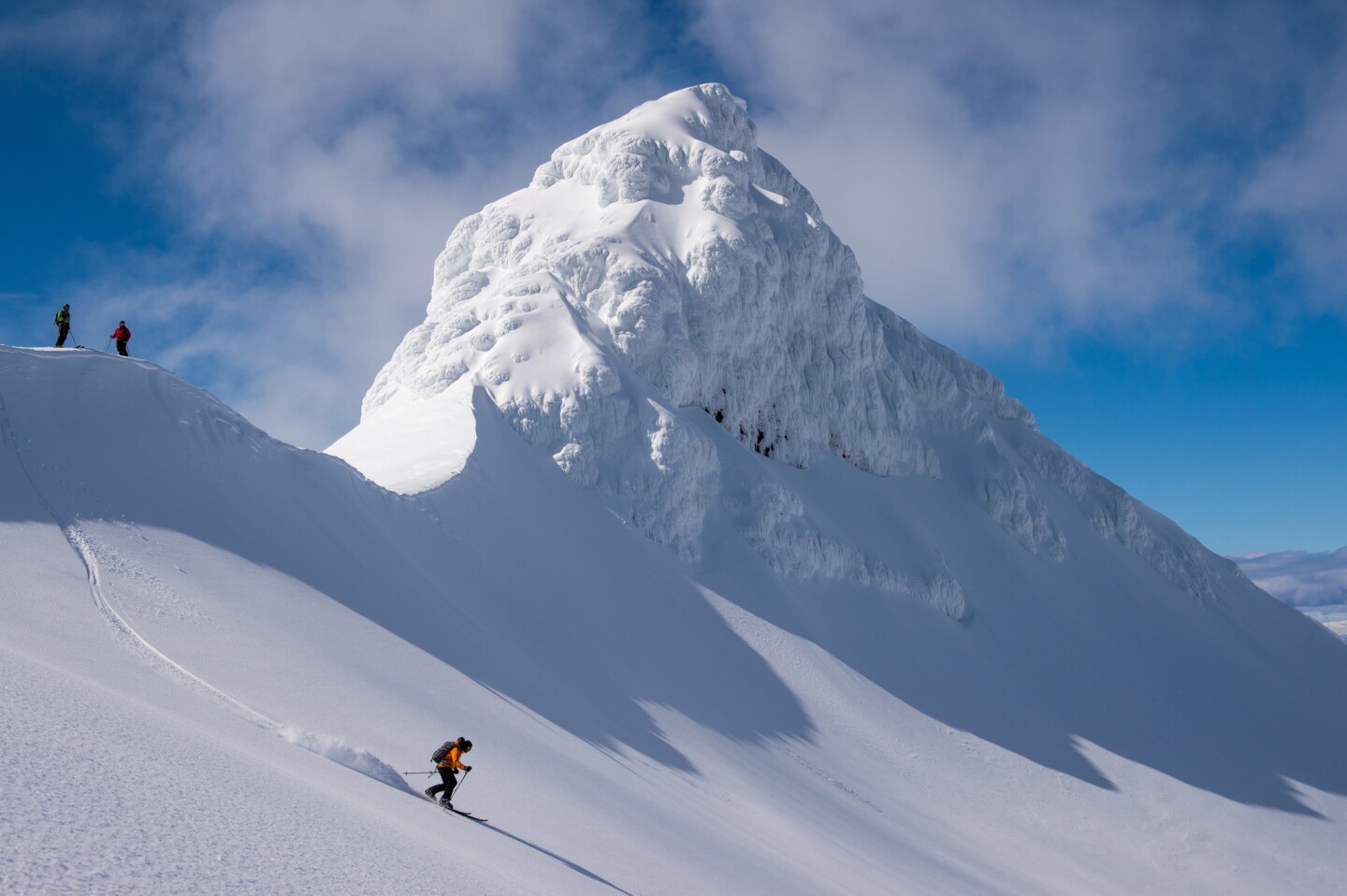 Guide Alan Bernholtz flies down a slope on Telemark skis in the Troll Peninsula above Deplar Farm in northern Iceland.
(Eleven Experience )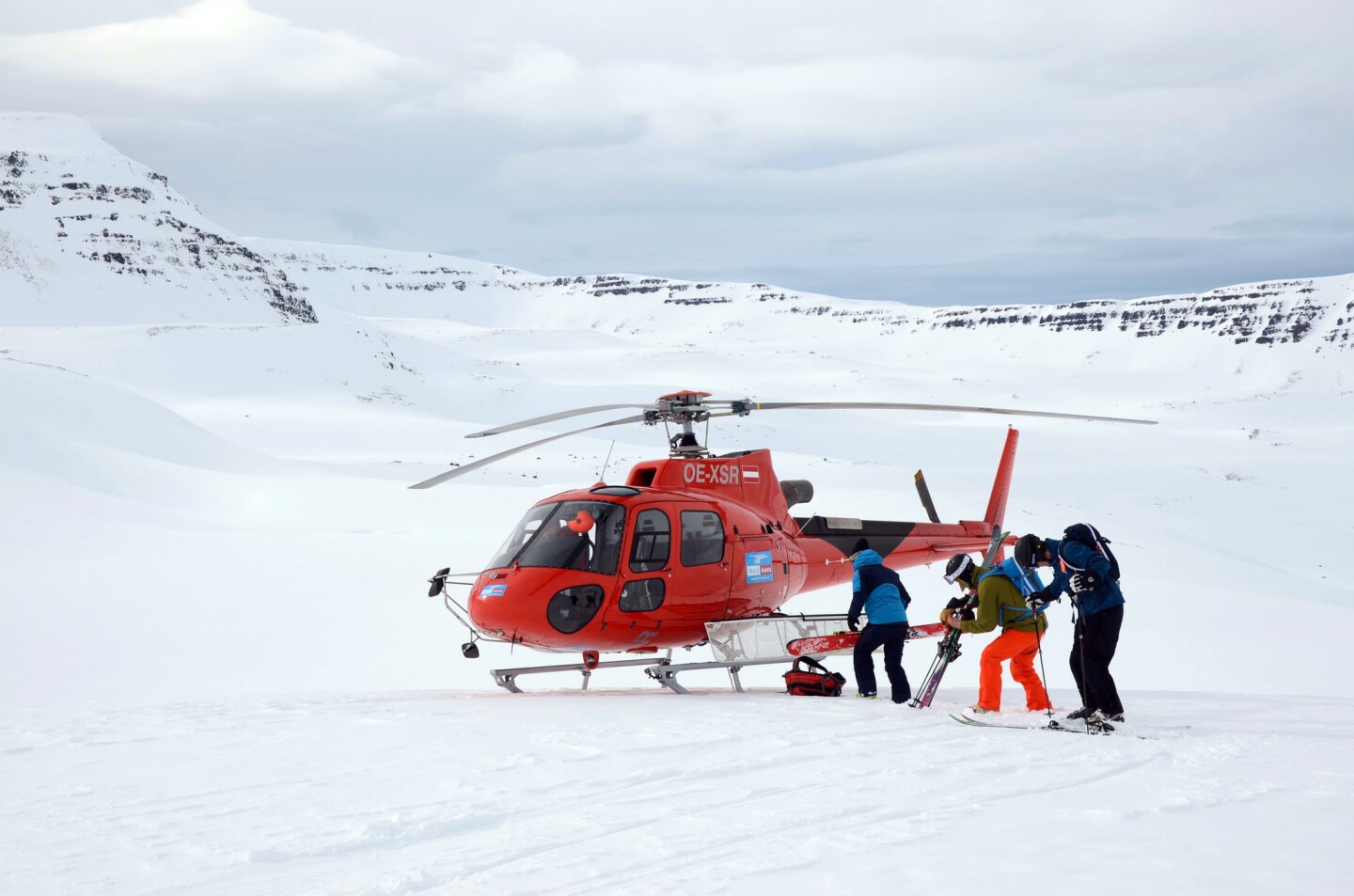 Skiers staying at Deplar Farm load into a helicopter for a long run down.
(Brian E. Clark)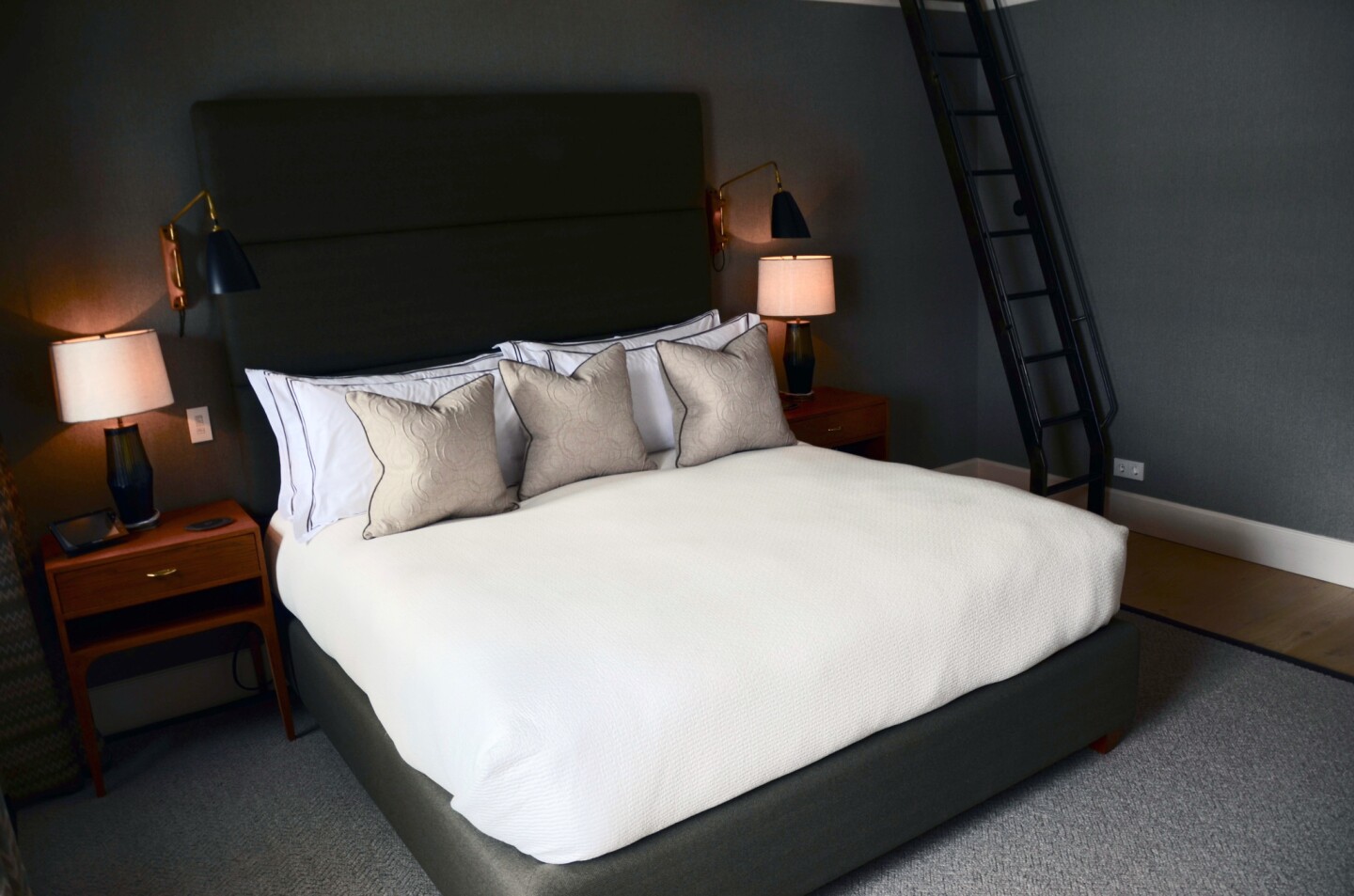 A cozy bedroom in the Deplar Farm lodge. The lodge has a pair of helicopters that can whisk skiers and snowboarders to peaks up to 5,000 feet down to beaches on the Arctic Ocean.
(Brian E. Clark )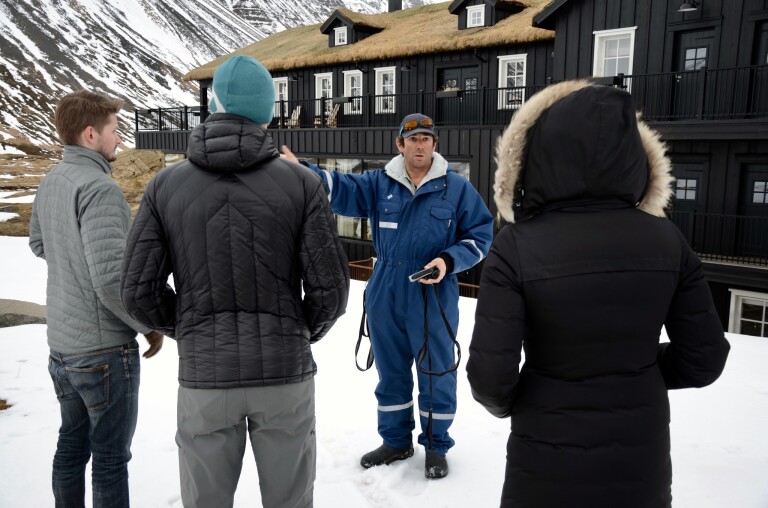 Eleven Experience uber guide Alan Bernholtz, a Los Angeles native, teaches use of avalanche beacon with would-be heli-skiers at the Deplar Farm.
(Brian E. Clark)
As the sun sets on a peak behind her, skier Heather Albinson rests after a day of skiing in the mountains above Deplar Farm.
(Brian E. Clark)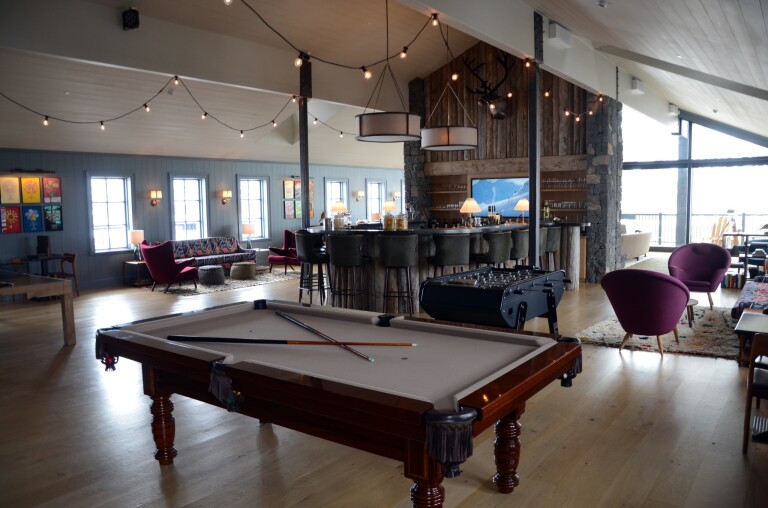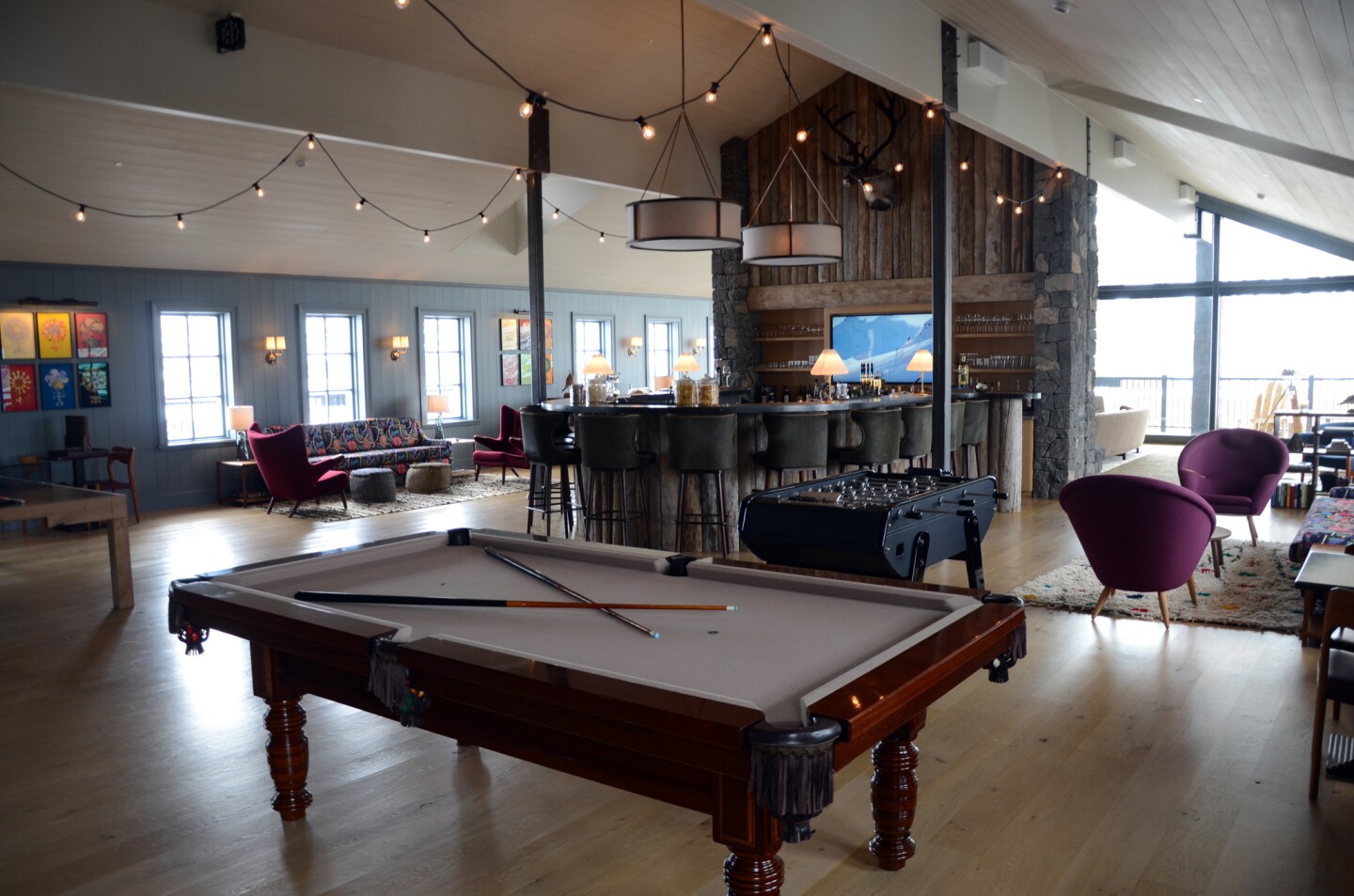 Deplar Farm has been transformed from sheep ranch into a ski lodge with a large rec room, complete with a pool table, bar and a loft with musical instruments.
(Brian E. Clark)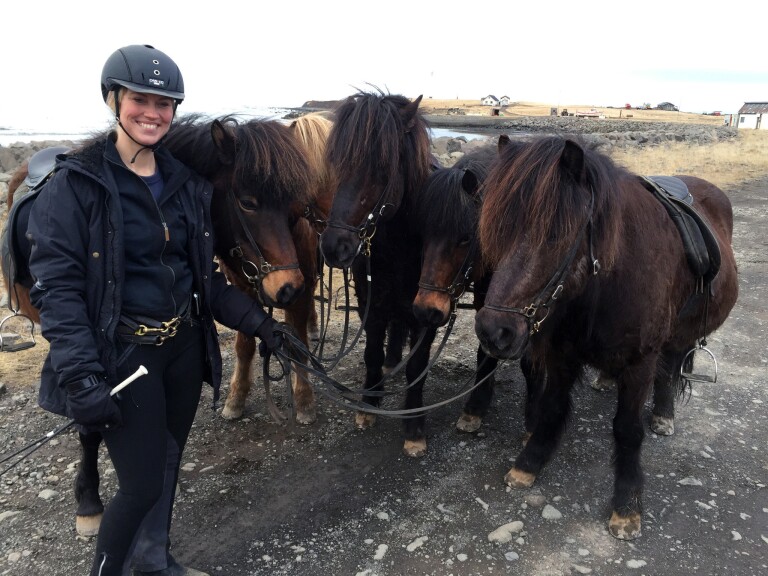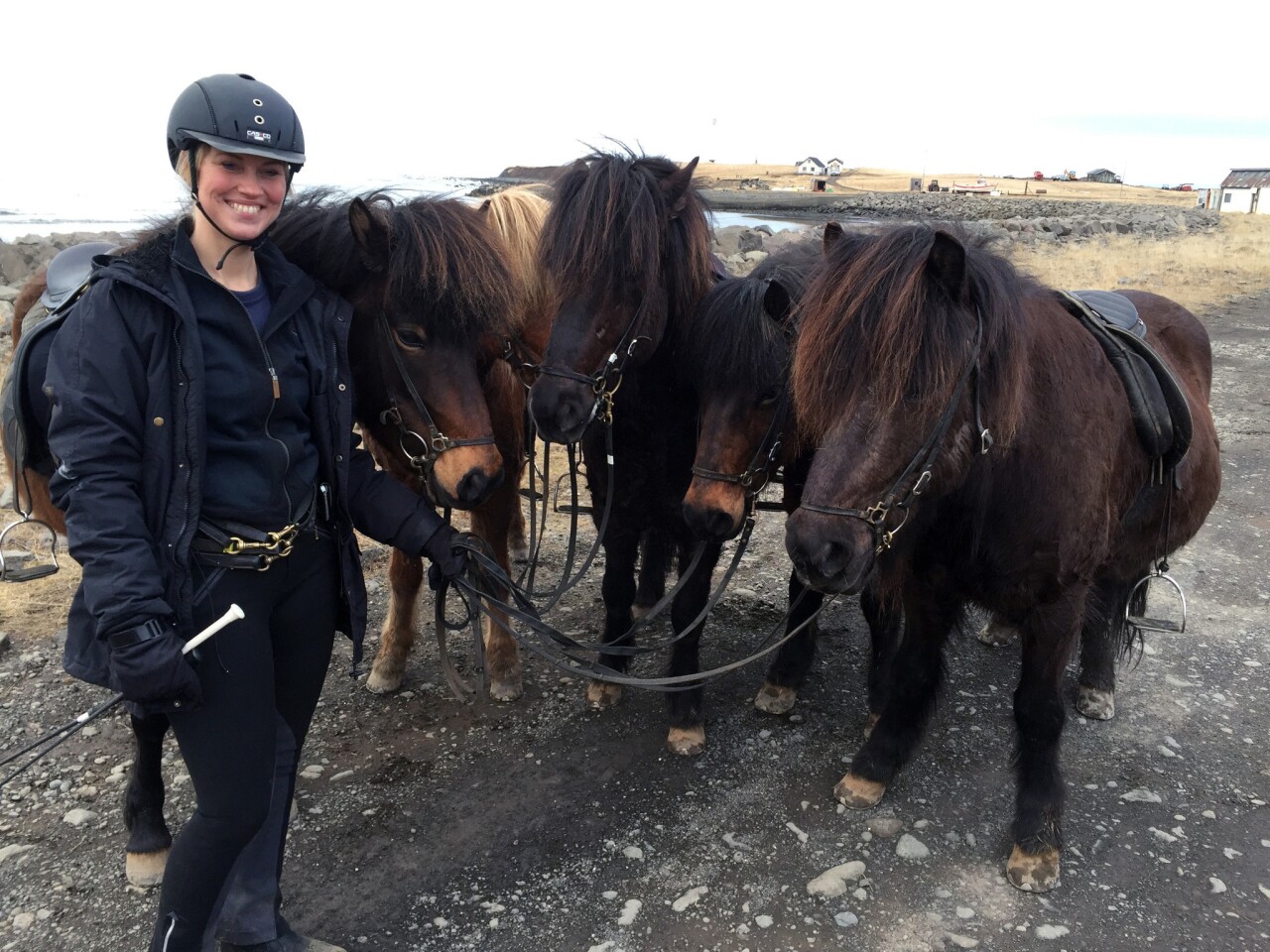 Lukka Heimisdottir of Langhus Farm and her husband Laki Sigurbjornsson raise and train rugged Icelandic horses in northern Iceland.
(Brian E. Clark)
On a day when they couldn't fly because of bad weather, skiers headed out for a snowmobile adventure in mountain valleys above Deplar Farm.
(Brian E. Clark)
Hallgrímskirkja is a Lutheran parish church in Reykjavík, Iceland. With a height of more than 2,220 feet, it is the tallest church in Iceland and among the nation's tallest structures. It's a great place to great a bird's-eye view of the city.
(Brian E. Clark)
Reporting from Troll Peninsula, Iceland —
Alan Bernholtz grew up in the San Fernando Valley and surfed off Malibu. But the ski slopes of the Sierra — and later Colorado, Alaska, the Andes and the Alps — lured him away from the Pacific Ocean.
Now the 49-year-old ski guide spends part of the year flitting from peak to peak in a juiced-up helicopter on northern Iceland's Troll Peninsula, leading clients down slopes that also offer stunning views of the Arctic Ocean.
He is based at a remote outpost in the Fljot Valley, where a top trout-fishing stream flows nearby and mountains rise thousands of feet on both sides. Bernholtz, a former ski patroller at Crested Butte Mountain Resort, helped adventure travel company Eleven Experiencerestore and expand a former sheepherder's home known as Deplar Farm and turn it into an elegant, 13-suite lodge complete with a spa and indoor-outdoor swimming pool.
I met him here in the spring on an excellent outdoor adventure: skiing for three days on what is (almost) the top of the globe..
From Reykjavik it was a short flight on Air Iceland to Akureyri, a town of 20,000 on the Troll Peninsula. Akureyri has a small ski resort with a vertical drop of about 1,500 feet.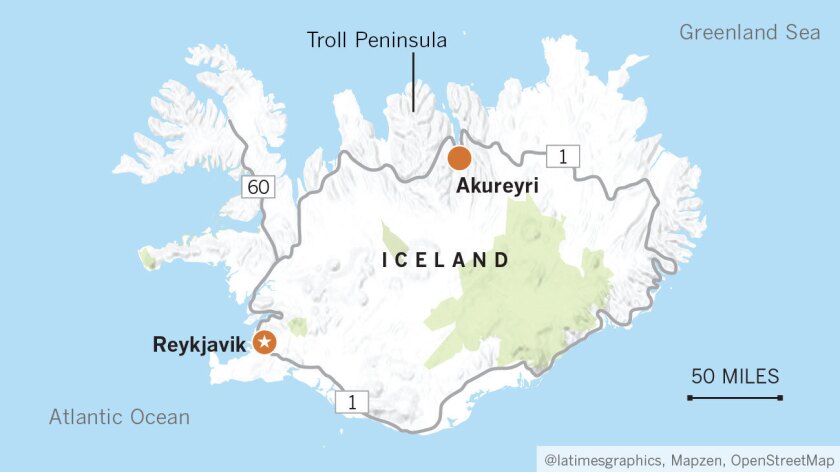 But I was destined for the mountains above the Fljot Valley, where schussers can sometimes bag runs of 4,500 vertical feet all the way down to the beach.
In Akureyri, I hopped in a souped-up Mercedes transport with huge tires and was soon traveling through mountains where, legend has it, mischievous trolls dwell. (I never saw any, but one gnome did grab my ski two days later, sending me cartwheeling down a slope.)
Within a few hours, we pulled up to what looked like a pleasant farmhouse complete with a sod roof. This was Deplar Farm, and there were two helicopters parked in the yard. and what appeared to be a modest dwelling was actually an expansive lodge.
Stefania Gudrunardottir, the experience manager at Deplar Farm, met my group of eager heli-skiers and showed us around. Then the lanky Icelandersent us off to get our skis and a briefing from our two heli-ski guides, Mike Barney from Wisconsin and Bernholtz.
Bernholtz walked us through helicopter protocol, which included keeping our heads down to avoid decapitation. We also got learned how to use avalanche beacons — just in case.
Floating through powder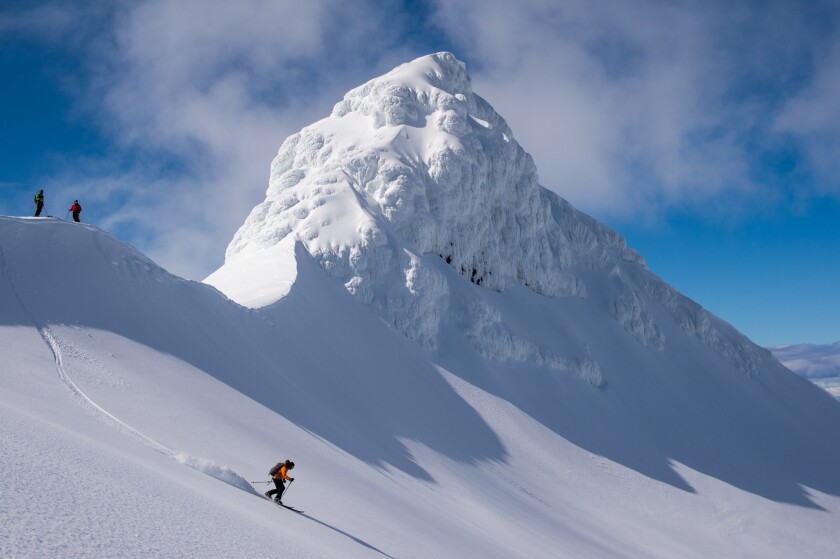 The next morning, after a breakfast of pancakes, fruit and Icelandic yogurt known as skyr, we flew to pristine peaks far above our valley base. After taking a few minutes to absorb the impressive vistas, we were off.
The first runs were mellow as we found our legs, progressing to steeper pistes before stopping for lunch in a sunny, snow-covered meadow.
My favorite run that afternoon was a bowl we named Lost Glove, where I floated from turn to turn down more than 1,500 feet through soft powder. Then we descended 1,000 feet more to our chopper pickup for the next run of the eight we would have that day. It got better over the next day and a half.
That night over a dinner of Arctic salmon (I skipped the fermented shark) Bernholtz told us a bit about how Deplar Farm came to be.
He left Los Angeles when he was 18 and headed for Aspen, Colo. Two years later, he moved to Crested Butte, Colo., where he learned to guide and later started Crested Butte Mountain Guides.
In 2008 Bernholtz launched a cat-skiing operation in the mountains around Crested Butte for Chad Pike, the London-based financier who owns Eleven Experience, which includes high-end lodges in Colorado, France and Iceland.
"Four years after that, Chad was fly fishing in Iceland, where he saw the potential for a heli-skiing operation," said Bernholtz, who is Eleven's global activities director.
Pike dispatched Bernholtz and several other guides to the Troll Peninsula in 2013. They hired a helicopter and pilot, flew around the snowy mountains and were impressed by what they saw.
"The terrain was excellent for a range of skiers and snowboarders, the snowpack was more stable than Colorado and the views simply amazing," Bernholtz said.
But Eleven needed a lodge to match the peaks that surrounded it, so Pike bought Deplar Farm in 2014. The spread included a rustic, 900-square-foot home, plus a 6,000-square-foot barn where sheep wintered, Bernholtz said.
Luxury lodge
Demolition and reconstruction of the farmhouse began that fall and by the time it reopened a year later, the building had been turned into a rustic and luxurious lodge.
To the rear of the original structure, Pike built a large dining room, a spa complete with flotation tanks, a pool, bar, large recreation and music rooms, a high-end kitchen for producing meals, library, theater, yoga center, en-suite bedrooms and other amenities.
Another building houses fat-tire mountain bikes, ski gear, paddle boards and other equipment. The farm also has snowcats for reaching the slopes when the choppers can't fly and snowmobiles for touring the snowy countryside. The Langhus farm is nearby, where you can ride rugged Icelandic steeds.
Tim Albinson, who lives in the Bay Area, first skied with Bernholtz in Crested Butte. The guide encouraged him to visit Iceland, and Albinson and his wife, Heather, made the trip in March.
"We didn't quite know what to expect when we landed in Reykjavik to start our adventure, but after four days at Deplar we were hooked. The skiing was awesome, and there were a lot of other things to do.
"Where else can you spend all day skiing from rugged, snow-capped peaks straight down to the ocean, then après ski in a geothermal pool sipping local cocktails under the northern lights? They nailed it."
If you go
THE BEST WAY TO ICELAND
From LAX
I recommend spending at least a day in Reykjavik before flying Air Iceland to Akureyri, where Deplar Farm staff will shuttle you to the lodge.
Deplar Farm, (970) 349-7761. Rates per day, based on single occupancy, from $2,000. Includes semi-private guided heli-skiiing, gear, chef-prepared meals and airports transfers from Akureyri. Open year-round, but the heli-ski season is from March through May.
---
Get inspired to get away.
Explore California, the West and beyond with the weekly Escapes newsletter.
You may occasionally receive promotional content from the Los Angeles Times.