Going to Santa Barbara? 101 reopening is postponed, but there's another way to get close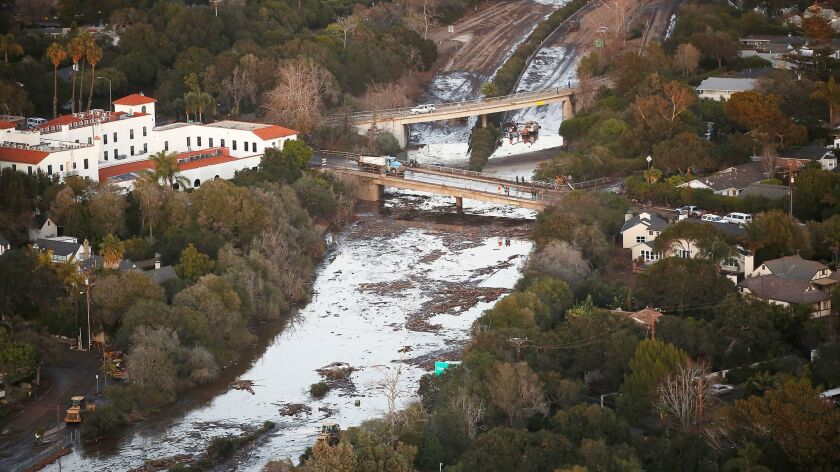 For many travelers, Amtrak trains may be the best way to get from Los Angeles to Santa Barbara for the foreseeable future. Caltrans said late Friday that the 101 Freeway would not reopen Monday, as originally thought.
Also, an airport shuttle continues to run between Santa Barbara and Los Angeles International Airport on a detour that takes five hours each way.
Rail service was restored Thursday for the first time since Monday's deadly rainstorms and mudslides shut service on the tracks between Oxnard and Santa Barbara.
Coast Starlight trains that run between Los Angeles to Santa Barbara and eventually all the way to Seattle have resumed regular service, according to a news release Thursday.
The Pacific Surfliner service, which runs between San Diego and San Luis Obispo, has resumed but on a modified schedule. The route's Twitter account shows selected trains running behind schedule. (Check for updates @PacSurfliner.)
Amtrak ThruWay bus service isn't running because of the closure of the 101 Freeway.
Santa Barbara Airbus, which provides airport shuttle service, is running a modified schedule because of the 101 Freeway closure. The company is operating 56-seat buses on the detour that travels north to Santa Maria, east on Highway 166 and then on Interstate 5. It takes about five hours one way.
The pickup and dropoff point for travelers is at 750 Technology Drive in Goleta (free parking). Buses leave Goleta for LAX at 3:30 a.m., 7 a.m., 10 a.m., noon and 4 p.m. Shuttles leave LAX at 11 a.m., 2 p.m., 5:30 p.m., 7:30 p.m. and 10 p.m. Tickets cost $49 to $55 each way. Info: Santa Barbara Airbus
The company's website says it will provide the detour service until the 101 Freeway reopens.
For air travelers, American, Alaska and United airlines are waiving change fees for travelers who were supposed to fly in or out of Santa Barbara Airport (SBA). For example, on American and United, if you were supposed to fly Thursday or Friday, you may change your flight to as late as Monday without paying the fee.
The freeway closure from Highway 150 in Carpinteria to the Milpas Street exit in Santa Barbara was expected to remain in place at least until Monday afternoon, but Caltrans said late Friday that the reopening date is unknown..
Emergency rescue efforts continue after the slides caused by Tuesday's rainfall killed at least 18 people.
Drivers traveling north from L.A. are still advised to take a long detour on Interstate 5 around the slide area in Montecito and parts of Santa Barbara County. You can cut back to the coast on Highways 46 or 166 and travel south to Santa Barbara.
Caltrans said in a tweet Friday that the 101 Freeway through the "Santa Barbara area will NOT reopen on Monday, Jan. 15, and there is no estimate due to ongoing rescue/recovery & extensive clean-up/repairs."
For information, see lat.ms/roadinformation or call (800) 427-7623.
Also, Island Packers is ferrying passengers from Ventura Harbor to Santa Barbara Harbor until the 101 Freeway reopens on an emergency basis. It costs $32 for adults each way and takes about an hour and 45 minutes. More details at Island Packers Cruises, (805) 642-1393.
---
UPDATES:
12:15 p.m. Jan. 11: This story has been updated with information about American, Alaska and United airlines waiving change fees.
1:50 p.m. Jan. 12: This updates adds information and schedule for Santa Barbara Airbus between Goleta and LAX.
This story originally posted at 11:10 a.m. Jan. 11
---
Get inspired to get away.
Explore California, the West and beyond with the weekly Escapes newsletter.
You may occasionally receive promotional content from the Los Angeles Times.