With triple-digit temperatures having left until next spring, now is the perfect time to hop on a bicycle and see the sights. Start your ride in downtown Las Vegas, home to the city's Bike Share program.
A total of 180 bikes are available at 21 stations. Passes good for 24 hours cost $8; three-day passes are $12. There are more than 1,000 miles of bike lanes, paved paths and shared roadways to explore.
Bike shares and route maps are provided by the Regional Transportation Commission of Southern Nevada. The agency's free route map is available digitally online and in print, at bike shops and public transit centers.
Want to go farther afield? Scenic rides crisscross the Las Vegas Valley. In the east, the Historic Railroad Trail near Boulder City covers part of the Lake Mead National Recreation Area. The graded, 7.5-mile (round-trip) trail passes through five tunnels that were blasted through the mountains in the 1930s to provide a rail link between Las Vegas and the construction site along the Colorado River for the Hoover Dam.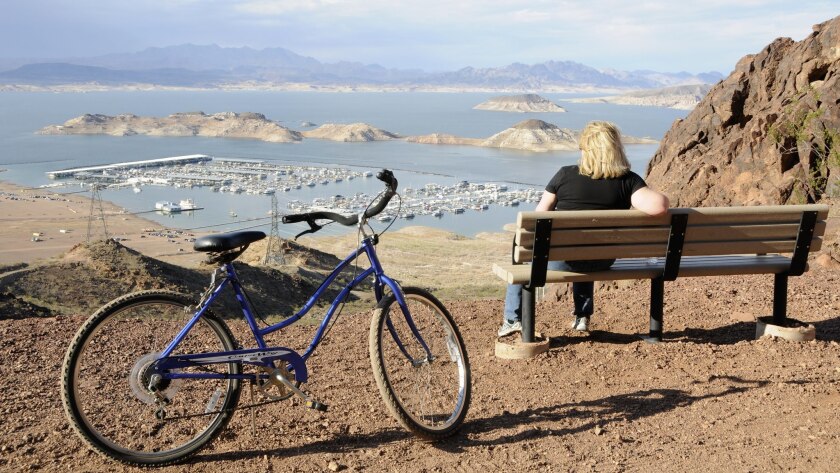 The trail's website includes a National Park Service video about its history and what bikers and hikers are likely to experience along the way.
Far west of the valley, 46 miles from the dam, Red Rock's Scenic Drive provides stunning vistas for bicyclists and motorists. A couple of cautions, though: Portions of the roadway, which climbs to 4,500 feet in altitude, are being repaved and, during wintertime, snow is not uncommon.
Red Rock is roughly 16 miles west of downtown Vegas.
People preferring shorter journeys may want to hitch their rental bikes to one of the metro area's local buses to get closer to a starting point.
The transportation agency reports that Las Vegas-area buses now carry 56,000 bikes a month, a 10% increase over 2017.
Info: Bike Route & Trails Map
ALSO
Donny and Marie Osmond to call it quits on Las Vegas show
New York City's Pod Hotels drop room prices to $79 in winter
The promise of better airline seating may hold an uncomfortable truth
---