Celebrate Fourth of July with fun, fireworks, parades, pianos and pancakes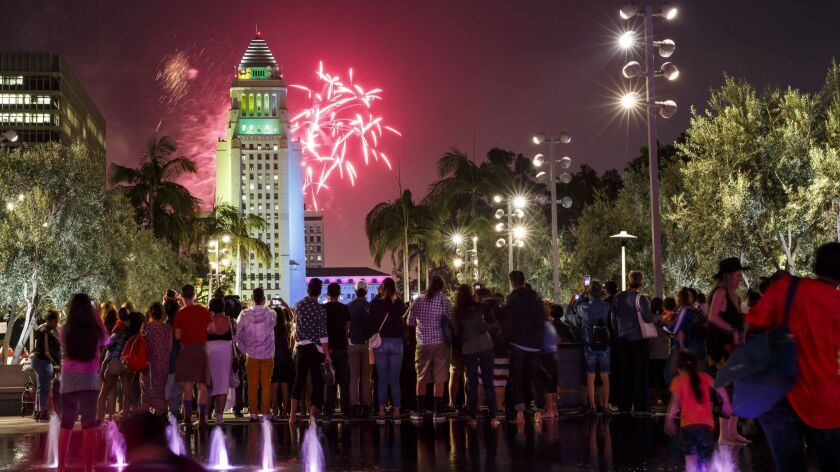 Old-fashioned parades, county fairs, swing dancing, patriotic songs and fireworks are part of your Independence Day. Before taking your dog to festivities where they are allowed, check to see whether there are fireworks that could be upsetting.
Del Mar
Americana infuses the San Diego County Fair at Del Mar Fairgrounds with a petting farm, goat-milking, horses, pig races, a livestock show and a Wild West turkey stampede. Tour the butterfly free-flight house or listen to bands, comedians and magicians.
When: 10 a.m. June 24 and June 27-July 4; fireworks only on July 4.
Cost, info: Adults $19 plus fees; seniors 62 and older and kids 6-12 $12 plus fees; children 5 and younger free. Only service dogs. (858) 755-1161
Hollywood
At the Hollywood Bowl picnic, sing to patriotic songs by the L.A. Philharmonic, rock to a reunion concert by the Go-Go's and watch stunning pyrotechnics.
When: 7:30 p.m. July 2-4
Cost, info: July 2 and 3: Adults from $14, children 12 and younger $7; July 4: adults from $19, children 12 and younger $9.50. Only service dogs. (323) 850-2000
Huntington Beach
Start the Huntington Beach Independence Day with a pancake breakfast, then segue to running events for adults and kids. Next, check out the fitness expo and watch the two-hour parade on Main Street. Finally, settle on the beach or pier for fireworks.
When: Check calendar for times. Fireworks 9 p.m.
Cost, info: Spectators free; adults participating in the run $40; children 1-12 $15. Parade free, $15 for premium bleacher seats. Fireworks-watching free from beach, $10 from pier. Dogs on leash OK. (714) 969-3492
Long Beach
The Queen Mary opens its decks and ballrooms for strolling jugglers, balloon artists, tribute bands, dueling pianos, ship tours and more to its All-American Fourth of July Celebration. Patriotic music will accompany the 15-minute fireworks display.
When: Opens at 2 p.m. July 4. Fireworks at 9 that evening.
Cost, info: Adults from $59; children 4-11 years from $39; children 3 and younger free; active, reserve and retired military with ID or in uniform free; accompanying families get a 20% discount. No dogs. (877) 342-0742
Los Angeles
Picnic at the fifth Grand Park and the Music Center's Fourth of July Block Party. Rock to live bands and DJs on two stages. Dance, play soccer and tag, or make chalk art and bubbles. Forty vendors will include food trucks.
When: Party begins 3 p.m. July 4, fireworks at 9 that evening.
Cost, info: Free. Dogs on leash OK. (213) 972-8080
Ventura
Celebrate Ventura's 43rd Fourth of July Street Fair in the Downtown Cultural District. Kids and adults — and their bicycles or little red wagons – gussy up for the Pushem-Pullem Parade. More than 200 makers display arts and crafts while musicians perform on several stages. At the Ventura College Athletic Fields, the family picnic and fireworks show also has live music, food vendors and another kids fun zone.
When: Parade 9:30 a.m., fair 10 a.m., fireworks gates open 5 p.m., show 9 p.m., all on July 4
Cost, info: Fair free; fireworks adults $6 plus fee, children 4-12 $4 plus fee; families from $20 plus fee; kids zone $5 plus fee. Only service animals. (800) 333-2989; fair info and fireworks info.
Palm Desert
Dance to the Swing Cats Big Band playing tunes from the '30s, '40s and '50s at Civic Center Park Amphitheater for the Palm Desert Independence Day Celebration. Kids have their own activities. Munch at food trucks. Settle in for 25 minutes of current and patriotic music synchronized with fireworks.
When: 7:15 p.m. July 4. Fireworks at 9 p.m.
Cost, info: Free. Dogs on leash OK. (760) 568-1441
---
Get inspired to get away.
Explore California, the West and beyond with the weekly Escapes newsletter.
You may occasionally receive promotional content from the Los Angeles Times.