Small-ship experiences may be long on luxury, never mind unusual destinations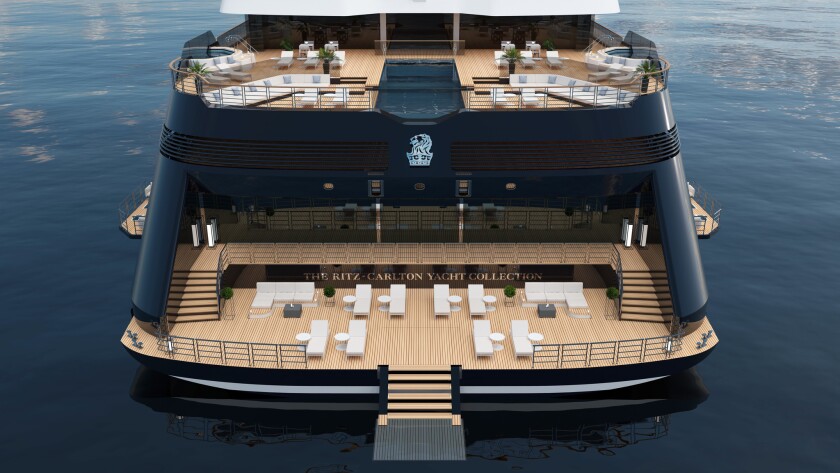 Small is big this year in the world of cruising. Or to be more precise, small and luxe.
Imagine sailing the chilly seas of Greenland, then stepping aboard one of your yacht's two helicopters for a quick trip to an island where you watch polar bears rambling along on an icy shore.
It will happen soon on the Scenic Eclipse Discovery Yacht, which launches in August. Rates are from $20,790 per person, double occupancy.
Or consider retreating to your ship's Blue Eye Lounge, an 800-square-foot room beneath the water line where glass observation areas offer subaquatic views as you laze on a "body-listening sofa" that vibrates to acoustic deep-sea waves.
Look for that this summer on Ponant's Le Laperouse, which comes online June 19 with a weeklong round-trip voyage from Reykjavik, Iceland. Rates are from $4,610 per person, double occupancy.
If you're a Ritz-Carlton fan, sign up starting Monday when reservations open for cruises aboard the brand's new three-ship yacht collection. They will begin sailing in 2020 to ports in the Mediterranean, New England and the Caribbean.
Rates for a week-long Mediterranean journey begin at $5,900 per person, double occupancy.
Small ships, or yachts as some are called, may be making waves in the world of cruising, but they aren't for everybody. Fares are pricey, and some people prefer big ships, which offer more diversions.
You have plenty of options in this fast-growing vacation segment. More than 27 million people will take to the seas or rivers of the world this year, 10 million more than a decade ago, according to estimates by Cruise Lines International Assn.
The industry is booming and with it, shipbuilding; in the next seven years, lines across the globe will add more than 85 ships, small and large.
Royal Caribbean International seems to grab headlines every time it launches a mega-ship. Symphony of the Seas, which debuted earlier this year, carries nearly 7,000 passengers, along with a crew of 2,200. Its top deck offers a zip line, surf simulator and dueling water slides.
But those things may not appeal to small-ship cruisers, who are looking for a different experience. Almost half are first-time sailors, many of whom are turned off by the mega-ship image of herds of people and amusement-park fun and games.
Others are adventurers who see these cruises as the only way to access remote places they've always wanted to explore.
"Small ships are more personal," said Margaret Morrison of Orange County. "You see the same staff and guests.
"And I don't need all the on-board amenities of a big ship. I prefer a small ship that can go to more remote places and doesn't overwhelm a community when the people aboard go on shore."
Cruise companies such as Lindblad began tapping into this market decades ago, offering adventure sailings to places such as the Galápagos Islands and Antarctica. But accommodations usually were spartan.
Crystal Cruises, known for its high-end ocean voyages, raised the bar for small-ship sailing in 2015 with the Crystal Esprit, an all-suite ship that carries 62 passengers and a crew of 91 to cater to them.
All rooms have butlers and passengers can spend time exploring on a small submarine.
Crystal Endeavor, an even more luxurious ship, will join the fleet in 2020. It will carry 200 passengers, and its staterooms will range from 400 square feet (more than three times the size of the average big-ship cabin) to 3,120 square feet.
Besides squeezing into smaller destinations, small ships give a more intimate experience.
"Bigger ships have to manage the needs of many passengers, but on a smaller ship or a yacht, guests can really define their own experience, both on board and ashore," said Doug Prothero, managing director for Ritz-Carlton Yacht Collection.
Why should people sail with Ritz-Carlton instead of an experienced cruise company?
"The Yacht Collection has really been designed to combine the lifestyle and legendary service of Ritz-Carlton's luxury resorts with the casual freedom of a yachting vacation," Prothero said, adding that the ships will offer a higher percentage of larger suites, a signature Ritz-Carlton spa and a restaurant featuring creations by a Michelin-starred Ritz-Carlton chef.
"Overall, those consumers seeking this type of cruising experience have been an underserved market, so I believe there is a void that the Ritz-Carlton Yacht Collection is ready to fill."
---
Get inspired to get away.
Explore California, the West and beyond with the weekly Escapes newsletter.
You may occasionally receive promotional content from the Los Angeles Times.