A better passenger experience awaits you if you're sailing out of the Port of Long Beach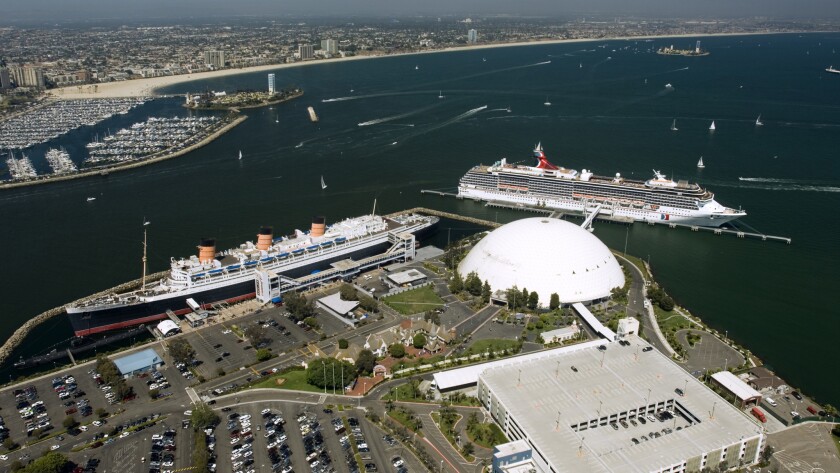 Judy and Justin Landrum were in an early stage of vacation bliss when I spied them sitting near the entrance to the Carnival Cruise Line terminal in Long Beach.
In a few minutes they would begin a four-day cruise to Santa Catalina and Ensenada, Mexico, and they were full of anticipation.
"We can't wait," Justin said. "These cruises are so much fun. There's really a lot to do while you're on board."
Judy was looking forward to the trip too, but for a different reason: "I'm going to be away from work and be able to relax," she said, laughing. "That's why I'm so happy."
This was the Los Angeles couple's third Carnival cruise out of Long Beach.
Carnival cruise ships sail from here five days a week. The three-, four- and seven-day voyages usually are bound for Catalina and Mexico and bring about 625,000 passengers a year into the port for embarkation and debarkation.
Those numbers have created a problem: Carnival's terminal space is limited. Too many people; too little space. But changes are in the wind.
Since 2003, the company's terminal has been within the giant geodesic dome that once housed the Spruce Goose, an enormous wooden seaplane that mogul Howard Hughes built and flew in 1947.
It flew only once before it was stashed in the giant Long Beach dome as a tourist attraction. It was removed in 1992, and the empty dome eventually became a terminal for Carnival ships.
Only half the dome space has been available to Carnival, which forces incoming passengers such as the Landrums to wait outside to board while returning passengers leave the ship and are processed through customs.
That's not bad on a pleasant day like the day I met them, but if it's raining or hot, it's not a great introduction to cruising from Long Beach.
"We added shade structures to make it more comfortable outside," said Carlos Torres de Navarra, port development vice president with Carnival. "But it's not a great guest experience. We really need more space inside so that people can wait inside and be comfortable."
Now they're going to have it.
Carnival, along with Long Beach city and convention center officials, recently held a "first nail" ceremony to launch the company's multimillion-dollar renovation of the Long Beach Cruise Terminal facility.
Thanks to a new lease, the company will be able to use the entire terminal. Other changes will enable larger ships to dock.
The project will more than double Carnival's space in the terminal about to 142,000 square feet, about the size of a Costco big-box store. This will allow the construction of comfortable seating areas and more processing space.
The cruise line operates three ships from the Long Beach terminal: Carnival Inspiration and Carnival Imagination offer short Baja cruises, and Carnival Miracle operates weeklong Mexican Riviera voyages along with occasional 14- and 15-day cruises to Hawaii and Alaska.
In January, Carnival Splendor, a 3,006-passenger ship, will replace the 2,124-passenger Miracle. This change is projected to bring passenger totals to 700,000 guests annually from Long Beach, operating nearly 250 cruises a year.
Long Beach is Carnival's fourth-largest cruise port, after Miami, Port Canaveral, Fla., and Galveston, Texas. The changes will boost it to a tie for third, De Navarra said.
The Long Beach port may get other improvements. In March, real estate developer Urban Commons, which holds the master lease for the aging tourist attraction the Queen Mary, announced plans for a development called Queen Mary Island.
It would offer visitors a 2,400-foot boardwalk, cafes and bars, retail shows, a 200-room hotel and an outdoor amphitheater. Carnival's dome would be adjacent to the development.
A study said the 81-year-old liner suffered from years of neglect and needed $5.7 million in immediate fixes and a total of $289 million in repairs in the next five years.
Tip:
Taking a short cruise from the Port of Long Beach? If it's your first time visiting Santa Catalina, you'll have plenty of shore excursion choices. Instead of signing up on the ship, take the tinder to the island and make the short walk up the street to Golf Cart Rentals & Tours. A do-it-yourself tour of the island is a good way to see it, from the mountains to the beach. A two-hour rental for four people costs $90.
---
Get inspired to get away.
Explore California, the West and beyond with the weekly Escapes newsletter.
You may occasionally receive promotional content from the Los Angeles Times.