After a beloved grandmother's death, a light and love reach across the ocean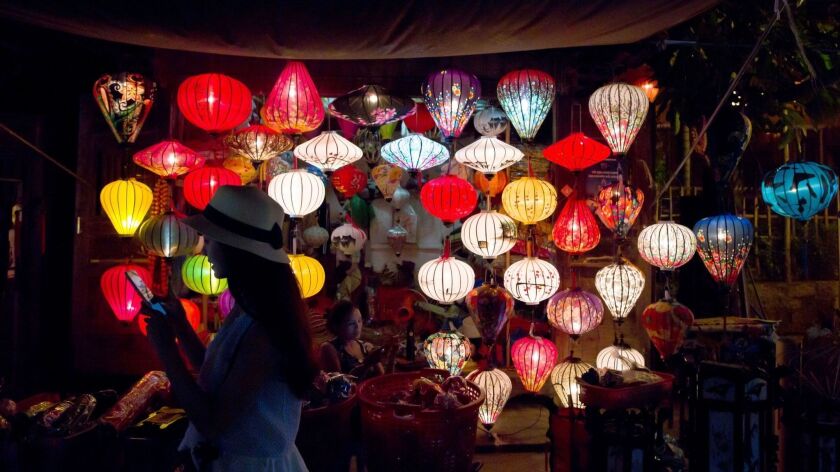 The priest turned and walked away, waving an arm for me to follow. Trailing him down the aisle, I stopped at the altar steps as he disappeared into the vestibule.
I glanced back past empty pews to the entrance of the church. The scorching April sun pushed its way through the arched doorways of the Hoi An cathedral, rays reflecting so hard off the glossy floor that my eyes went into a safety squint.
The priest reappeared with a soda can-size candle, a gold cross sticker covering the front of its plastic wrap.
"For you," he said. "God bless."
'City of Lanterns'
I was in Vietnam on a three-month tour through Southeast Asia. It was the culmination of two years of planning, saving and practicing "hello" and "thank you" in Thai, Lao and Vietnamese.
Hoi An was the high point of the trip. This ancient port city on Vietnam's central coast is often called the "City of Lanterns," and nearly every building in its old town is ornamented with paper lampions, a 400-year-old tradition accentuating the city's fusion of Chinese, Japanese and French-influenced architecture.
Beyond its physical beauty, Hoi An has distinct street foods, immense markets and a relaxed pace that had drawn me in from Day 1.
Wanting to experience the city's rural outskirts, I left Hoi An by motorcycle on a sun-drenched Tuesday morning, spending the day touring villages surrounding the Thu Bon River delta. The tranquil village life provided the ideal backdrop as I glided between the river's banks.
When I had cell service again that afternoon, I saw I had a voicemail from home. My grandmother, the family matriarch, had died unexpectedly.
I spent the next few hours searching for flights home, but the cheapest options cost nearly as much as my entire trip. My efforts, I finally realized, were futile. I would stay in Vietnam.
A devout Catholic
My grandmother died in the New Jersey house where she raised eight children, just beyond the kitchen table where she would sit to call each of her 57 grandchildren and great-grandchildren on their birthdays.
"Mom-Mom" ("Mom-Mom-Mom" to her great-grandchildren) was a devout Catholic who would regularly light prayer candles, a custom dating to the earliest days of Christianity. During my growing-up years, I frequently saw candles burning in her bedroom when family members were in the hospital, awaiting job offers or just needing a bit of good fortune.
Candles were even lighted for long-distance journeys. I had no doubt one burned for me as I departed LAX on my transpacific flight.
Now, sitting in my room, saddened, I could not grieve with family, and feeling farther from home than I had ever felt, I remembered passing the cathedral in Hoi An's old town.
I left my hotel on a rented bicycle, navigating the concrete paths snaking through Hoi An's maze of rice fields. I peddled my way to Ly Thuong Kiet, a main road, before continuing to the cathedral gates.
As I pedaled, I thought about Mom-Mom's joyous response when I told her about my planned across-the-world adventure.
Inside the church, I found the priest, a slight man in a linen shirt affixed with a clerical collar, preparing for evening Mass. I interrupted him as he stacked missals.
"Sorry," I said, "but I was wondering if you have a candle I could light?"
I told him why I wanted it, and in condensed English, he asked about my grandmother. Then he headed off toward the vestibule.
Returning with the candle, he suggested I stay for Mass. I politely declined, shaking his hand and returning to my bike.
The candle stayed in my backpack until my last day in Hoi An, the evening coinciding with Mom-Mom's funeral. I set the lighted candle on the hotel room nightstand, comforted that I somehow was sharing this experience with my family.
As I sat at the edge of the bed, my eyes fixated on the flame. For now, in Vietnam's City of Lanterns, home didn't seem so far away.
Departure Points explores the ways in which traveling changes us, whether it's a lesson learned or a truth uncovered. You may submit a first-person essay of 700 words or fewer to travel@latimes.com with "Departure Points" in the subject line. Please include your first and last names and your contact information for editorial consideration.
---
Get inspired to get away.
Explore California, the West and beyond with the weekly Escapes newsletter.
You may occasionally receive promotional content from the Los Angeles Times.