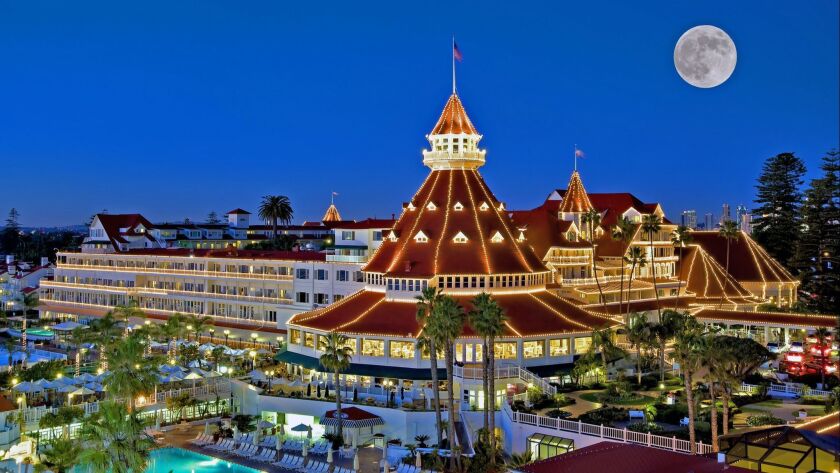 Coronado, with its beautiful beaches and delightful village center, is a fine spot to spend a weekend almost any time of the year, but my husband and I chose fall when the air is a bit crisper and the crowds a bit sparser. We had a fine time in October, but if you can manage to get away in December, the town offers lots of holiday spirit and a charming albeit sunny North Pole vibe. The Hotel del Coronado, the grand dame of the peninsula, is illuminated with thousands of white lights and its halls decked with festive Victorian decorations. Visitors can ice skate by the sea, quaff a cuppa (afternoon tea) and treats, enjoy carolers and more. The tab: Weekend rates at the Hotel del Coronado start about $300 a night, without taxes, plus $50 parking and $35 resort fee. Holiday events, which can be pricey, may significantly boost the bill.
THE BED
Decisions, decisions. The Del offers a variety of accommodations. Guest rooms and suites in the historic Victorian building vary in size and layout; those in the Ocean Towers and California Cabanas are more contemporary and feature private balconies or patios. Because we weren't going to be in our room much, we chose a smaller resort-view room in the Victorian building. Around the holidays, the Del transforms into a winter wonderland (think Beach Boys meet "A Christmas Carol"). Offerings include Chanukah on Ice (Dec. 5), Holiday Surrey Sleigh Rides (Dec. 14), Skate With Tara Lipinski (Dec. 15), and Stockings and Stories (Dec. 18-24).
THE MEAL
We ordered a Pacific storm of food at West Pac Noodle Bar, a new casual eatery on Orange Avenue, Coronado's main drag. The meal — Korean fried chicken with spicy gochujang sauce complemented the lumpia with sweet chili sauce; a poke bowl (with avocado, purple cabbage and pickled ginger) and a chicken katsu sandwich with sweet potato fries — was a mouthful to say, let alone eat. For holiday weekenders, the Del has some special treats: Sunday Brunch With Santa (Dec. 9, 16, 23), Victorian Tea (Dec. 17-21, teas, finger sandwiches, sweets) and Polar Bear Tea (Dec. 22, stories with Mrs. Claus, crafts and more).
THE FIND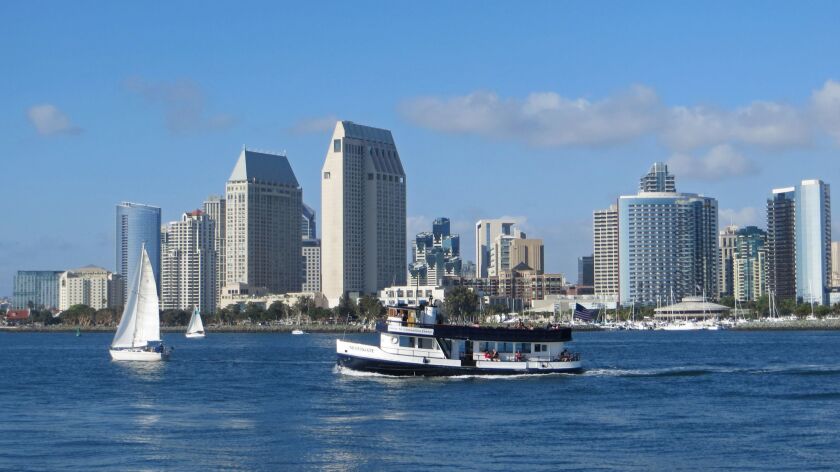 A stop at the Ferry Landing is a staple for visitors, either to take the ferry across the bay or to dine at one of its restaurants. On this trip we discovered the new El Roy's Tequila Bar + Kitchen, which has a good happy hour and great views of passing ships, the much-photographed San Diego-Coronado Bridge and downtown San Diego. Go at sundown and catch the show as San Diego's waterfront high-rises light up the night. If you are here Dec. 9 or 16, you can watch the annual San Diego Bay Parade of Lights, in which scores of decorated boats traverse the bay. On Dec. 7, the Coronado Chamber of Commerce hosts its annual holiday parade along Orange Avenue.
THE LESSON LEARNED
Even a laid-back beach town can deliver top-notch theater. Lamb's Players Theatre, an award-winning artist-led company that performs in the historic Spreckels Building, has two holiday productions on tap: "Lamb's Festival of Christmas" (Dec. 1-30) and "Lamb's Christmas Cabaret" (Dec. 17).
Hotel del Coronado, 1500 Orange Ave., Coronado; (800) 468-3533. Wheelchair-accessible.
West Pac Noodle Bar, 1166 Orange Ave., Coronado; (619) 313-6003. Wheelchair-accessible.
El Roy's Tequila Bar + Kitchen: 1201 1st St., No.115, Coronado; (619) 537-0195. Wheelchair-accessible.
San Diego Bay Parade of Lights
Chamber of Commerce holiday parade, (619) 435-9260
Lamb's Players Theatre, 1142 Orange Ave., Coronado; (619) 437-6000. Wheelchair-accessible.
---