Newsletter: Escapes: A feast of fall colors
By many estimates — at least mine — this is the best time of year to travel. Fares are lower, lines are shorter and the chance of some kid kicking the back of your plane seat is less than usual, now that school is back in session.
Add the Technicolor hues of aspen and maples, and fall is calling us.
Who are we to resist?
This week, we look at a train ride through Canada's Charlevoix region, a feast for the eyes and stomach.
We also pause for a moment closer to home, where the aspen are beginning to put on their show in the eastern Sierra and in selected spots across California, an underappreciated Golden State rite of fall.
Don't forget that California's grapes are ripening along with the fall colors, bringing yet another reason for celebration.
I'm Chris Erskine, filling in for Travel editor Catharine Hamm, who is off celebrating another recent development: The Times' selection this week as the No. 1 travel section in the country at the Lowell Thomas Awards, presented at the Society of American Travel Writers' annual conference.
Hamm is the heart and soul of this operation, and even though she's busy with the SATW gathering, she weighs in with tips on making your next trip a success, whether it's to Quebec City for fall colors or to Napa for a toast to the endless wonders of travel.
CHOO-CHOOSE QUEBEC
Margo Pfeiff writes that autumn is the hottest season for Quebec's Train de Charlevoix, where passengers enjoy the region's foliage and food. The train runs June through October, seven days a week. And you won't believe the price: $99 per person. The 77-mile trip follows the St. Lawrence shoreline.
ESCAPE TO LEGOLAND
Sharon Boorstin discovered that Legoland does more than entertain the grandkids. After taking her grandsons, ages 4 and 7, for a long weekend, she found that it also stimulates their imaginations and keeps them very active. She details her splashy adventures in Carlsbad in this week's Escape.
ON THE SPOT
To really enjoy carefree travel, you need to do a little homework before you leave. Catharine Hamm's column tells us how to avoid the unexpected with three simple rules for travel preparation. No. 1? Read the terms and conditions of your cruise, tour or flight.
EUROPE'S DROUGHT
River trips in Europe have been affected by a drought, says our cruise columnist. Rosemary McClure, who received an honorable mention from the Lowell Thomas Awards, reports how low points in the Danube prevented many riverboats from passing this summer. But there are signs of relief. And she suggests that travelers consider the time of year when booking such adventures.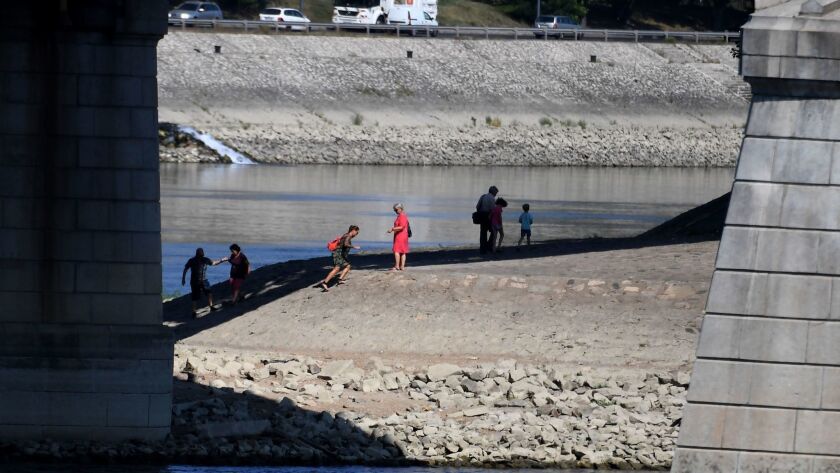 CALIFORNIA'S GOLD STANDARD
When you think of fall colors, you may think of New Hampshire and upper Michigan. Fair enough. But look no farther than the eastern Sierra, a few hours north of Los Angeles, for splendid aspen quivering against alpine lakes. The Zinfandel leaves are turning too. Master leaf peeper John Poimiroo has begun his annual montage of California colors.
WHAT WE'RE READING
Well, we're not the only ones obsessed with fall. Condé Nast Traveler looks ahead to the best places to visit in November. "It's a terrific time to take an off-season jaunt to a few unexpected places … whether you want to add a little sunshine to Turkey Day, or visit some spots when the crowds have thinned," the magazine writes as it explores destinations from Savannah to Spain.
Meanwhile, Sunset magazine shows us 11 places in the West to celebrate the fall grape crush.
END PAPER
Fortunately, our hero and headmaster, Ms. Hamm, will be back at the Escapes newsletter controls next week, fresh from her Caribbean adventure. As always, she'll have stories to share.
Till then, have comments, questions, travel tips, concerns? You can email us at travel@latimes.com
---
Get inspired to get away.
Explore California, the West and beyond with the weekly Escapes newsletter.
You may occasionally receive promotional content from the Los Angeles Times.