Newsletter: Escapes: Parent-child bonding trips? They're emotional money in the bank
Postseason baseball makes me smile as I remember the 1971 World Series. I don't know how my dad, a humble civil servant, scored two tickets to Game 6 of the Baltimore Orioles versus the Pittsburgh Pirates, but he did. The amazing thing was that he wasn't a baseball fan. I always was.
Maybe that's why our recent story of a father and son trekking in Armenia warmed my heart. Time you spend with your kids, no matter how old they are, deposits into an account from which, one day, all children will need to make a withdrawal. How lucky are we to have the riches of such moments?
My name is Catharine Hamm, and I'm the travel editor for the Los Angeles Times. Shaking off my nostalgia (the Orioles lost that game, but I still loved it), I suggest it's never too early to start banking your travel memories. This week, we have some suggestions on ways to enhance your "savings" account: a funky, fun hotel paired with a wine tasting; cozy little English hotel rooms that let you sleep in the lap of luxury for not a lot of lucre; a delightful video of an urban comeback kid.
Plus, we tell you how to save yourself time at some airports, save yourself some trouble when it comes to your passport and save yourself some big bucks at a fancy new hotel in Vegas.
Thanks for the memories, travelers. And for heaven's sake — go, Dodgers!
Top of the world, Pa
Armenia may not be the first place you'd think of for a father-son trip, and Ralph Vartabedian's tale of a trek had me shivering as he described the deep snow and a near-whiteout. This is a good time?
Yes, it was. Vartabedian, an L.A. Times reporter, was inspired to make the trip because of his father's tales of growing up in the Caucasus Mountains Vartabedian's son, Marc, proved a great companion in what they found was such an emerging and engaging destination that a return trip is already beckoning.
A case for less space
We don't seem to mind cozy quarters on a cruise ship, whose appeal includes being catered to, correct? So why pay huge sums of money for a luxury hotel when you can enjoy the benefits by downsizing, so to speak? George Hobica shares the secret to staying in a grand hotel in London for less than a king's ransom: compact rooms, sometimes as small as 89 square feet. Yet they're fully equipped. It's like finding a treasure chest of hundred dollar bills.
Drawing the line at waiting in queues
And speaking of luxury, who has the luxury of time? No traveler we know. If minutes are more precious to you than money, waiting in line at airports — to clear security, customs or any of the myriad other time wasters — you can hire a travel Sherpa to get you around the queues. George Hobica writes about the services that save you plenty of time for not a lot of money (except one notable instance at LAX).
Two, two, two hotels in one
A hotel within a hotel always seems to me to be sort of like a hidden passageway in a creaky old house. But there's nothing creaky or old about the new NoMad Las Vegas, whose home is in the MGM Park. It's as modern as can be, Jay Jones says, but it's also not completely done — no pool yet, and food service only at the NoMad Bar. But you can snag a room for as little as $149 a night.
An unfortunate chain of events
You are already not having a good time if you have unresolved tax problems with the Internal Revenue Service. But the bad now can get worse, as I was surprised to learn while reporting the On the Spot column. If you owe more than $51,000 and don't have a plan to resolve that burden, you probably won't be going abroad any time soon, even if it's on business, thanks to a 2015 law, now being enforced with some vigor, that allows the State Department to refuse you a passport or revoke the one you have. You also may encounter passport troubles if you're behind on child support. What to do? Read the story for some helpful tips.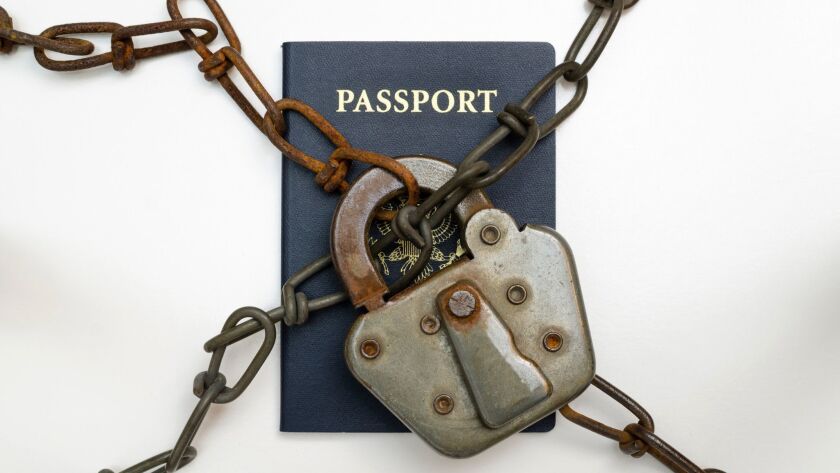 And the best hotel in the U.S. is …
A surprise, except to those who have stayed there: Conde Nast Traveler readers chose the Sagamore Pendry Baltimore, which grew out of Montage resorts. It has gone from being a pier to being nearly perfect, Mary Forgione writes. You can read about the other choices and find some unexpected pleasures and treasures in this Top 10 list.
Putting on the blitz
Why is it that we tend to diss destinations in the Midwest? A quick look at Chris Reynolds' two-minute blitz video for Cleveland novices may just have you changing your tune. Any time you can find a place where rock 'n' roll, polka and a world-class orchestra can live in perfect harmony, that's saying something pretty great.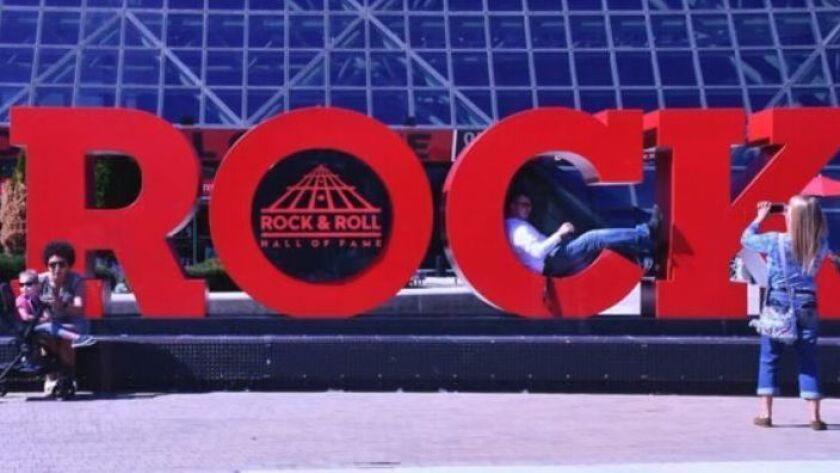 A little taste of the past and present
It's back. The Skyview Motel in Los Alamos, a waypoint for L.A.-San Francisco travelers for years, fell on hard times, but now it's back with a new look (rustic chic), a new name (Skyview Los Alamos) and a new target market (people who want to go wine tasting in the Santa Ynez Valley). The name of its restaurant is just a little odd, but otherwise, it's a pip of a place for a weekend away, Sharon Boorstin reports.
What we're reading
"The Atlas Obscura's Explorer's Guide for the World's Most Adventurous Kid" promises "47 countries and 100 extraordinary places to visit." This cool new book by Dylan Thuras and Rosemary Mosco, illustrated by Joy Ang, may be a little edgy for young kids, but I have a feeling that kids of a certain age might enjoy reading about the "Creepy Catacombs" in Odessa, Ukraine; the "Gravity Defying Goats" of the Koytendag Nature Reserve in Turkmenistan; and the "Self-Mummifying Monks" of Japan, which offers this bit of understatement: "As you can probably guess, turning yourself into a mummy isn't fun." It's from also-kind-of-quirky Workman Publishing and lists for $19.95.
If you've never been to the FlyerTalk.com forum, it's kind of addicting, and it never shies from controversy. One of its recent posts poses this sure-to-be controversial question: Should toddlers be allowed in first class? Writer Ariana Arghandewal thinks premium economy may be just the ticket. The comments section seems evenly divided. One respondent said that of course children should be allowed; after all, "The overhead bins are more than spacious enough!"
In Afar magazine, writer Helen Rosner, who lives in New York, realizes that waiting in line in Tokyo is a fact of life. She doesn't portray herself as an especially patient person, and yet in Tokyo, she discovered that standing in line is "a physical exercise of the principles of discipline and etiquette that are drilled into every schoolchild and reinforced for every adult." The ramen, she said, was completely worth the wait.
My thanks for your thanks
Tim Dunn of Costa Mesa sent me a note last week expressing his appreciation for this newsletter.
"I am reminded by today's report," he wrote, "of how refreshing, centering and inspiring it is to find a special spot or place to just sit and be. (Oh, the mindfulness business!) For those of us in Orange County, it can be at Fashion Island in the midst of the shoppers, enjoying being apart from the bustling, but simply enjoying the ambience and belonging while not participating (if that makes sense).
"For me, sitting for even 15 minutes on our new Argyros Plaza at Segerstrom Center for a break reminds me of the purpose of our work and our accomplishment.
"Sometimes the best escape is within a mile radius or even our backyards. I know friends who slave over their yards, but sadly never sit, look and enjoy them."
Well said.
End paper
You may send questions, comments, concerns or life-changing anything to travel@latimes.com. You may also subscribe to more newsletters here.
As we enjoy these golden days of fall, remember that time is the only thing we truly own and that baseball is only a game that grown men play, as Vin Scully used to remind us for perspective.
If you do go to Milwaukee to cheer on the Dodgers, travel well and no matter where you go, come back safely to us. We'll be here to welcome you home.
---
Get inspired to get away.
Explore California, the West and beyond with the weekly Escapes newsletter.
You may occasionally receive promotional content from the Los Angeles Times.