In the land of St. Patrick, celebrating off-season savings in western Ireland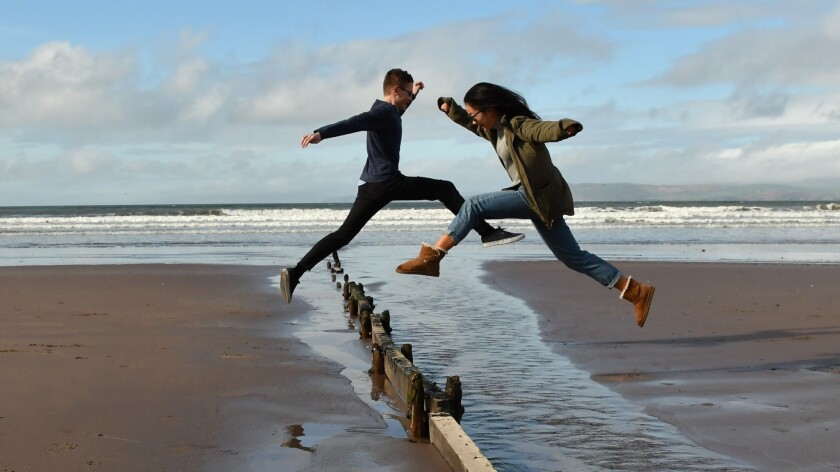 By the time we reached the chocolate factory at the end of the world, the light was beginning to fade.
As we pulled off the narrow road at St. Finian's Bay, savage gusts ripped across the sloping green fields of Ireland's rugged west coast. Waves pummeled the black rocks on the beach. The air seemed to be one-third rain, one-third sea spray.
On four previous visits, I had never encountered an Ireland quite as rugged, weather-beaten and lonely as this patch of County Kerry seemed on this winter's day. Even under assault by the wind and rain, I was tempted to go charging up the wet green hill for a wide view.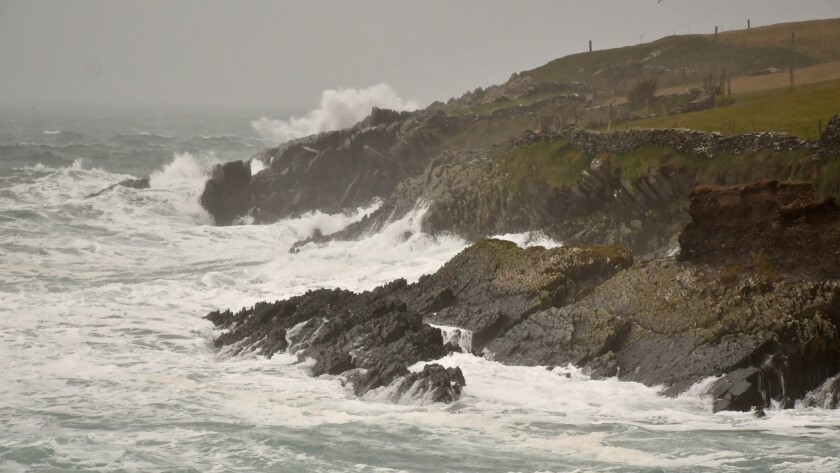 But dessert was waiting inside the bright, weather-tight headquarters of Skelligs Chocolate, and we had only minutes until closing. So we stepped into the factory, a tourist favorite that's often packed in summer.
It was nearly empty. We tasted, we bought, we tasted some more. Then we clambered down to the beach to take in all that dripping, rippling, roaring beauty without the distraction of encountering another living soul. The kids Instagrammed it.
Taking the off-season challenge
Timing is everything. Ireland gets fewer than 20% of its international visitors in the chilly months from January through March. So an off-season visit raises certain possibilities, like that almost solitary stop at St. Finian's Bay, and forecloses others.
Is it a worthwhile trade-off? All else being equal, I wouldn't have taken the chance. But my daughter, Grace, and I had another reason to be in Killarney in February. (She does Irish dance; there was a big competition.)
So while my wife, Mary Frances, tended the home fires (and her classroom of second-graders) in Los Angeles, Grace and I and her friend and fellow dancer Sasha (both 14) flew across the Atlantic to do our off-season best in County Kerry.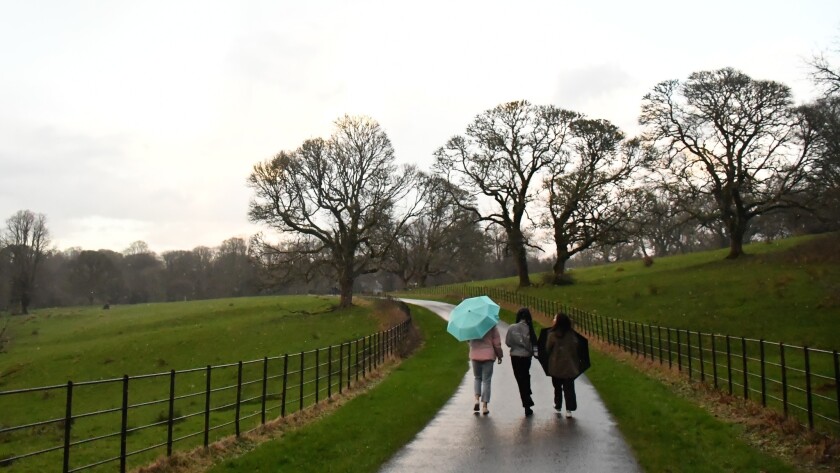 We spent most of a week wedging in tourism between bouts of dancing, and we often explored in a two-car caravan with another friend and dancer, Jonathan, 13, and his parents. We paid far less for air and lodging than this summer's visitors will.
We also did less waiting around, less fussing with traffic, less jostling with other tourists. Quite literally, we saw the landscape in a different light from what a summer visitor would.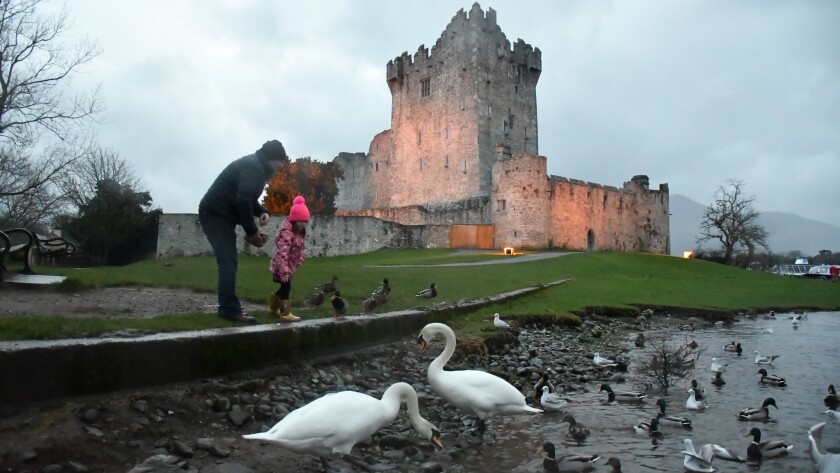 But we also had to put up with more rain, fewer choices and a handful of other challenges.
Here's a sampling of our wins and losses.
Inspect prices, horses and sheep
We paid about $570 each for our round-trip flights on Aer Lingus between LAX and Dublin (a route that will cost about twice as much in July). Then we grabbed a rental car and made a beeline for Killarney in County Kerry, about 190 miles southwest of Dublin.
Before long, we were perched on a "jaunting car" (horse-drawn carriage) as a stoic Irish "jarvey" (driver) and stout Irish horse hauled us along the edge of Lough Leane toward the roofless remains of Muckross Abbey, built in the 15th century.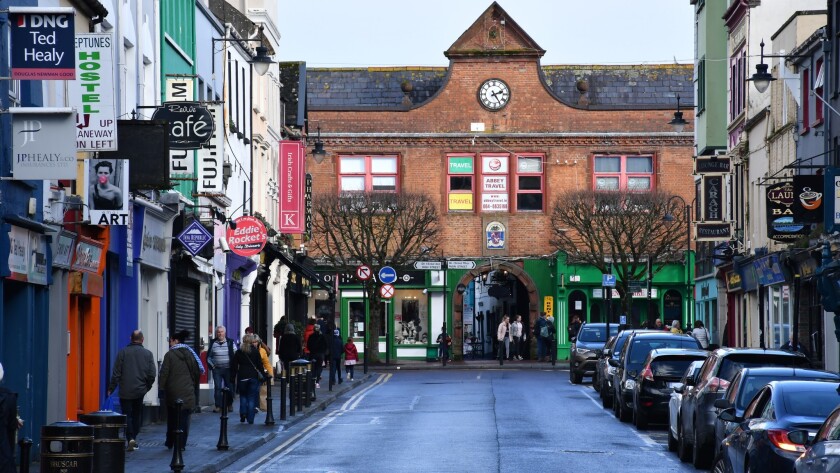 Killarney (population about 13,000) drew about 1.2 million tourists in 2017, and I'm guessing that on many summer days, the tourists outnumber the locals.
Besides horse-drawn carriage, ruins, lough and lake, the city has a national park next door; a downtown full of brightly painted storefronts; a bevy of B&Bs; and about as many hotel beds as it has year-round residents.
It's also the gateway to the Ring of Kerry, a 111-mile loop on the Iveragh Peninsula that contains about as much epic scenery as the Guinness storeroom contains barley and hops.
If the Ring of Kerry were a clock face, Killarney would be at 2 o'clock. The Skelligs Chocolates factory would be at 7. Scattered all around would be the backroads of Ireland's Wild Atlantic Way, devised in 2014 by Irish tourism leaders to encourage roaming beyond the Ring of Kerry.
How much does Killarney slow down in winter? At Riverside Hotel Killarney on Muckross Road, where we stayed, a room for two (including breakfast) started as low as $79 in March, increasing to $200 and beyond in August.
Down the street at the more stylish Victoria House Hotel, which I would like to try next time, rooms for two (including breakfast) started as low as $107 in March, increasing to $176 in August.
At Hotel Brehon, also on Muckross Road, February rates started about $107 for a room in March, increasing to $200 in August.
In winter, Hotel Brehon clerk Ciaran O'Grady told me, the area is "a lot easier to navigate."
"And you see the whole national park in a different way," O'Grady said. "The traffic in summer is crazy. A lot of bus tours."
I drove about 700 miles in our week here, mostly on winding two-lane highways connected by traffic circles. We had rain and clouds and sun and rain again, and I had to drive on the left. But traffic was light. I'm pretty sure I built up less stress covering all those country miles than I do in five days of navigating my usual 23-mile L.A. commute.
Maybe it was the sheep. They outnumber people more than two to one in Kerry.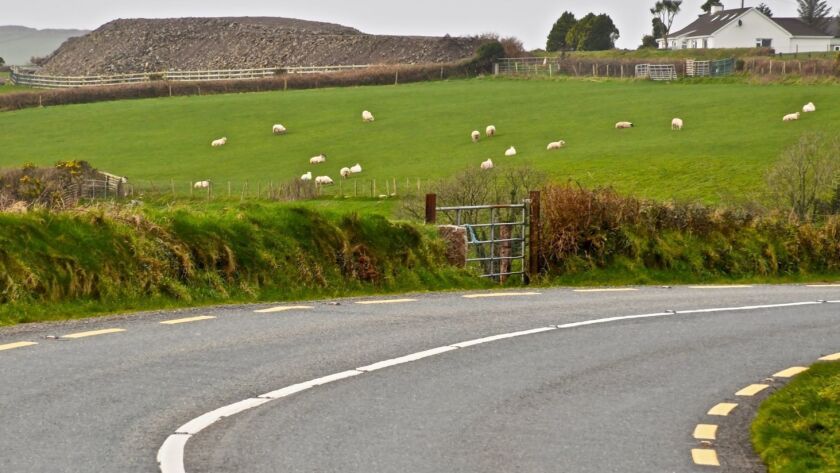 Leaping on empty beaches, poking around lonely ruins
We had several landmarks and scenic sites largely to ourselves, including Muckross Abbey, Ross Castle on the shores of Lough Leane; Rossbeigh Beach on the Ring of Kerry; and Inch Beach on the Dingle Peninsula. Most afternoons the temperature would climb into the low 50s; most nights, it would sink to the low 40s.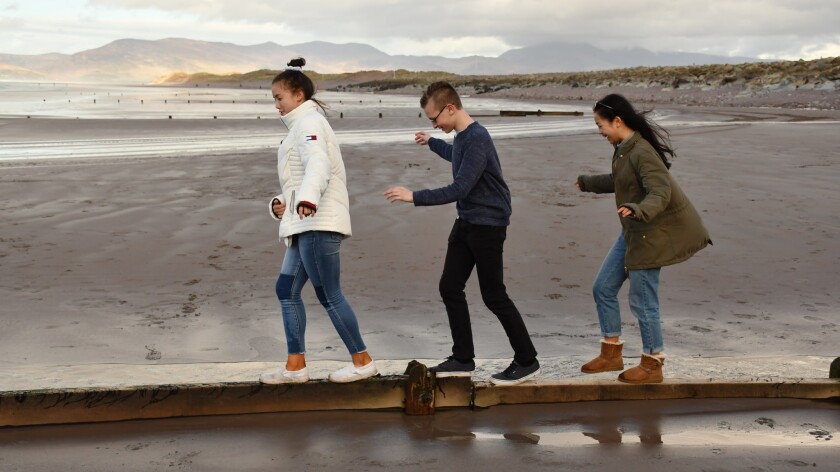 Even when we were sharing a site with several other visitors, as we did at the Fahan Beehive Huts on Dingle's Slea Head Drive, it was still a sufficiently uncrowded experience that I could linger alone in one of the stacked-rock structures and try to cast my imagination back a few hundred years. (The dome-shaped, stacked-rock huts could go back 800 years.)
Waiting less, chatting more and meeting Dart and Sawel
Another scenic spot we shared along the Ring of Kerry was the roadside turnout at Carah Bridge. And we were happy to share, because John and Jane Montgomery, visiting from Belfast, Northern Ireland, had brought Dart and Sawel, their black-and-white border collies.
One of them flung itself at Grace's feet to beg for a belly rub; the other circled round Sasha, herding her like a sheep.
With plenty of room for other cars at the turnout, we were free to chat with the Montgomerys and play with their dogs. Maybe that would have been possible on a busier day, maybe not.
I found myself thinking the same thing on the grounds of Adare Manor in County Limerick, where we signed up for an hour-long archery session. After the arrows and targets (and a chance to shoot an apple like William Tell), instructor Neil McInnes had time to give us a bonus glimpse of the neighboring falconry operation.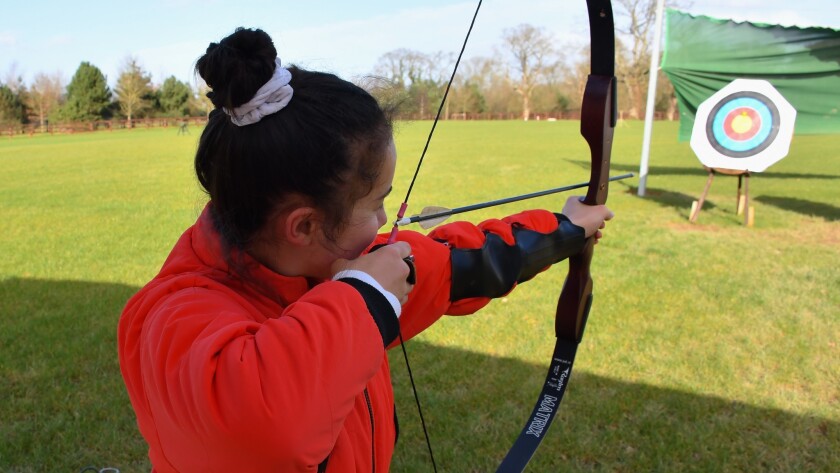 This included a brief introduction to Caesar, a common buzzard with uncommon ferocity in his eyes.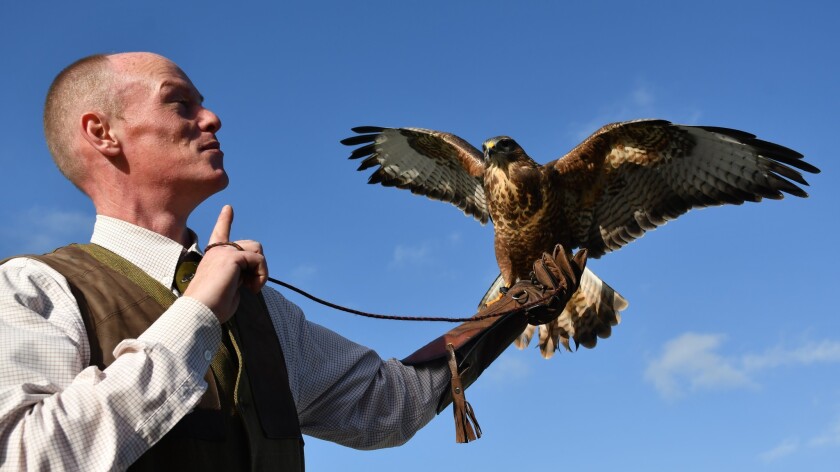 Even at one of the busiest businesses in Dingle —the first Murphy's Ice Cream shop, beloved for its distinct flavors and reliance on milk from Derry cows — we had the place to largely ourselves. Having arranged to meet with a few other visiting families, we wound up with more than a dozen people in an otherwise empty shop.
Sales clerk Kirsten O'Brien, stationed near the door to hand out free samples, told us about experiments with unique flavors (worst ever: smoked salmon) and seasonal traffic.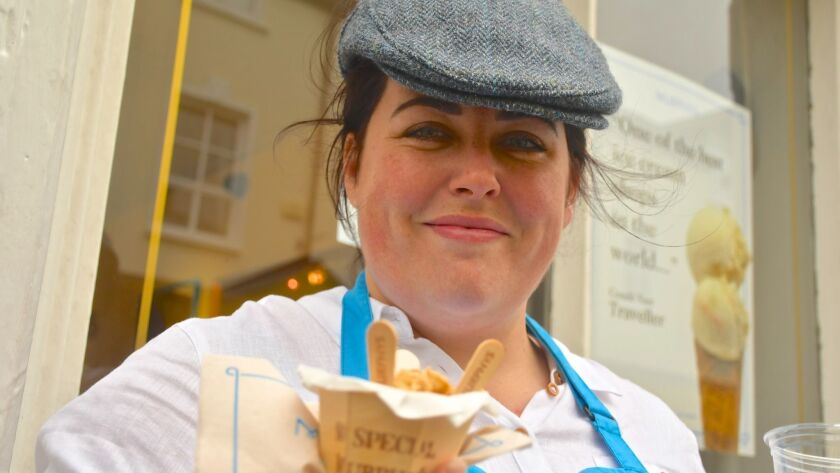 In a town whose year-round population is barely 2,000, she said, a summer day can bring 1,000 customers in a day, occasionally 1,500. On a typical winter day, perhaps 125 to 200 customers turn up.
It is possible to savor ice cream on a winter day in Ireland, especially if it's Murphy's caramel honeycomb and if you've worn enough layers.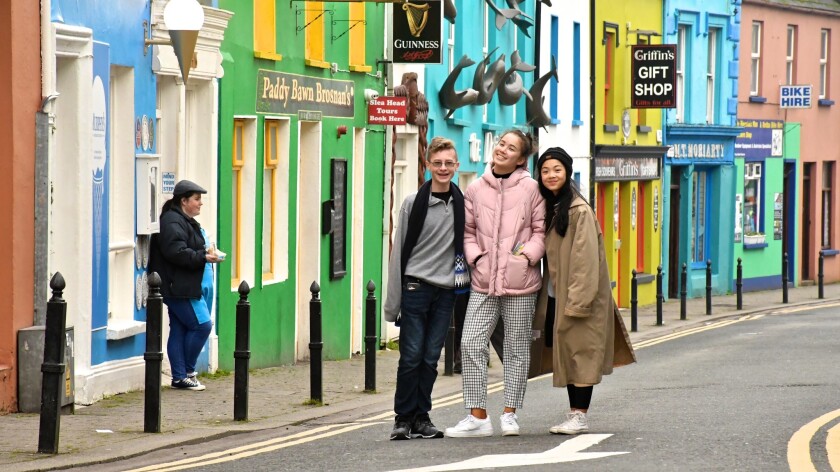 Missing a few things
All that said, many businesses and services close in winter.
Traditional music sessions are harder to find. Boat tours on Lough Leane from the Ross Castle Pier traditionally start March 1 and end Oct. 31. Kate Kearney's Cottage, a popular stop for any visitor traveling through the Gap of Dunloe mountain pass just outside Killarney, closes every year from early January through late February.
The bridge from Portmagee to Valentia island is open all year, but the quaint old car ferry from Reenard Point to Valentia Island shuts down between early October and Easter. O'Neills the Point Bar, next to the ferry landing, was also locked up (due to reopen in mid-March) when we meandered past.
So was the Blue Bay Café, which opened last summer in Ballinskelligs. When we did get our hearty lunch at the Moorings in Portmagee, our waiter turned out to be the owner of the Blue Bay Café, Kevin O'Shea, who takes other work between October and April to keep busy.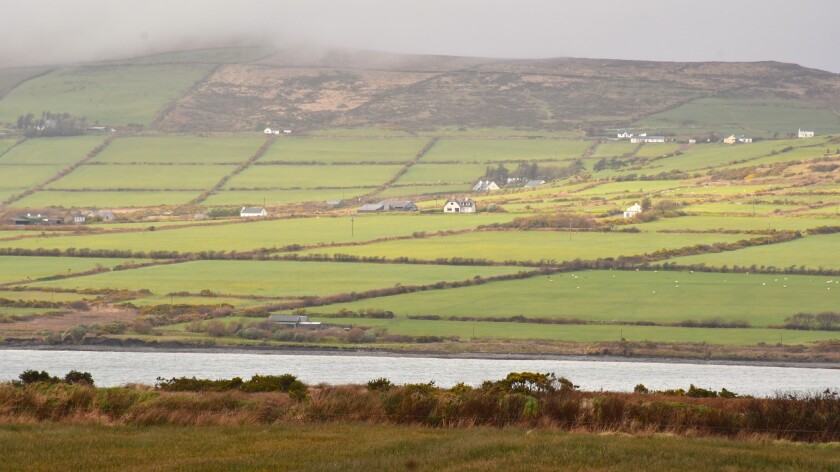 But of all tourists who suffer winter disadvantages in County Kerry, surely it's worst for monastic historians and movie geeks.
From mid-May through late September, tour boats head out from Portmagee to the tiny, stony Skellig Islands, eight miles offshore. These include Skellig Michael, a UNESCO World Heritage Site that juts 714 feet from the sea like a maritime mirage.
Despite its forbidding location —and because of it — the island is the site of an ancient monastery (probably 8th century) and was a shooting location for "Star Wars: The Force Awakens" (2015) and "Star Wars: The Last Jedi" (2017). The stampede of "Star Wars" tourists, locals say, has reshaped the region's tourism industry.
But not in winter. In winter, you stand on the largely idle waterfront at Portmagee and gaze upon the bright-colored boats.
"Give it another two months and it's madness," O'Shea told us.
Turning for the home stretch, clock ticking
As a visitor circles the Ring of Kerry (and strays from the main road to sample sites listed on the Wild Atlantic Way), Skelligs Chocolate is just six miles south of Portmagee.
Those are six dramatic miles, including the sharp turns as you descend the mountain toward the water's edge. And the drama continues. After our chocolate stop and moment on the beach, we pressed toward Waterville, Sneem and other scenic spots on the way back to Killarney.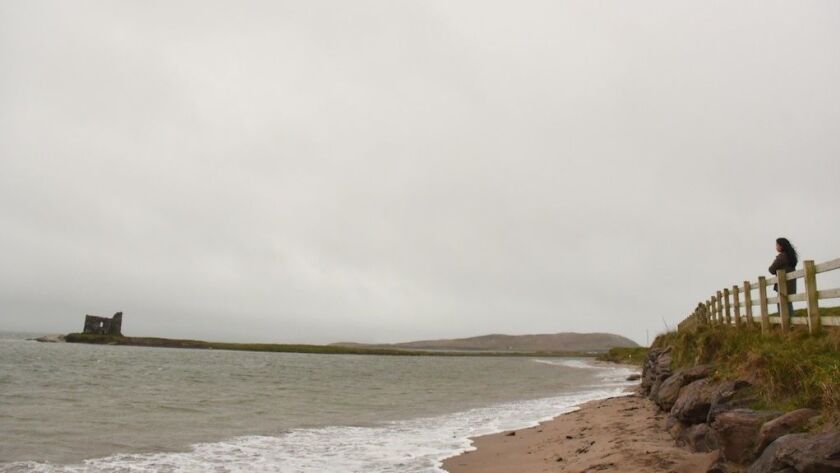 But the misty dusk got in the way. Because the sun sets so early in February and because we had dawdled so happily through the early hours of the day we ran out of light before we ran out of road and scenery.
I'm afraid we'll need another visit to complete the ring properly. Winter giveth and winter taketh away.
WHERE TO EAT
Victoria House Hotel, Muckross Road, Killarney; 353-64-663-5430; victoriahousehotel.com. Includes excellent dining at Sika Restaurant and Ivy Room bar. Dinner main dishes in the Ivy Room, $17-$29.
The Laurels Pub, Main Street, Killarney; 353-64-663-1149; thelaurelspub.com. Run by the O'Leary family for nearly a century. This is a traditional pub with a wine bar next door, drawing from the same kitchen. In summer, there's often live music and Irish dancing. $19-$33.
Murphy's Ice Cream, Strand Street, Dingle; 353-66-915-2644; murphysicecream.ie. About $5 for one scoop, $7 for two. (Murphy's has other locations on the pier in Dingle and in Killarney, Dublin, Kilkenny and Galway.)
Hotel Brehon, Muckross Road, Killarney; 353-64-663-0700; thebrehon.com. The hotel, next to Ireland's National Event Centre, offers a well-stocked buffet breakfast at its signature restaurant, Danú, for about $17. Dinner main dishes about $15-$40. Afternoon tea is served from 2 p.m. daily, featuring sandwiches, scones and sweets, priced at $32 per person. (On weekends and holidays, the hotel offers a children's tea, featuring smoothies and cupcakes for $21 per child.)
WHERE TO STAY
Victoria House Hotel, Muckross Road, Killarney; 353-64-663-5430; victoriahousehotel.com. Rooms for two (including breakfast) as low as $107 in March, $176 in August.
Riverside Hotel Killarney, Muckross Road, Killarney; 353-64-663-9200; riversidehotelkillarney.com. Rooms for two (including breakfast) start as low as $79 in March, $200 and beyond in August.
Ashley Park House, Nenagh, County Tipperary; 353-67-382-23; ashleypark.com. This is an 18th century Georgian country house on 76 acres of beech woodland, midway between Dublin and Killarney. Most of the seven rooms (no two alike) rent for $170, breakfast included.
TO LEARN MORE
Killarney Tourist Office, Beech Road, Killarney; 353-64-663-1633; killarney.ie
christopher.reynolds@latimes.com
Follow Reynolds on Twitter: @MrCSReynolds
---
Get inspired to get away.
Explore California, the West and beyond with the weekly Escapes newsletter.
You may occasionally receive promotional content from the Los Angeles Times.