Eataly Las Vegas opens Manzo, a restaurant that's all about the beef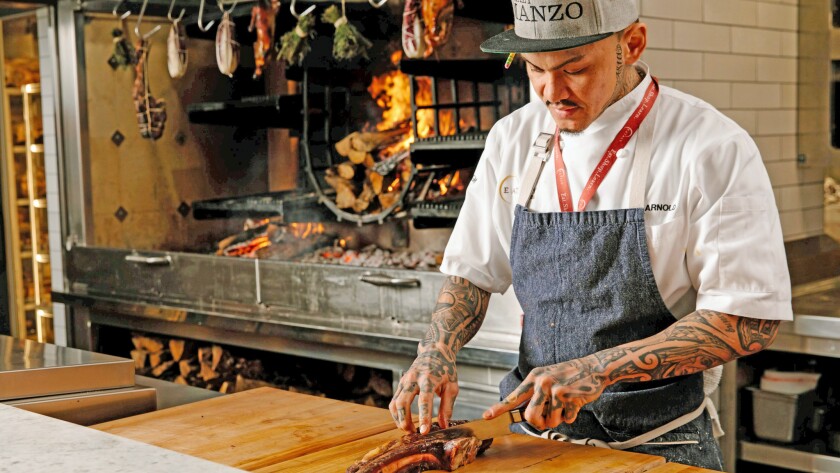 With Wednesday's opening of Manzo, Eataly Las Vegas gives fans a fresh dining option at the Italian food emporium inside Park MGM. The casual restaurant with a more muted atmosphere stands in contrast to the bustle of Eataly's marketplace just steps away.
Manzo, the Italian word for beef, made its debut at the company's New York location in 2017. The meat-centric eatery was designed to have the feel of an Italian butcher shop.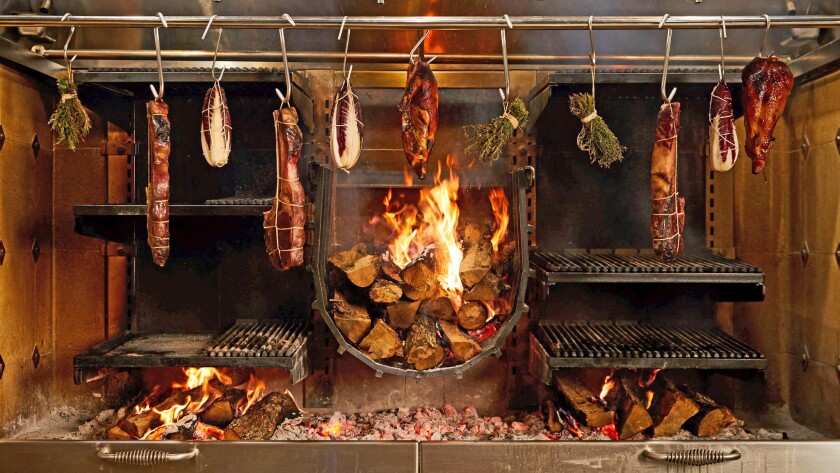 The grill, over a wood-burning fire set in a stone hearth, is the centerpiece. Various cuts of meat hang on hooks above. The grill has three metal tiers, allowing dishes to be prepared simultaneously over charred apple wood and white oak.
Manzo's signature dish, Ribeye Appesa, is a 42-ounce cut that's suspended over the grill and slow roasted. The entrée, sized for sharing, costs $145.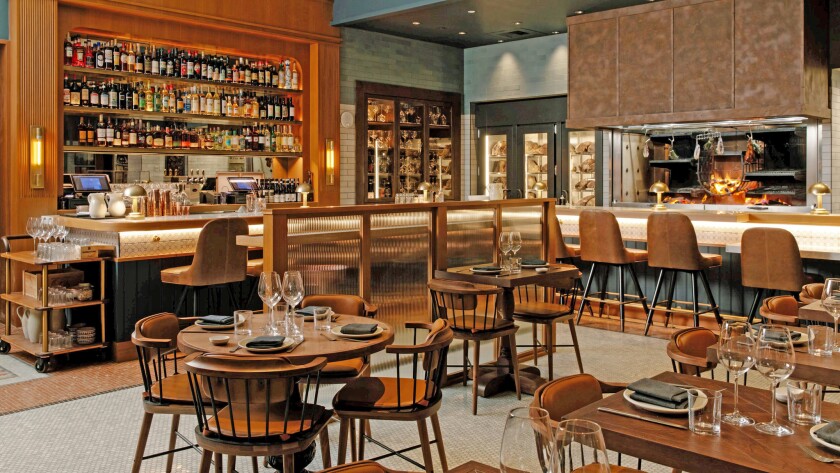 Executive chef Arnold Corpuz, a native of Hawaii who once headed Carnevino Italian Steakhouse at the Palazzo, sources his beef from Australia and the U.S., with the giant ribeye coming from Kansas. Lamb is raised in Colorado; duck in Indiana.
The wine list features more than 400 Italian varieties, sorted by region.
Manzo is open 5-11 p.m. Tuesday through Sunday. Reservations: (702) 730-7646.
Eataly opened at Park MGM in late December with seven specialty food counters, two restaurants, three bars, a chef's demonstration table and a "kitchen of the market" concept that lets customers eat in or take home.
It's also the first in the chain to offer overnight service at Gran Caffé Milano, which serves coffees and cocktails alongside breakfast, lunch and dinner bites. The rest of Eataly is open from 11 a.m. to 11 p.m.
Info: Eataly Las Vegas
---
Get inspired to get away.
Explore California, the West and beyond with the weekly Escapes newsletter.
You may occasionally receive promotional content from the Los Angeles Times.