Skip Black Friday's shopping frenzy and tackle one of these 4 hikes instead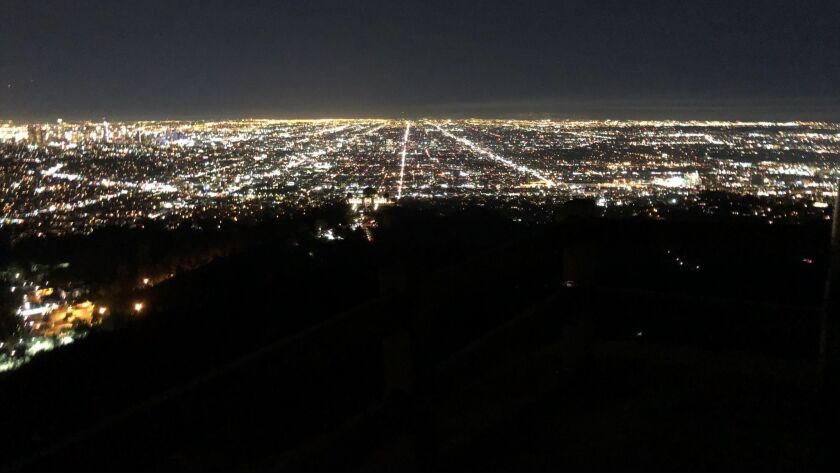 The turkey has been eaten, the dishes washed, now it's time for the Black Friday shopping blitz — or not. If you plan to avoid the consumer crush at big-box stores and mall, give the outdoors a try.
Here are some ideas to get you going, including a Friday whale-watching deal and four hikes good for families with kids of all ages.
— Oceanside Adventures in Oceanside, Calif., offers a good deal for anyone opting to hit the waves. Take a $39 whale-watching cruise starting at 10 a.m., noon or 2:30 p.m. Friday and receive a free ticket to use anytime in 2019. It's a good time to go because gray whales are starting their southern migration along the California coast. Info: Oceanside Adventures, 256 S. Harbor Drive, Oceanside; (888) 507-1130
The Alpine Pedal Path in Big Bear Lake, Calif., is an easy, flat trail that's a good place to introduce little ones to nature. The 3.2-mile paved route follows the north shore of the lake, a doable trail for families with strollers or kids who like to bicycle. Look for bald eagles who migrate here in November and leave in early April. Start at the corner of the Stanfield Cutoff and North Shore Drive in Big Bear Lake. Info: Alpine Pedal Path
Castle Rock Trail, also in Big Bear Lake, is 2.7 miles round-trip and the place to go for expansive views of Big Bear Valley. It's a short hike with a short steep section that climbs about 750 feet. This is the trail to take for sunrise and sunset vistas. The trailhead is located 1.1 miles east of the Big Bear Dam on State Highway 18. Info: Castle Rock Trail
Mt. Hillyer in the Angeles National Forest is one of the easiest peak hikes around. You can get to the top of the 6,200-foot summit on the trail that's less than a mile and a half from Horse Flats Campground off Highway 2. Take some time to relish views of the pine trees and back-country formations of L.A.'s closest mountain range. If you want to go longer, start on the Silver Moccasin Trail at the Chilao Campground, giving you a round-trip hike around six miles. Info: Hikespeak and Modern Hiker have good descriptions of the routes.
Griffith Park in the heart of Los Angeles is in the eastern-most part of the Santa Monica Mountains. Take a hike to Mt. Hollywood, a high point that sits at 1,625 feet and offers great views of the L.A. Basin and the Hollywood sign. Start at Griffith Observatory (you can pop in there too for free) and you'll notch a 2.9-mile round-trip hike that passes pines, picnic tables and scenic overlooks. Try this for sunrise or sunset when the crowds may thin a bit. Parking at the Observatory is limited; think about parking down by the Greek Theatre and walking up. Info: Trailmaster John McKinney posts a good description of this hike.
REI kicked off the #optoutside campaign four years ago. The outdoor retailer closes its doors to shoppers on Black Friday and instead encourages people to go out in nature. An easy-to-use search tool on the company's website can help you find a park or trail near you.
Other good online resources to discover more of the outdoors include Modern Hiker, HikeSpeak and John McKinney's Trailmaster site.
ALSO
Black Friday-Cyber Monday hotel deals let travelers buy now, stay in 2019. Here are 24 sales, some on right now
Save money on multi-day tickets to Disneyland theme parks
From LAX, $442 round trip to Dublin on Aer Lingus
---
Get inspired to get away.
Explore California, the West and beyond with the weekly Escapes newsletter.
You may occasionally receive promotional content from the Los Angeles Times.