Planning a river rafting adventure in the West? Things are looking up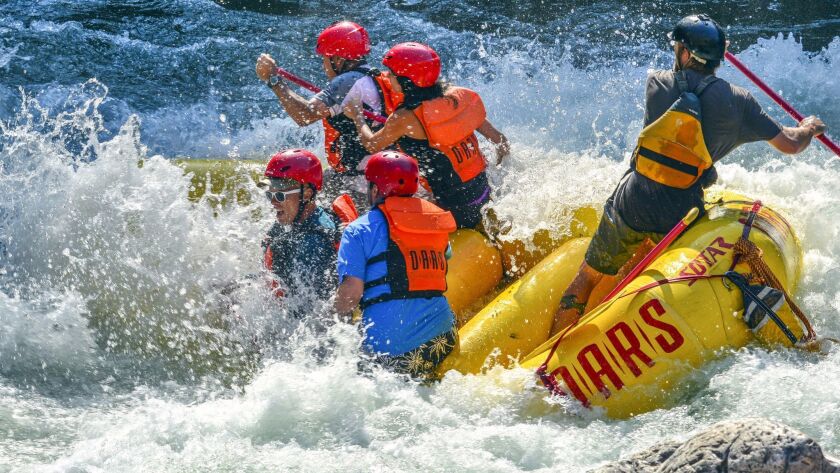 Steve Welch was feeling glum in February. The Sierra snowpack was averaging less than 20%, and the manager of the Groveland, Calif.-based ARTA rafting company saw trouble ahead.
After he reviewed the National Weather Service forecast for a dry March, he felt worse. "It looked like we might get slammed back into another drought," he said.
And then...
"Mother Nature apparently changed her mind, and we had a monster March in terms of snow in the Sierra," Welch said. "April has also brought a lot of precipitation so far, with even some flooding of the Merced River in Yosemite Valley.
"So the rafting season looks good."
The scarcity of snow until March meant that free-flowing streams that don't have reservoirs above them and rely on spring and early summer melt alone would probably have been un-raftable this year, said Steve Markle, spokesman for the Angels Camp, Calif.-based O.A.R.S. rafting outfitter.
The outlook for such rivers as the Kaweah, Kings, Merced and Cal Salmon near the Oregon border looked dismal, he said.
But now, he said, nearly all the popular boating rivers in the Sierra and the West will have solid seasons.
"I think it will be pretty much an average year for rafting outfitters, and that's great," he said.
"As for the term 'normal,' I'm not quite sure what that means anymore when it comes to weather."
He has a point: On April 1, 2016, the state had 5% of the average snowpack throughout much of the Sierra.
On April 1 in a normal year, the Department of Water Resources said the Sierra-wide reading for the total snowpack should be 27.7 inches of water content.
On the same date in 2017, the snowpack was 200% of average in parts of the southern Sierra and well above normal elsewhere.
This year on April 1, that figure was about 60% of average, a huge increase from six weeks earlier.
With reservoirs full from last year's bountiful precipitation, Markle said the state's rafting outfitters are happy with this year's figures, although they'll welcome more snow if it comes.
Last year high water levels made the rapids dangerous for inexperienced boaters, and his company had to turn away some families, he said
"That won't happen in 2018, and it will be easy for people to plan for trips here in California and elsewhere around the West," he said.
Here's the outlook for some of the state's top regional whitewater streams:
Southern Sierra
Matt Volpert, owner of Wofford Heights, Calif.-based Kern River Outfitters, said snowpack in the Kern River drainage area of the southern Sierra increased significantly in March.
"There is a lot of water in Lake Isabella, the reservoir above the 20-mile Class III and IV (fun and exciting) section of the Lower Kern we run, so the season should go to Labor Day," he said.
The 10-mile run on Upper Kern, also Class III and IV, is free-flowing and its season should last until mid-June.
Justin Butchert, who runs Kings River Expeditions in Clovis, Calif., said he feared in early March that he wouldn't be able to operate this season because of snowpack measurements as low as 5% in some parts of the free-flowing Kings drainage.
"But things look many times better now," said Butchert, who plans to offer Class III trips on a 10-mile section of the Kings River east of Fresno into mid-July.
Scott Armstrong, whose Walnut Creek, Calif.-based All Outdoors rafting company operates on a Class III and IV nine-mile section of the Kaweah River, which has its headwaters in Sequoia National Park, said he hopes to run that undammed stream into early June.
Central Sierra and Northern California
Armstrong said the challenging Class IV-plus Cherry Creek near Yosemite National Park should be "runnable" from mid-June into early August. It is often described as the most difficult commercially raftable stream in the state.
Nearby, trips on the Class IV Tuolumne River will begin soon and should continue through August. And the Class III free-flowing Merced River, which has its headwaters above Yosemite Valley, will be navigable into mid-June.
Markle, the O.A.R.S. spokesman, said the popular Class III run on the South Fork of the American River east of Sacramento, will be "boatable" into September. Similarly, he said his company will run trips on the Class IV Middle Fork of the American through Labor Day.
Near the Oregon border, Momentum River Expeditions owner Pete Wallstrom said the un-dammed Class IV California Salmon River will be raftable into June. He'll offer trips on the nearby Class III Klamath River into September.
Elsewhere in the West
The Class III Wild and Scenic Rogue River in southern Oregon should also have a good season into the fall, said Zach Collier, who runs Northwest Rafting Co. out of Hood River, Ore.
Idaho received some of the heaviest snowfalls in the lower 48 this winter, which means the Middle Fork and the Main Fork of the Salmon River, as well as the Lower Salmon, will have good flows throughout the summer, said Jason Kruger of ROW Adventures.
Other Idaho rivers that ROW runs include the Moyie, St. Joe and Lochsa. All should have good seasons, as well as the Clark Fork in Montana. The situation is similar for the Snake River through Hells Canyon on the Idaho/Oregon border.
The Colorado River Basin got about 80% of its average snowpack this year, so the free-flowing Yampa River in northwestern Colorado will be boatable into June. Outfitters will run trips on the nearby Green River, which courses through Dinosaur National Monument, into September.
The snowpack above the popular whitewater run on the Arkansas River near Salida, Colo., is about 80% of normal, so there should be adequate water for mellow to action-packed single and multi-day trips. For outfitters, see the Arkansas River Outfitters Assn. website.
Rafting trips began shoving off this month on the Colorado River through Grand Canyon National Park, which feature adventures of up to 18 days covering more than 250 miles and bouncing through scores of whitewater rapids from Lees Ferry to Lake Mead. This majestic river is runnable well into the fall.
---
Get inspired to get away.
Explore California, the West and beyond with the weekly Escapes newsletter.
You may occasionally receive promotional content from the Los Angeles Times.