San Francisco's crooked Lombard Street might see a new twist: A driver's fee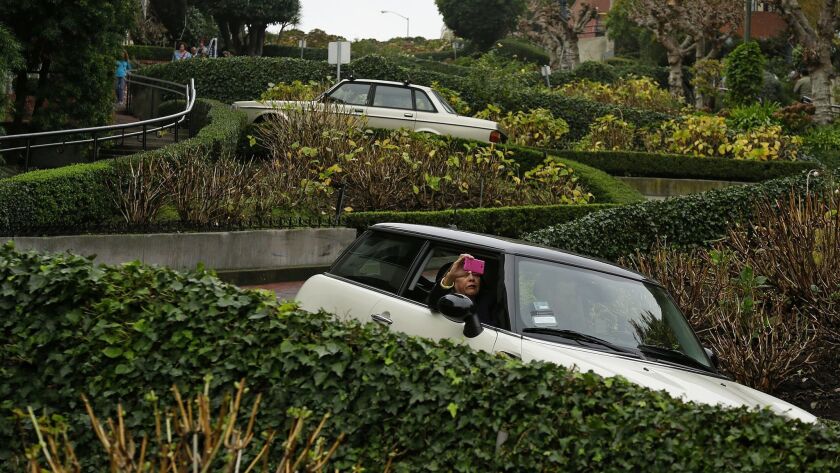 It could cost you $5 to $10 to take a drive down the eight hairpin turns of Lombard Street, San Francisco's self-proclaimed "crookedest street in the world." That's if county transportation officials approve a reservation and fee plan for the 600-foot swath of the street paved with red bricks.
More than 2 million tourists, in vehicles and on foot, visit Lombard Street each year to thrill to the twisty road and snap photos. They cause traffic jams — which can run four blocks or more for cars waiting to get to the top of Lombard Street — and contribute to air pollution caused by idling vehicles waiting their turn.
"It has always been a tourist magnet, but for whatever reason, in recent years the popularity went on an upswing, and folks in the neighborhood noticed," said Eric Young, communications spokesman for the San Francisco County Transportation Authority.
The agency over the past few years has been tasked with studying ways of offsetting the problems.
On Wednesday evening, the agency will hold a community hearing at a nearby elementary school to gauge how the neighborhood feels about imposing a fee for drivers, not pedestrians. Young said residents at past meetings have been in favor.
Options being proposed include a $5 fee that would operate 24/7 with a limit of 4,800 vehicles in a 24-hour period. An alternative plan would charge drivers $5 on weekdays and $10 on weekends between 9 a.m. and 9 p.m., limited to 2,400 vehicles.
Visitors could book a half-hour time window to take the drive, the way some museums sell time-stamped tickets for popular art shows. You would book your time through a website or app in advance, enter your license plate number (even in a rental car), and then pay.
In the next few months the plan will come before the agency's board and, if approved, be passed on to the Legislature and governor for state approval, Young said.
And what about that "crookedest" claim? Fog City Secrets says Vermont Street in the city's Potrero Hill neighborhood should lay claim to the crooked crown.
"I personally think it is more curvy because turns are sharper on Vermont Street," said Young, a native San Franciscan.
Still, he described Lombard Street as "one of the city's many jewels." As for its growing popularity, it's hard to measure the effects of people posting Lombard Street selfies on Facebook, Instagram and Twitter.
"Yes, there's a lot of social media," Young said. "And yes, there are a lot of tourists."
---
Get inspired to get away.
Explore California, the West and beyond with the weekly Escapes newsletter.
You may occasionally receive promotional content from the Los Angeles Times.