Must Reads: Dog sledding in Sweden with a sense of wonder and all 10 toes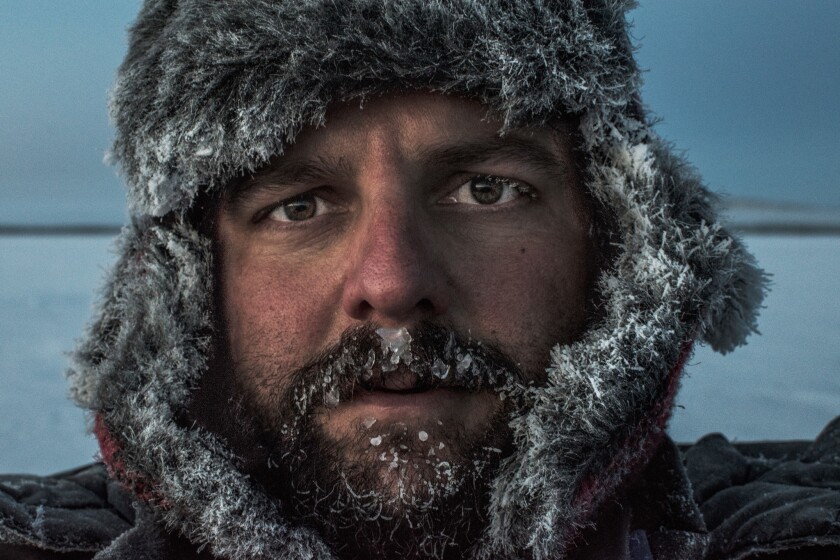 "Can you feel your toes?" Marion, our German guide scream-shouted at me over the howling polar winds blasting us. "You'd better change your socks. I don't want you to get frostbite."
I nodded and headed to my dog team. I was on Day 5 of a weeklong dog-sledding expedition, and our group was stranded, frozen in the ice in the middle of a massive lake somewhere north of Kiruna, a small mining town about 125 miles inside the Arctic Circle in Swedish Lapland.
I had grown up reading "The Call of the Wild," by Jack London, and I had always dreamed of going on a dog-sledding adventure.
I had spent the better part of the last year researching and planning this trip, and now here I was, thousands of miles from home, in subzero temperatures, and the word "frostbite" had just been dropped casually.
I was definitely out of my depth.
The walk back to my sled was not easy. Although the ice was frozen solid, the weather in the first few weeks of last December had been unseasonably warm.
This created a condition in which ice water pooled on top of the lake ice, which was then covered by a layer of snow.
With every step, my boots would crack through the snow, then sink through 18 inches of freezing cold water that flooded them. Step-crunch-sploosh, step-crunch-sploosh.
At this point, I couldn't feel my feet, let alone my toes.
As I neared the sled, my team of four Siberian huskies jumped up happily and started barking and howling. They were ready to go.
"Sorry guys." I said, as I unzipped my bag. "We're gonna be here awhile."
I started digging through the underwear, thermals and flannel shirts I had carefully packed earlier that day, trying desperately to find a pair of dry socks. I pushed aside the "Crocodile Dundee"-style hunting knife I had bought for the trip. It was 8 inches long, with a gnarly-looking blade and its own holster. I'd nicknamed it "The Widowmaker."
"Just in case I get frostbite and have to cut off a toe!" I had said to my friends back home while I was showing it off. "Ha, ha." I said. "Ha, ha, ha," my friends replied. The joke didn't seem quite as funny now.
Now here I was in the middle of nowhere, about 1,500 miles from the North Pole, facing the reality that I might lose some toes. At this point I had been through my bag twice and somehow, inexplicably, could not find my socks.
"How did I get here?" I wondered.
'No Titanic'
Logistically, the "how" was easy. I had flown from LAX to Stockholm Arlanda Airport (transferring at London's Heathrow). After spending the night and the better part of the next day wandering around the picturesque alleys in Gamla Stan (Old Town), I boarded an SJ overnight train at Stockholm's Central Station, bound for Kiruna.
Fifteen hours later, I arrived in Swedish Lapland.
At first glance, Kiruna looked like something out of an '80s Bond movie. The town was industrial, with what appeared to be huge refineries everywhere, and was covered in snow. Although it was almost 10 a.m., the sun wasn't up.
I arrived just as the polar night was beginning, so the sun never rose above the horizon. Each day we had about four hours of a gorgeous blue twilight before being plunged back into darkness.
A dog handler from Jukkasjarvi VildmarksTurer, the company guiding the expedition, picked me up at the train station. After a short drive through town, we arrived at base camp, a sprawling complex of shared cabins and kennels for several hundred howling, perpetually excited huskies.
By evening, everyone in our group had arrived. There were three women from Germany, one from Ireland, a chef from Switzerland and myself. After we got to know one another over homemade chili, Marion, our guide, walked us through all the horrifying ways we could lose limbs by acting stupid on our sleds.
"I don't want to see anyone doing the 'I'm the king of the world!' crap from 'Titanic,' " she said, raising her arms over her head and pantomiming Jack. "Every year, some idiot does this, loses his balance and falls off the sled. Then I have to go chase down his dogs. No Titanic."
Solemnly, we all vowed there would be no Titanic reenactments.
The next morning we were awakened by the excited barks and howls of the dogs. After a quick breakfast, the guides took us to our sleds, where they introduced us to our dog teams and showed us how to harness them to our sleds.
After loading our gear and receiving some quick instructions on how to steer the sled with our body weight, we were off.
For the next week we spent our days dog sledding through the rugged countryside. At night, we stayed in rustic cabins that lacked electricity and running water. We chopped our own wood, drew our own water and took care of the dogs as if they were our own.
Our daily schedule was straightforward: Wake up, feed the dogs, eat breakfast, pack our sleds, harness the dogs, then spend four to five hours sledding through spectacular forests and crossing frozen rivers and lakes. Sometimes we would hit deep snow and have to push our sleds as the dogs strained and jumped to pull us through.
At night, after we arrived at our cabin and fed the dogs, we ate fantastic traditional Swedish meals prepared by Marion. Some of the cabins had wood-fired saunas, so we were able to relax and shower.
We would often go entire days without seeing any other people, and the remoteness of the area meant there were no cell signals or internet. The temperature, on average, hovered around 14 degrees, but we were wearing thermal jumpsuits and insulated boots and mittens issued to us by the tour company, so the cold wasn't much of an issue.
At least, it wasn't an issue until the day we got stuck on the lake.
Rescue and rewards
By now we had been frozen in place for more than an hour, and it was starting to get dark.
The temperature dropped to 4 below zero and the wind started to howl. Marion brought me a fresh pair of socks from her sled and some plastic bags to line the inside of my boots.
"Hey, Katharina. If things get really bad, we need to make a pact not to eat each other," I said to one of the German women after Marion walked away.
Katharina was too cold to appreciate my dark humor.
Then as the last of the twilight faded, we heard engines roaring, and as we looked across the lake, we saw snowmobiles bee-lining toward us. Marion had used a satellite phone to call for backup, and two guides had come to rescue us.
Working quickly, one guide pulled our sleds free and knocked the ice off them while the other plowed a path for us out of the slush. The dogs jumped and barked and pulled, towing us to safety. Once we made it to shore, the snowmobiles departed, tearing across the lake and leaving us alone in the wilderness.
We rode silently in a line, just the jangle of the dogs' harnesses and the quiet shoosh of the sleds' runners gliding across the snow. Above us, the Northern Lights appeared and slowly grew more intense, carving long, greenish streaks across the sky.
As our group rounded a curve, I looked ahead and saw our cabin for the night.
The dogs seemed to recognize where we were too, and they picked up their pace.
It takes a certain mindset to visit Swedish Lapland in the winter. It's dark, cold and remote, and the trip isn't for everyone, but there's something to be said for embracing the adventure, the otherworldly nature of traveling here.
The people are warm and inviting, and the scenery is unparalleled.
We pulled up to the cabin and I braked, then anchored my sled. I couldn't feel the toes on my left foot and my face was covered in ice, but I was having the time of my life.
THE BEST WAY TO KIRUNA, SWEDEN
From LAX, United, Air Canada and British offer connecting service (change of planes) to Stockholm. Restricted round-trip airfare from $1,104, including taxes and fees. SAS flies round trip from Stockholm to Kiruna several times a week.
For the more adventurous, you can take the SJ Rail overnight train from Stockholm to Kiruna. Sleeper cabins are shared on the 15-hour ride. Sleeper cabin tickets start about $190 round trip.
March is the best time to go. The worst of the winter weather has passed, and the days are getting a little longer, meaning more time sledding in daylight, and clear night skies to watch the Northern Lights.
Because your sled is being powered by four dogs, you are limited in what you can bring and it must fit into a small duffel.
You'll need thermal underwear, warm clothes to wear under the thermal suit, clear goggles, at least two pairs of gloves (one pair should be "junky" for working with dogs), soap and toiletries, many pairs of socks (I bought double-layered socks at REI, and they worked well), hand warmers and a camera. You will also need warm, casual clothes for hanging around the cabin at night.
If you can grow a beard, you should do that. Otherwise bring a face shield.
Last but not least, you will need a headlamp and lots of extra batteries. The cabins do not have power, so there's no place to charge batteries, etc. Bring at least two backups.
Please consider subscribing today to support stories like this one. Get full access to our signature journalism for just 99 cents for the first four weeks. Already a subscriber? Your support makes our work possible. Thank you.
---
Get inspired to get away.
Explore California, the West and beyond with the weekly Escapes newsletter.
You may occasionally receive promotional content from the Los Angeles Times.