Fare deal: From Burbank, $177 round trip to Portland, Ore., on Alaska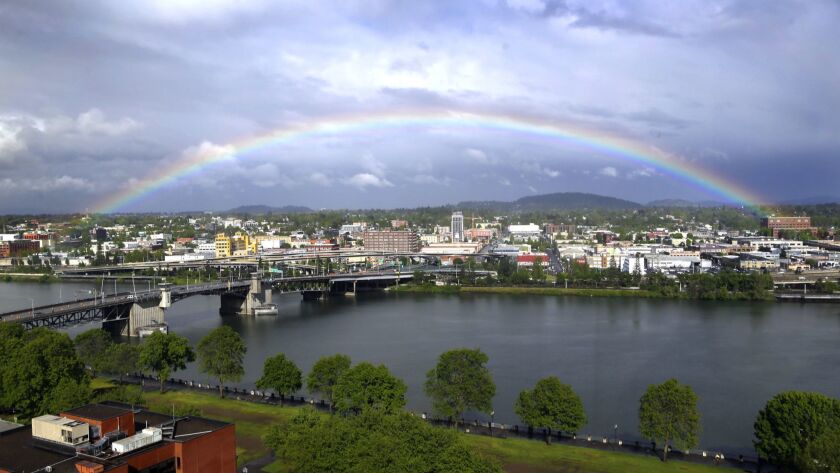 Portland, Ore., residents may be chanting, "We are No. 8! We are No. 8!" Which isn't quite as bad as it sounds, especially when you consider it will cost you but $177 round trip to get there on Alaska.
The city in the Pacific Northwest ranked 8th in the recently released U.S. News & World Report's "125 Best Places to Live in the USA."
To make the list, the publication said, "A place had to have good value, be a desirable place to live, have a strong job market and a high quality of life." Portland had an overall score of 7.2, receiving a 6.7 for quality of life and a 6 for value.
Just above it: San Francisco, which got a 7.8 overall but a 4.9 for (surprise) value. Just below it: Seattle, which scored a 7.2 overall, 6.6 for quality of life and 5.9 for value. Kind of a bittersweet outcome.
Still, being in the Top 10 isn't bad. (Austin, Texas, ranked first.)
If you want to check it out for yourself and fly out of Burbank, Alaska Airlines has just the ticket. Here are there details:
Fare: $177 round trip, including all taxes and fees, from Burbank to Portland, Ore., on Alaska.
Restrictions: Subject to availability. For travel Tuesdays, Wednesdays and Saturday from May 1-June 19. Buy your ticket by April 22.
Info: Alaska, (800) 252-7522
Source: Airfarewatchdog
---
Get inspired to get away.
Explore California, the West and beyond with the weekly Escapes newsletter.
You may occasionally receive promotional content from the Los Angeles Times.