Fare deal: From LAX, $539 round trip to Bogota on Avianca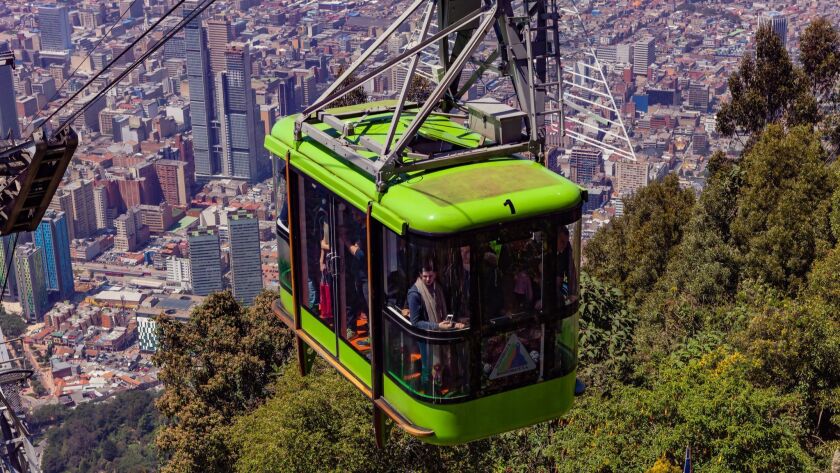 Like other Latin American cities, Bogota was subjugated by the European settlers who changed its history and its character.
In this case, they also changed its name.
When Europeans came in the 1530s, the city was called Bacatá, and was home to Chibca, or Muisca, Indians. Soon, its name was corrupted to Bogotá. The country threw off Spanish rule by 1811, but it took Simón Bolívar to banish the Spaniards. He was president of the country until his death in 1830.
The colonial period left its architectural mark on the city, which boasts "cobblestone streets and centuries-old houses and churches around Plaza Bolívar," according to Frommers.com
"Most landmark buildings — like the capital, neoclassical Teatro Colón and the 17th century Iglesia de San Francisco — sit within a few blocks of each other," the guide notes. "Take the tram [pictured above] to Cerro de Monserrate for the best views of the city."
Today, Bogota is the banking center of Colombia besides being the capital city of about 7 million and home to Avianca, which is offering this week's fare deal.
Fare: $539 round trip from LAX to Bogotá on Avianca.
Restrictions: Subject to availability. You must buy your ticket by May 6. It is for travel through June 2 and again Aug. 12-Nov. 23. Seven-day stay required.
Info: Avianca, (800) 284-2622
Source: Airfarewatchdog
---
Get inspired to get away.
Explore California, the West and beyond with the weekly Escapes newsletter.
You may occasionally receive promotional content from the Los Angeles Times.