Hotels near Yosemite that won't blow your budget
Cascading waterfalls. Towering granite walls. Majestic groves of giant redwoods. Yosemite National Park has it all. But if you plan to visit in the summer, you'll find it also has sky-high hotel prices, many of which start at around $350 a night and zoom upward.
Don't cancel the trip yet. We've found seven cool places to stay near the park this summer for $200 or less a night.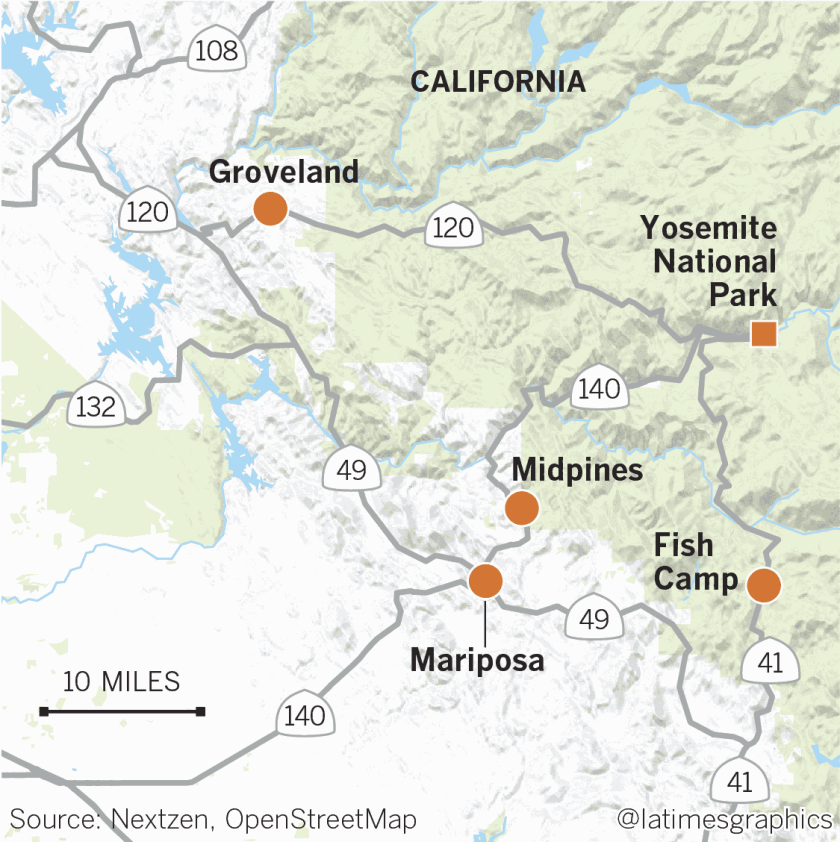 Yes, we know. You'd rather stay inside the park, close to those plunging waterfalls. But prices are high, and openings are scarce in summer.
I could have paid $149 a night for a saggy tent at Half Dome Village (formerly Curry Village). But, alas, there weren't any openings in July and August. (I don't like sharing a bath and a shower house.)
I had better luck booking a room at the elegant Majestic Yosemite Lodge (formerly the Ahwahnee Hotel). I found an opening on July 20 for $589 a night. Too pricey for me.
That's why I took a closer look at the park's gateway communities. Although I love Yosemite and its eye-popping scenery, there's a lot to like about the small towns that surround it. Places such as Mariposa and Groveland are picturesque reminders of California's Gold Rush era.
In Mariposa, for instance, you get an Old West vibe as you stroll the historic main street or tour the 1854 courthouse, one of the oldest west of the Rockies. You won't see strip malls, chain stores or even a stoplight in town.
Groveland's history is more raucous. Historians tell the tale of bandits being hanged near a trading post on the site. And the rowdy little town is home to the Iron Door Saloon, the oldest continuously operating saloon in California.
It's no wonder Bret Harte and Mark Twain wrote stories set in this area during the Gold Rush.
Today there are new golden opportunities here, based on tourism, the booming wine industry and the growth of farm-to-table dining.
Who knows? Spending a few nights in the area may give you a whole new perspective on small-town California.
Groveland Hotel
This pioneer beauty, built in 1849 and listed on the National Register of Historic Places, was recently remodeled and now sports a sophisticated ranch vibe. Many rooms are named after women of the Sierra and local characters, including Lyle's Room, which honors the hotel's resident ghost.
Look for feather beds, antiques, down comforters and plush robes. Suites have large spa tubs and fireplaces.
Info: Groveland Hotel, 18767 Main St., Groveland, Calif.; (209) 962-4000, groveland.com. Doubles from $179-$275. Lower winter rates. Pets OK; $20 a night.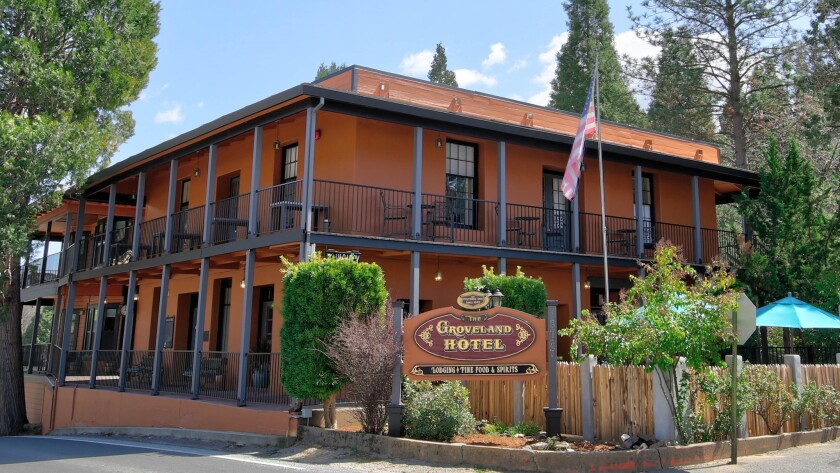 Hotel Charlotte
Savor the past at this 1918 charmer on the National Register of Historic Places. The guest rooms, cheerily wallpapered and wainscoted, are small but nicely maintained. Several units adjoin one another and have connecting bathrooms, ideal for families.
Info: Hotel Charlotte, 18736 California 120, Groveland, Calif.; (800) 961-7799 or (209) 962-6455, hotelcharlotte.com. Doubles from $149. Lower winter rates.
Mariposa Lodge
The landscaping and ambience are first-rate at this charming 45-unit motel, owned by the Gloor family for three generations. The lodge, on Mariposa's main drag (California 140) has grown from one building to three. Many rooms have private balconies. The landscaped grounds are lush, especially the garden courtyard around the pool.
Info: Mariposa Lodge, 5052 California 140, Mariposa, Calif.; (800) 966-8819, mariposalodge.com. Doubles from $69. Lower winter rates.
River Rock Inn
New owners Stephanie and Keith Erikson have worked hard to update Mariposa's oldest motel, which dates to 1941. The nine-unit property is small, but a continental breakfast is included, and the Eriksons are happy to offer tips on where to park and what to see in Yosemite.
Info: River Rock Inn, 4993 7th St., Mariposa, Calif.; (209) 966-5793, riverrockinnmariposa.us. Doubles from $159. Lower winter rates.
Queen's Inn
Add a little spirit to your vacation at Queen's Inn, which has a winery on site, plus a wine bar and beer garden. Owner Anna Marie dos Remedios encourages overnight guests to try a complimentary tasting at the winery. And you can party on Saturday nights from May to September, when there's live music.
The 12-unit inn is on 5 acres along the Fresno River. Many guest rooms have a river view. Continental breakfast included.
Info: Queen's Inn, 41139 Highway 41, Oakhurst, Calif.; (559) 683-4354, queensinn.com, Doubles from $169; pets $35 per night.
Yosemite Bug Rustic Mountain Resort & Spa
Yosemite Bug has something for almost everyone, from hostel dorm rooms and tent cabins to funky-cool, one-of-a-kind hotel rooms. It's probably your best choice for finding low-cost accommodations. There's also a good restaurant, a spa and a swimming hole down the slope from the main lodge, a wonderful feature during the dog days of summer. Plus, most of the units have woodsy views that will make you feel as though you're in the national park. Yosemite Bug is a real find.
Info: Yosemite Bug, 6979 California 140, Midpines, Calif.; (866) 826-7108 or (209) 966-6666, yosemitebug.com. Hostel beds from $28 per person; private room with bathroom from $95 for two to five people; private room with shared bathroom from $75 for two to five people; tent cabin $40-$85; studio/private house from $195. Lower winter rates.
Yosemite Westgate
This attractive, family-friendly rural lodge is comfortable and clean with large rooms and is more practical than fancy. There's a playground for kids and a large outdoor pool. No smoking, no pets. The 48-room hotel is set in a forested area where you may see wildlife.
Info: Yosemite Westgate, 7633 Highway 120, Groveland, Calif.; (800) 253-9673, yosemitewestgate.com. Doubles from $189. Lower rates in winter. $5 amenity fee.
Getting around
One suggestion: If possible, delay the trip until fall. Visiting Yosemite in July and August is, well, crazy.
I know because I did it two years ago. It took two hours of gridlock to get into the park, then three hours of looking in vain for a parking place. I finally gave in to frustration and left.
I was here this year around Memorial Day, and there were empty hotel rooms and plenty of places to park. The difference? It was raining, which can make a difference in plans.
But sometimes you have no choice: Summer is the only time you can go.
If that's the case, try two things: Arrive in Yosemite Valley by 8 or 9 a.m. so you can find a parking place. Then use the free Yosemite National Park shuttle bus all day.
An alternative is to catch a Yarts bus outside the park. You can catch one in any of the Yosemite gateway cities. Tickets are $4-$20 round trip and include your park entrance fee. One child rides free with each adult. When you get inside, jump on the park's free shuttles.
Stylish nature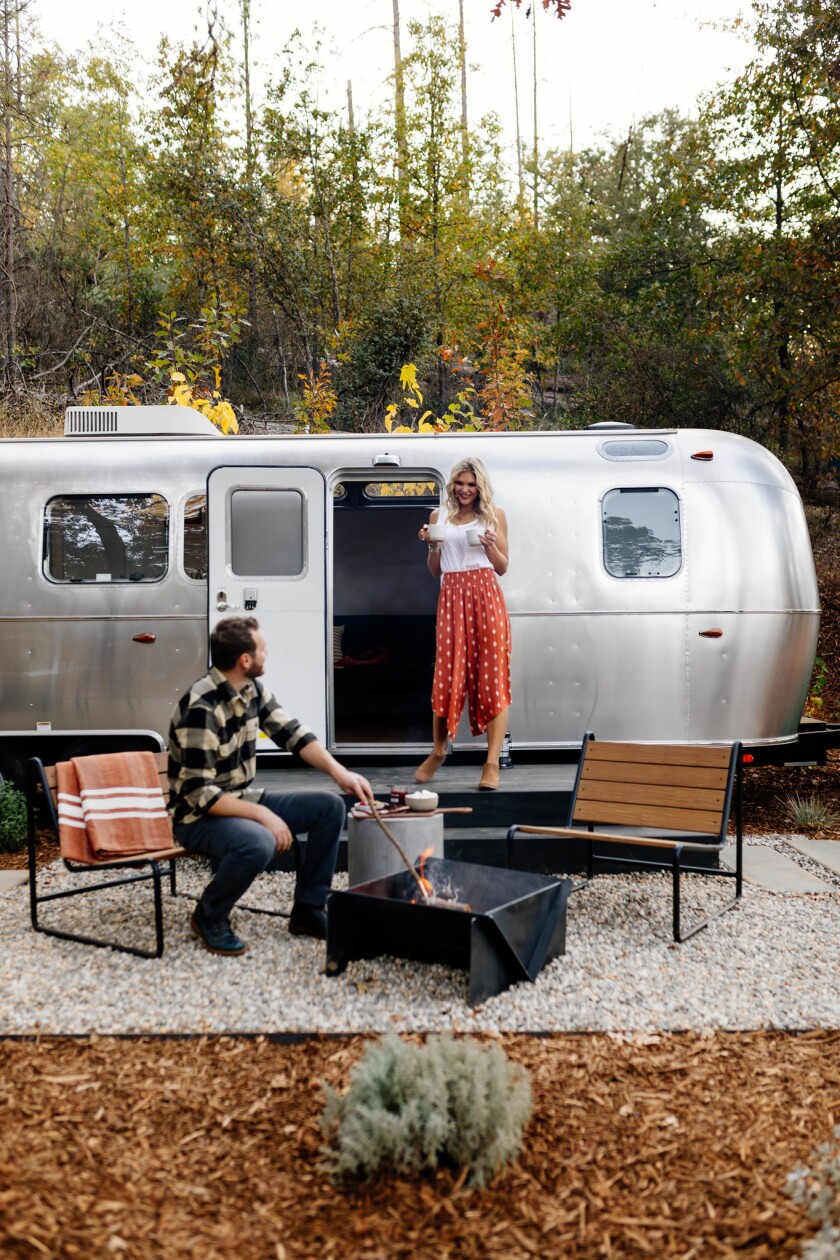 If you'd like to try something different on an upcoming trip north — and your vacation budget is healthy — two new developments might appeal.
One is AutoCamp, a 102-unit Airstream trailer park; the other is Tenaya Lodge's 50 new hillside Explorer Cabins surrounded by pines and cedar trees.
The AutoCamp trailer park in Midpines features tricked-out Airstream trailers and appeals to people who are captivated by quirky chic or midcentury design.
"Yosemite represents a landmark moment," said Neil Dipaola, AutoCamp founder and chief executive. "We're immensely proud to be opening our first national park-adjacent property here." There are also AutoCamp parks in Santa Barbara and in Sonoma County.
The Airstreams are recognizable by their rounded and polished aluminum shells. But these trailers have distinct differences, including spa-like bathrooms, Tempur-Pedic mattresses and luxury bedding. The park has fire pits, a hammock grove and a two-story clubhouse with a heated pool. There's also a natural fishpond on the grounds of this pet-friendly trailer park and lots of trails nearby.
AutoCamp also has tents, cabins and accessible suites. Altogether there are 102 units, priced upward from $200 for a tent and $300 to $500 a night for an Airstream or cabin. The park opened this spring.
At Tenaya Lodge at Yosemite, June marked the opening of the Explorer Cabins, two-bedroom, 650-square-foot cottages that sleep up to six. The stand-alone cabins are part of a $25-million investment project.
Tenaya, a top-rated resort with 353 rooms, is set on 48 forested acres in tiny Fish Camp, near the California 41 entrance to Yosemite.
The 50 new cabins were built off-site and trucked in. "By building modular cabins, we reduced our environmental impact," said Tenaya general manager Paul Ratchford. "We worked within the site's existing topography to minimize any disruption to natural features such as rock formations and trees."
The cabins include a living room, kitchen area, two bedrooms and a private deck. Each cabin has a fireplace and features such as granite counter tops, plank flooring, a sleeper sofa and Pendleton blankets.
Summer prices for the cabins range from $719 to $899 a night.
---
Get inspired to get away.
Explore California, the West and beyond with the weekly Escapes newsletter.
You may occasionally receive promotional content from the Los Angeles Times.